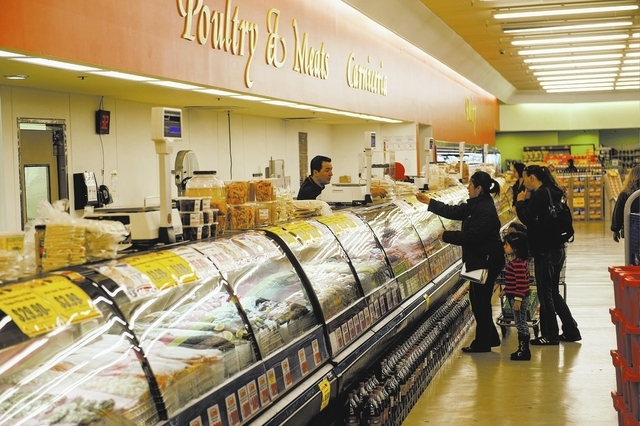 TMC Financing, a San Francisco-based certified development company, took a calculated risk six years ago and moved beyond its nine-county Bay Area region to set up shop in Las Vegas.
Last year, TMC assisted in funding 39 Small Business Administration 504 loans with a total value of $19.2 million in Clark County and $28.8 million in Nevada. Overall, there were 82 SBA 504 loans issued in Clark County in 2012 with a total value of $45.1 million, according to TMC, which finances industries including, health care, contractors, financial and legal services, and manufacturing through partnerships with community and national banks.
In fiscal 2013, TMC issued $45 million in SBA financing in Southern Nevada, the company said.
"We are a little different," said Ann Santiago, senior vice president and business development officer with TMC in Las Vegas. "We are a not-for-profit that provides SBA loans. We work in partnership with banks to provide 90 percent of the financing to a small business."
Santiago described a small business as one with a tangible net worth of less than $15 million, and net income that averages out over the past two years to less than $5 million after taxes.
"That's a pretty big small business," Santiago said. "Those standards are intended to help create jobs."
La Bonita Supermarkets is one of those small businesses. The Mexican supermarket recently opened its fifth store in Las Vegas with the assistance of a $4.2 million loan funded by TMC and Meadows Bank.
Santiago said TMC issued $1.7 million loan, Meadows Bank $2.07 million, while La Bonita put down $479,000, to secure the SBA loan.
Santiago said TMC's interest rate in November was fixed at 5.45 percent. Banks usually charge three points over prime and are adjustable every three years.
Metro Pizza received a $4.5 million SBA loan to open its sixth store in Southern Nevada at 6720 Sky Pointe Drive in northwest Las Vegas. TMC funded the expansion with $1.8 million, while $2.25 million came from Kirkwood Bank of Nevada, and the Las Vegas-based pizza chain put $461,000 down.
"That (La Bonita) store created 140 new jobs," Santiago said. "The 10 percent down helps (businesses) keep their costs low, allowing them to expand and grow."
According to the SBA, 504 loans are used to purchase land, including existing buildings; the purchase of improvements, including grading, street improvements, utilities, parking lots and landscaping; and the construction of new facilities or modernizing, renovating or converting existing facilities.
These loans can't be used for working capital or inventory, consolidating repaying or refinancing debt, and speculation or investment in rental real estate. The SBA program is intended to promote economic development by providing long-term stability for businesses.
"We haven't done much retail here." Santiago said. "In 2010, we issued a lot of loans to medical centers and doctors … but slowly more professionals sought loans. Last year, we were supporting a more diverse set of industries through our services."
Santiago wants to offer more lending options, including startup financing. To do that, she'll need to form a community development financial institution to support microentrepreneurs in Nevada with microloans.
TMC already has Working Solutions that issues microloans from $5,000 to $50,000 to be used by small business as working capital, inventory purchases, equipment and machinery, leasehold improvements and startup costs.
Supporters of the California program include the SBA, Wells Fargo &Co., City National Bank, as well as several other high profile financial institutions and foundations.
"There are no microloans in Nevada," Santiago said. "We only have the program for San Francisco, because I think we have cities that help support the program. Our goal is to put a program like that in Las Vegas."
Contact reporter Chris Sieroty at csieroty@reviewjournal.com or 702-477-3893. Follow @sierotyfeatures on Twitter.