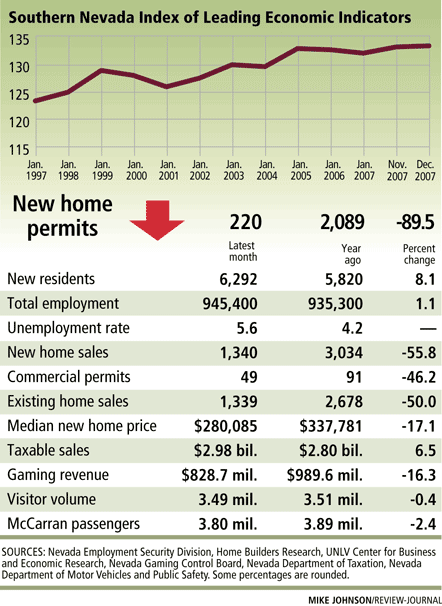 Travel and tourism showed strong numbers in October, lifting the Southern Nevada Index of Leading Economic Indicators to 133.82 for December, up from 131.91 a year ago.
Gaming revenue grew 12.55 percent during the month to more than $1 billion, though it dropped in November. Visitor volume and McCarran International Airport passenger counts were flat in October and slid slightly in November.
Southern Nevada, once heralded for leading the nation in job growth, has witnessed massive layoffs in the construction industry primarily due to the downturn in housing, economist Jim Shabi of the Nevada Department of Employment, Rehabilitation and Training said.
Las Vegas' unemployment rate climbed to 5.6 percent in December, higher than the national rate and a big jump from 4.2 percent a year ago. The state lost nearly 8,000 construction jobs last year, including 4,900 in Clark County, Shabi said.
"So that's the biggest single piece of the puzzle," he said. "A couple of other things, we've had casino closures in preparation for new ones. That contributes to job loss. Close to 1,000 jobs were lost at the Frontier and then 1,500 jobs at the Stardust and there haven't been any big (casino) openings to replace them, except Palazzo. We're starting the next wave in 2009."
The construction industry is a significant source of jobs and has played a "powerful role in sustaining economic growth, nationally and in Nevada," Associated General Contractors chief economist Ken Simonson said at a recent meeting in Reno.
Construction accounts for more than 5 percent of the total U.S. nonfarm workforce and 10 percent of Nevada's nonfarm work force, he said. Construction jobs pay well, he added, $21.33 an hour on average.
Holiday retail hiring was weaker than normal by a few hundred jobs, just another contributor to the weakening labor market, Shabi said.
"You're seeing the economy slowing down and businesses are more cautious about hiring. They want to wait and see," he said. "Our labor force is growing faster than employment growth."
The economic index, compiled by the Center for Business and Economic Research at University of Nevada, Las Vegas, is a six-month forecast from the month of the data, based on a net-weighted average of each series after adjustment for seasonal variation.
The accompanying Review-Journal chart includes several of the index's categories, along with data such as new residents and employment and housing numbers, updated for the most recent month for which figures are available.
The index continues to track horizontally, giving no marked swing up or down, said Keith Schwer, the research center's director.
"In short, the abysmal recent residential construction is matched by strength in other construction efforts and the strong performance of travel and tourism," Schwer said.
Residential building permits rose sharply in October in response to new permitting fees and code changes. Those numbers have dropped drastically since then, registering only 220 new home permits in December, Home Builders Research reported.
However, that translated to 506 units. In Clark County, there were nine permits pulled for condo projects that accounted for 246 units.
"It makes more sense for us to count the number of units, which offers a better understanding of future inventory when they are measured against closings," Home Builders Research President Dennis Smith said.
Nevertheless, 2007 finished with 18,438 permitted units, a 36.3 percent decline from 2006.
Growth prospects in the tourism industry remain guarded for the near term, a reflection of limited room capacity, Schwer said.
"This constraint will erode with the completion of nearly 40,000 rooms over the next five years," he said.
Contact reporter Hubble Smith at hsmith@reviewjournal.com or (702) 383-0491.