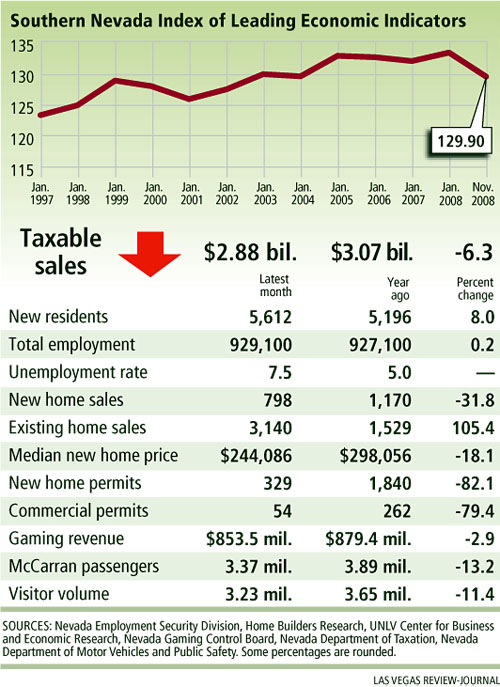 Southern Nevada's economy sank a little deeper in November, and the probability of measurable improvement in the coming months is pretty small, a UNLV economist said Wednesday.
The Southern Nevada Index of Leading Economic Indicators dipped to 129.90 in November as all data series posted a decline from the same month a year ago. The index fell from 130.60 in October and from 133.06 in November 2007.
Visitor volume, convention attendance, airport passengers and commercial building permits all declined by double-digit percentages.
The numbers foretell a further downward trend, said Keith Schwer, executive director of the Center for Business and Economic Research at the University of Nevada, Las Vegas.
"The index offers no sign of relief ahead," he said. "We ran through a whole series of warning lights and red lights. Really, if you look at what was happening in September and October, there was an event every day. What we're seeing now is the aftermath of the Lehman Brothers failure. What it really did was set off a spiral."
The index, compiled by the Center for Business and Economic Research, is a six-month forecast from the month of data, based on a net-weighted average of each series after adjustment for seasonal variation. November's index is based on September data.
The accompanying Review-Journal chart includes several of the index's categories, along with data such as new residents and employment and housing numbers, updated for the most recent month for which figures are available.
Bill Anderson, chief economist for the Nevada Department of Training and Rehabilitation, said he's looking for employment stability to return in late 2009 and into 2010.
Nevada continues to lose construction jobs, which are down about 9,000 from a year ago.
The biggest problem affecting the economy is the housing market, Anderson said.
Median new-home prices have dropped 18.1 percent from a year ago to $244,086 in October. New-home building permits are down 82.1 percent to 329.
A difficult credit market and reduced consumer spending are also problems, Anderson said.
"Those three things have hit at the core of Nevada's economy," he said. "It's going to take us a while to get out of this."
Commercial permits declined nearly 80 percent to 54 in October. There's no reason to build stores when nobody's buying anything, population is no longer growing and unemployment has increased, UNLV's Schwer said.
"If we go back to the first of the year, we were holding up. But it really came apart in the fall, particularly that month of September," he said.
Schwer will present his Southern Nevada Economic Outlook on Dec. 11 at the World Market Center. Call the Center for Business and Economic Research at 895-3191 to register.
Legislation on the horizon will have a critical impact on housing and economic issues, said Lisa Marquis Jackson, vice president of John Burns Real Estate Consulting. A second stimulus package in the range of $150 billion to $300 billion should help the unemployed, she said.
Unfortunately, no tax credits are being given to home buyers. However, the implementation of an unprecedented homeowner loan modification program should buoy the housing market, Jackson said.
Contact reporter Hubble Smith at hsmith@reviewjournal.com or 702-383-0491.