Local gaming stocks see September surge
September 30, 2010 - 11:00 pm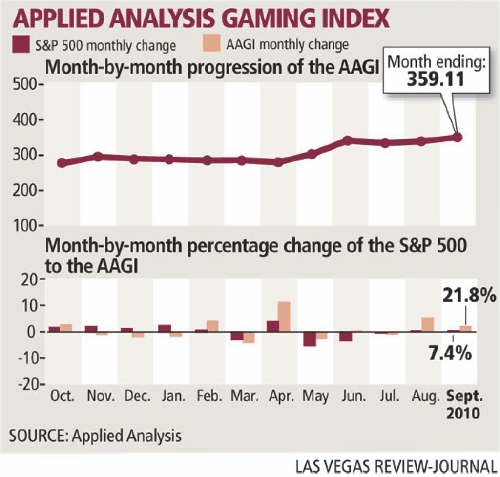 With two exceptions, the gaming sector had an upward bounce during September.
Eight of the 10 publicly traded casino operators and slot machine manufacturers that financial consultant Applied Analysis follows for its gaming index experienced increases in their average daily stock prices during the month.
The results helped the index achieve its highest level in nearly two years.
Brian Gordon, a principal in Applied Analysis, said investors are bullish on the prospects for casino operators with properties in Asia. The Strip, however, is still a worry.
"Capacity concerns in the Las Vegas market continue despite reported increases in visitor volumes as the competitive environment remains heated," Gordon said in a report to the firm's clients.
For example, Boyd Gaming Corp., which operates in Las Vegas and regional markets, was the only casino operator to see its average daily stock price decline during September. The company's shares were down 7.6 percent on an average daily basis during the month.
Meanwhile, the average daily stock price of Las Vegas Sands Corp. was credited with giving the index a boost. Shares of the casino operator were up almost 13 percent on an average daily basis in September. The index on a whole rose almost 10 points to 359.11.
"Las Vegas Sands hit a 52-week high as expectations for the international operator remained high," Gordon said.
Investors, he said, are banking on strong results from the company's new casino in Singapore and its properties in Macau. They aren't expecting revenue growth from the company's Strip casinos.
"Domestic revenue growth will be primarily sourced to its Sands Bethlehem property located in eastern Pennsylvania," Gordon said.
Meanwhile, regional casino operators continued to shine.
Penn National Gaming, which saw its average daily stock price increase 5.54 percent during September, opened a slot machine-only casino in Maryland during the month, the state's first casino. The $97.5 million property has 1,500 machines and was unveiled nearly two years after residents approved slot machine casinos in the state.
Pinnacle Entertainment, which saw its average daily stock price climb 5.5 percent in September, unveiled plans for a $357 million hotel-casino complex in Baton Rouge, La., which would be the company's fourth casino in the state.
Slot machine giant International Game Technology was the only other company in the index to see a decline in its average daily stock price during September.
Contact reporter Howard Stutz at hstutz@reviewjournal.com or 702-477-3871.
RATING RAISED FOR LAS VEGAS SANDS
Moody's raised its opinion of Las Vegas Sands Corp. based on the company's early results at its $5.7 billion resort that opened in Singapore this year.
The investors service said Thursday it was boosting it rating in Las Vegas Sands' debt from B3 to B2. In August, Moody's assigned a "positive" rating outlook on the company.
In a report to investors, Moody's Senior Vice President Keith Foley said the company is expected to derive the bulk of its revenues from the Marina Bay
Sands, one of just two casinos in Singapore, and its three casinos in Macau.
Moody's is not expecting much in the way of results from The Venetian or Palazzo, Las Vegas Sands' two Strip casinos.
"We anticipate that strong future earnings performance at Las Vegas Sands' Asian casinos will more than offset the earnings pressure that we expect will continue at the company's U.S. subsidiary," Foley said.
Las Vegas Sands partially opened the Marina Bay Sands in April and celebrated its grand opening in June. Other amenities at the hotel-casino are expected to open by the end of the year.
Marina Bay Sands and Resorts World Sentosa, which is operated by Genting of Malaysia, helped grow Singapore's visitation by 18 percent in August and the market is up 22 percent for the year.
"Marina Bay Sands has the potential to significantly improve Las Vegas Sands' financial profile once it is completed and fully operational," Foley said.
Singapore, the analyst said, has just two casinos, a relatively low gaming tax rate and has advanced its tourism-related infrastructure. Las Vegas Sands also benefits from the rapid growth of gaming in Macau and the growing economies of Singapore's primary feeder markets.
Foley said Moody's would consider another upgrade, "if we have sufficient evidence that Marina Bay Sands is on track to meet our expectations."
HOWARD STUTZ/LAS VEGAS REVIEW-JOURNAL