December 30, 2007 - 10:00 pm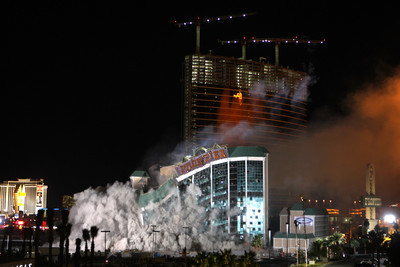 The Las Vegas Valley posted mixed fortunes in 2007, with uneven results in key quadrants of the economy.
Southern Nevada's housing sector stumbled most noticeably, drawing national attention for its high rate of mortgage defaults and home foreclosures. Residential real estate's poor performance cascaded through the economy: Thousands of jobs lost in the home-building and finance industries helped push local and state unemployment rates past the national average for the first time since 2002. Job creation also skidded, dropping several percentage points from 2006 levels.
Those faltering indicators generated a $285 million revenue hole through November in the two-year state budget. While gaming executives pointed to the treasury shortfall as evidence of the need for a broad corporate-income or gross-receipts tax, special-interest groups targeted the resort sector for fresh funds. The Nevada State Education Association mounted a petition to raise teachers' salaries through a higher gaming tax, while local lawyer Kermitt Waters launched a drive to triple the levies against the industry.
Gaming remains a popular bull's-eye for additional revenue because it is still the state's best-performing economic driver. Though most industries and economic indicators softened in 2007, resort development stayed strong as operators unveiled fresh plans and continued building massive projects. The Strip's prospects drew $5 billion in CityCenter funding from the investment arm of the Persian Gulf state of Dubai, and lured global resort operator Kerzner International Holdings Ltd. to the market in a deal with MGM Mirage. The industry also enjoyed a record gaming win in October.
Private-equity firms upped their interest in gaming, with the November buyout of Station Casinos following the 2006 announcement of a deal to take Harrah's private. The Harrah's agreement is scheduled to close in early 2008.
As profitable as local gaming operations are, the resort sector in a far-flung emerging market outperformed the Strip in 2007. Gaming revenue from flourishing Macau, which is within a five-hour flight of 3 billion prospective visitors, surpassed gaming win on the Strip for the first time and drove financial results for major operators, including Wynn Resorts Ltd. and Las Vegas Sands Corp.
Smaller local companies had their own set of challenges in 2007, with voter-approved initiatives raising the minimum wage and banning smoking in restaurants, convenience stores and other service businesses. Rising energy costs didn't help, as higher prices for power and gasoline ate away at small companies' bottom lines and squeezed the consumers who spend on local goods and services. And several proposed coal-fired power plants in Nevada came under fire as U.S. Sen. Harry Reid, D-Nev., teamed with environmentalists to advocate replacing the electric projects with alternative fuel sources.
Here is a closer look at the biggest local business stories of 2007.
1) THE BUBBLE HAS BURST
After years of being undervalued, the Las Vegas housing market found its tipping point in 2007 as home sales plunged by 40 percent and median home prices tumbled about 10 percent.
The sluggish housing market remained the top economic story throughout much of the year, capturing headlines for the subprime mortgage meltdown, which has led to soaring foreclosure rates.
Nevada, once the nation's leader in home appreciation, is now first in foreclosures with about 40 preforeclosure filings for every 1,000 households, California-based Foreclosures.com reported.
The market started slowing in 2006 and went into full retreat in 2007.
Some would say the proverbial housing bubble has burst. Now the question is how far will prices fall and how long will it take to burn through an inventory of some 24,000 homes for sale on the Multiple Listing Service. About half of them are vacant, either investor-owned or in foreclosure.
"Inventory is a leading indicator of where the market is going," said Larry Murphy, president of Las Vegas-based SalesTraq.
With the exception of foreclosures, inventory is declining for new home permits, existing homes and the number of new home subdivisions, he said. SalesTraq reported 343 permits in November, the lowest monthly total in about 20 years. Permits are down 36.7 percent for the year.
Through November, new home closings are down 44.6 percent to 18,021 and existing home sales have slid 39.8 percent to 22,504, SalesTraq reports.
November's median new-home price fell 20 percent from a year ago to $271,228; existing home median prices are down 10.5 percent to $257,000. These are near 2004 levels, Murphy said.
Weakness in home building also hurt construction employment. Builders such as KB Home and Pulte Homes have had significant layoffs. Some industry sources put the number as high as 10,000 to 12,000 lost jobs.
The housing market will continue to adjust and "rebalance" in 2008, University of Nevada, Las Vegas, economist Keith Schwer said.
Global Insight and NationalCity estimated that Las Vegas housing has moved from about 30 percent overvaluation in third quarter 2006 to near 20 percent a year later, Schwer said. The firms' overvaluation estimates suggest that Las Vegas will be back in balance once prices return to levels of 2004, when median prices ranged from $196,000 to $248,000.
2) GOING PRIVATE
In a year in which mergers and acquisitions around the world reached a new high — $1.57 trillion in the United States alone — two large gaming companies became part of the party.
Harrah's Entertainment's $17.7 billion buyout and Station Casinos' $5.4 billion merger are the largest investments in casino companies by private equity to date.
TPG Capital and Apollo Management brought their combined worldwide investment portfolio, managing nearly $70 billion of capital, to the Harrah's deal, which swell to nearly $31 million with the inclusion of debt.
Partners from both firms said their combined investment of approximately $6.1 billion cash was among the largest upfront investments the firms have made.
The firms, which previously invested in companies ranging from Continental Airlines, Neiman Marcus, Vail Resorts and Burger King Corp., saw in the gaming industry a steady cash flow with strong growth potential.
The fallout on the future of gaming investment goes beyond the money. TPG and Apollo were investigated by the stringent investigators of gaming regulators around the world during 2007.
The deal needed approval from regulators in the European Union, the National Indian Gaming Commission, New Jersey and seven other states outside Nevada.
Before Harrah's, private equity acquisitions had been limited to single gaming properties or casino companies in limited jurisdictions.
"In 2008 we suspect the private equity community will become more involved in the gaming industry now that Apollo and TPG have paved the way through the licensing process in most jurisdictions," said Dennis Farrell Jr., a senior bond analyst with Wachovia Capital Markets, in a note to investors. "In our view, private equity interest should support enterprise valuations for most gaming operators, assuming capital market conditions remain healthy."
Los Angeles-based real estate investment firm Colony Capital took a 75 percent equity share in the management-led $5.4 billion buyout of Station Casinos.
Colony Capital was already licensed in Nevada because of its 60 percent ownership in the Las Vegas Hilton.
New York-based Whitehall Street Real Estate Funds, a Goldman, Sachs & Co. affiliate that owns the other 40 percent of the Hilton, announced a $1.3 billion deal in April to acquire the parent company of the Stratosphere, both Arizona Charlie's casinos and a Laughlin casino.
Private-equity investments are also involved in recent and possible deals including Cannery Casino Resorts, Planet Hollywood Resort, Sahara, Riviera and Hooters Hotel.
Dan Primack, editor-at-large at Thomson Financial, told the Review-Journal in May that gaming is joining other traditionally nonprivate-equity sectors, including finance, energy, technology, and telecommunications, in private-equity portfolios.
3) GAMING TAX
Two proposals that would increase the tax rate that Nevada's largest casinos pay on their gross gaming revenues surfaced in 2007.
But it's a story that will continue to unfold throughout the 2008 campaign season, with additional debate expected to be taken up during the 2009 legislative session. As the state's budget crisis unfolded, the casino industry, boosted by what is expected to be another record year for gaming revenues, felt it was in the center of the bulls-eye.
The gaming industry also realizes it has some selling to do with the electorate if it wants to maintain a 6.75 percent tax rate an gaming revenues that has been in place since 2003.
The Nevada State Education Association, a union representing public school teachers, is trying to qualify a proposal for the ballot that would raise gaming taxes to 9.75 percent. Not to be outdone, Las Vegas lawyer Kermitt Waters is trying to qualify his own ballot initiative that would raise the gaming tax to 20.2 percent, the average rate that casinos pay in other states with legalized gaming.
Nevada Resort Association President Bill Bible said it is unfair to target one industry to solve the state's budgetary crisis. He said the general public doesn't realize the full extent that the gaming industry supports the state. The organization also filed a lawsuit to disqualify the teachers' proposal.
"When we did focus groups and showed people what gaming contributes, they came away with two messages to us," Bible said. "They asked us why they didn't know this and why we weren't telling people."
Although Gov. Jim Gibbons has said he won't go back on his campaign pledge to not raise taxes during his term in office, gaming industry leaders, most of whom supported Gibbons in the 2006 election, offered their own solutions to the problem.
MGM Mirage Chairman and CEO Terry Lanni called on the state to adopt a broad-based business tax, taking the message to a meeting of the Nevada Development Authority, where it received a cool reception. Boyd Gaming Corp. President Keith Smith echoed Lanni's sentiments.
"For 75 years, gaming has done its part and more," Lanni said. "And we will continue to do so. It's time for other industries to do their part."
Las Vegas Sands Corp. President Bill Weidner eventually weighed in with a proposal his company floated in the in 2007 legislative session: Privatize the Las Vegas Convention Center, diminish the role of the Las Vegas Convention and Visitors Authority and take the hotel-room-tax dollars that fund both entities and move the money into that state's general fund.
So far, others in the gaming industry haven't endorsed Weidner's suggestion.
"I don't know why we have this institutional negative view about looking at a tax that is being squandered," Weidner said. "We, as an industry, produce and collect that tax. Yet we don't get any credit for it."
4) CHANGING STRIP
The pending soft opening of the $1.8 billion Palazzo serves three purposes. It gives Las Vegas Sands Corp. its second Strip resort; it is the only new casino to be unveiled on the Strip in 2007; and it starts what is expected to be Las Vegas' newest resort building boom.
If all the announced, proposed and speculated upon hotel-casino projects are built, between 18,000 and 42,000 rooms could be added to the Southern Nevada's inventory by 2012. The room count now stands at more than 135,000.
Despite the U.S. economy seemingly in a downturn and local economic indicators showing a declining trend, the Strip continued to evolve in 2007.
Construction proceeded on several big Strip projects while two old Strip relics were imploded. Meanwhile, the long-speculated northern Strip push began to take shape as the Sahara changed hands and MGM Mirage increased its presence in the market.
"Everybody is starting to look around and see what value is out there," said John Knott, executive vice president of the Global Gaming Group for CB Richard Ellis, soon after the Sahara was sold in March to a Los Angeles entrepreneur.
Las Vegas real estate consultant John Restrepo added: "There is no question the natural push is now to the north."
MGM Mirage heard that message. The company bought two land parcels on the Strip's northern end in June, including a 26-acre parcel across from the Sahara. The company then announced a joint-venture agreement with Kerzner Holdings International, developers of the Atlantis Paradise Island in the Bahamas, to build a hotel-casino on the north Strip. MGM Mirage also said it plans to redevelop, rather than sell or demolish, Circus Circus.
Meanwhile, MGM Mirage's $7.8 billion CityCenter development continued to take shape while the company welcomed a new investor. In August, MGM Mirage said Dubai World, the investment arm of the Persian Gulf state of Dubai, was buying half of CityCenter for $2.7 billion. Dubai World also invested in the Kerzner project.
Also during the summer, New York-based Elad Group which is owned by an Israeli bought the 35 acres on which the New Frontier stood and planned to build a $5 billion replica of the New York's Plaza Hotel on the site.
The New Frontier was closed in July and imploded during the fall, joining the Stardust in Nevada history books. In March, Boyd Gaming imploded the closed Stardust to make way for Echelon, the company's $4.8 billion hotel-casino development. Construction began on the project in June; an opening is expected in 2010.
Also on the Strip, Wynn Resorts proceeded with construction of Encore, the company's $2.1 billion sister resort to Wynn Las Vegas. It is expected to open in 2009.
In 2008, only a couple of new projects are expected to open: the first tower of Donald Trump's nongaming Trump International Hotel and Tower behind the Plaza site and Station Casino's $650 million Aliante Station in North Las Vegas.
5) ENERGY FIGHTS
2007 was an up and down year for energy in Nevada.
Electric power rates are up. Profits at utility holding company Sierra Pacific Resources are up. But chances that Nevada Power Co. and Sierra Pacific Power Co. will complete a giant coal-fired power plant near Ely appear to be down.
The Public Utilities Commission raised Nevada Power rates by 11.8 percent for residential customers starting June 1 for a combination of reasons. The regulatory body felt the sting of consumer anger about the rate increase at a public meeting a few months later.
Sierra Pacific Resources' shareholders had reason to be happier.
Utility company profits during the first nine months of the year fell to $193.6 million from $251.3 million a year ago, but the year-ago total included a one-time, after-tax gain of $116.3 million. The gain resulted when the Nevada Supreme Court reversed a utilities commission decision and restored part of a 2002 Nevada Power rate increase. Profits were up by 43.4 percent when the $116.3 million gain from the prior year is excluded.
The company obtained renewable energy through contracts with Nevada Solar One, a 64-megawatt solar thermal plant at Boulder City, and a 14-megawatt, solar photovoltaic installation at Nellis Air Force Base, not to mention geothermal plants.
Sierra Pacific Resources also became the target of criticism from environmentalists, who fear the company's $3.8 billion coal-fired power project at Ely would spew large quantities of carbon dioxide, a gas that contributes to global warming.
Environmental groups asked the Nevada Environmental Commission in September to suspend permitting for the utility plant and two proposed by independent developers. The commission refused, instead approving memorandums of understanding that an environmental leader called worthless.
During the summer, Senate Majority Leader Harry Reid, D-Nev., announced that he would do everything in his power to block the three coal-fired power projects, which he called dirty polluters.
He attached an amendment to a budget bill to raise air quality standards so high for the Great Basin National Park that Sierra's and LS Power Group's proposed coal projects nearby would fail to qualify for air permits. The amendment was pulled from the bill at the urging of Nevada Republicans in Congress, but Reid will get an investigation by the General Accountability Office on whether the Great Basin park should have class one air quality, the same as older national parks.
By the time the report is out, the power developers hope to have a final air permit from the Nevada Division of Environmental Quality. But environmental groups opposed to the coal plants are expected to sue the state and that could delay the effective date of the permits.
6) MACAU BOOMS
Macau solidified its place as the world's fastest-growing gambling market during 2007, fueled partly by Las Vegas-based casino operators that either expanded their holdings in the Chinese enclave or entered the region for the first time.
By the end of 2007, Macau had 8,900 hotel rooms, more than twice as many as the region had in 2006. Gaming revenues produced by Macau casinos topped $6.7 billion in 2006, and gaming analysts predicted the figure would exceed $9.7 billion by the end of 2007. Macau's gaming revenues surpassed the annual total produced by casinos on the Strip.
Macau had 22 million visitors in 2006 and the figure was expected to grow to 25 million in 2007.
"What's interesting is that the Las Vegas model of tourism development, which uses casino gaming as a fundamental driver of economic growth, is at play here in Asia," said Jonathan Galaviz, a partner in Las Vegas-based Globalysis, a research and consulting firm that advises companies in several travel-related industries on the Asian market. "This is why Las Vegas companies are so successful in the region."
Three new major resorts opened in Macau during 2007 — the $585 million Crown Macau, which is operated by Australian-based Melco PBL; the $2.4 billion Venetian Macau, which is owned by Las Vegas Sands Corp.; and the $1.2 billion MGM Grand Macau, a joint venture between MGM Mirage and Hong Kong businesswoman Pansy Ho.
Along the Cotai Strip region of Macau, 20,000 hotel rooms housed in more than dozen hotel-casinos are in various phases of construction. The bulk of the new development is expected to open in 2009. Las Vegas Sands is spending almost $12 billion to build resorts on the Cotai Strip.
The Venetian Macau changed the Chinese market, adding 3,000 hotel rooms and housing a 546,000-square-foot casino. The hotel-casino, which anchors the Cotai Strip, also has 1 million square feet of retail space, 1.2 million square feet of convention space and a 15,000-seat arena.
The 600-room MGM Grand opened Dec. 18 and was MGM Mirage's initial entry into the market. The Wynn Macau opened in 2006 and hotel tower expansion is being planned.
The booming casino industry is taxing Macau's infrastructure. How to move potential customers from the downtown peninsula area to the Cotai Strip and back concerns gaming operators and is expected to be explored in the coming year.
"Getting people to Macau is not a problem," MGM Mirage International CEO Bob Moon said. "It's getting them around once they are here that is the issue."
Said Wynn Macau President Ian Michael Coughlin, "This is a city of 500,000 people, and the development here in the last five to seven years has been remarkable."
7) ECONOMY SOFTENS
For Las Vegans who believe 5 percent job growth and 4 percent unemployment are local birthrights, 2007 provided a rude awakening.
The city had major dips in several key indicators that once provided the pride of local business and government leaders.
Job formation slid from as much as 6 percent in 2006 to 1 percent by October on a year-over-year basis. Unemployment surged past the national average of 4.7 percent, jumping locally from 4 percent in October 2006 to 5.2 percent a year later. Population growth slowed to 3.7 percent, down from 5.3 percent in 2006. And tax revenue from gaming and sales, which shattered records in 2005 and 2006, came in substantially lower than expected and left a $440 million hole in the Nevada budget by early December.
Behind the declines were a faltering housing market and a lack of new capacity in the resort industry, said Keith Schwer, director of the Center for Business and Economic Research at the University of Nevada, Las Vegas. Nevada topped the nation in home foreclosures for the latter half of 2007, and pain in the housing sector meant less spending by consumers. And with no major additions of hotel rooms, Las Vegas maxed out on its ability to boost visitor volume.
"We're running at roughly 90 percent occupancy (in hotel rooms), so if somebody would like to come to Las Vegas on a specific date, we might not have the rooms, and if we have the rooms, prices might have gone up too much," Schwer said.
Though 2007 wasn't a great year for key economic indicators, it wasn't painful for the most part, either. After all, Schwer said, even anemic growth is growth.
So what of the long-held notion among many in the business community that Las Vegas is recession-proof?
That has changed, Schwer said.
"We're making progress," he said. "Now, we're just recession-resistant."
The downgrade to recession resistance is progress, Schwer said, because it's a sign of the local economy's maturation and increasing sophistication.
The economy is much larger now than it was a decade ago, and it more closely resembles the established economies of major states such as California, Schwer said.
"We often say, 'Things are really different in Las Vegas than they are everywhere else,'" Schwer said. "Well, this was a year in which we really weren't that different."
8) CULINARY CONTRACTS
Contracts covering 50,000 workers represented by the Culinary and Bartenders unions came due in 2007.
It was an industrial laundry that services the hotel industry that came the closest to strike by workers. Negotiations reached the 11th hour before Mission Industries settled a collective bargaining agreement with Culinary Local 226 in November.
The contract averted what would have been the union's first strike in five years. The deal was reached just hours before 1,560 workers were scheduled to walk off their jobs.
The union had picketed some of Mission's customers and handed out fliers along the Strip to raise awareness of the negotiations in the weeks leading up to the agreement.
The strike would have been supported through an $80 million fund set up in September, the largest such fund in the union's history.
Contracts covering Strip and downtown hotel and restaurant service employees, including bartenders, cocktail servers, waiters, housekeepers and maids, expired June 1. Union members continued working under extensions until new deals were reached.
The first few dominoes fell when the Culinary and Bartenders Local 165 reached deals in June and August with the two biggest operators; 15,000 workers at six Harrah's Entertainment owned hotel-casinos and 21,000 workers at 10 MGM Mirage owned hotel-casinos.
Twelve more properties, many downtown, reached deals between September — when union announced its strike fund — and the end of October.
All the agreements followed the basic outline of a traditional Culinary deal — five-year contracts covering wage increases; inclusion in the pension fund; guaranteed workweeks; and support for the union's health plan, which doesn't require out-of-pocket payments from workers.
One of the unions' biggest concerns was to include language that allowed organizers to lobby workers who were employed on projects where the gaming companies and hotel-casinos have joint-venture agreements.
The announcement of a new agreement was usually followed by a statement to the media from several of the Democratic presidential candidates, who used labor negotiating rallies to court Culinary members for their support.
As 2008 approaches, the union is still trying to negotiate new contracts with the Tropicana, Golden Gate, Binion's and Jerry's Nugget.
9) BUSINESS INITIATIVES
Local businesses in 2007 felt the power of the ballot box, as the effects of two ballot referenda spread through the area's economy.
Voters in November 2006 passed a law that constitutionally resets Nevada's minimum wage to $1 higher than the national average, plus annual increases to account for inflation. The public also approved a law that banned smoking inside establishments that serve food and inside convenience stores and grocery stores.
The upshot of both: Nevada businesses that don't pony up for health insurance now pay employees a minimum of $6.33 per hour, with an increase to at least $8.25 an hour once federal jumps in the rate cap out in July 2009. And local taverns and bars have scrambled to ditch food service or rebuild their operations to separate smokers from nonsmokers.
Observers say companies have felt the new rules.
Numbers from the state's Department of Employment, Training and Rehabilitation show that unemployment-insurance claims in Nevada's food-service economy are up 50 percent from a year ago.
Pinpointing job loss among minimum-wage earners is tougher, because the department doesn't collect unemployment data by pay rates. The agency did estimate, though, that 57,000 workers, out of a statewide labor force of about 1.3 million, took home between $5.15 and $6.15 an hour in November 2006, and the new law would affect those low earners the most.
Veronica Meter, vice president of government affairs for the Las Vegas Chamber of Commerce, said both laws have burdened businesses.
The wage initiative created a two-tiered pay scale based on whether a business pays for employees' health insurance, and the smoking ban has generated confusion on who must comply and how local agencies will enforce the rule, Meter said.
Meter said the chamber didn't have details on whether the ballot questions have led to significant job loss locally.
Bill Anderson, chief economist for the Department of Employment, Training and Rehabilitation, cautioned against attributing economic tribulations to either law.
Researchers see anecdotal evidence that the new regulations have affected businesses, he said. But the Silver State suffered widespread malaise in 2007, starting with a substantial slowdown in the housing market and continuing with a dearth of the resort openings that propel the economy. Those forces likely dwarf any ballot-box fallout, Anderson said.
For Meter, the lesson is bigger than any economic message.
"Nevada voters signed onto these petitions with the best of intentions," she said. "But these two laws are great examples of initiatives that have created substantial unintended consequences. It's really difficult to grasp complex issues in a small paragraph on a ballot, and to appreciate the full spectrum of what an issue will mean and what its consequences will be."
10) LENDER PROBLEMS
About 130 real estate investors were relying on Southwest Exchange of Henderson to hold $95 million when the firm closed 11 months ago.
The real estate investors have yet to see any of their money trickle back from a court-directed receivership, but the investors got some good news in November when a stock brokerage agreed to settle lawsuits for damages by paying $23 million.
Southwest Exchange was a qualified intermediary or accommodator. Real estate investors often rely on intermediaries like Southwest Exchange to hold the proceeds from property sales. When intermediaries hold the sale proceeds, investors can delay paying income taxes on their gains and roll over the money into another property.
In late January, , Southwest Exchange closed, leaving only a few dollars in cash.
Clients of the financial firm learned their money was gone. Southwest Exchange chairman Donald McGhan and other family members were named as defendants in 15 lawsuits in Clark County district court, plus a separate class action lawsuit in federal court.
Lawyers soon determined that Peter John DeMarigny, a former stock broker for UBS Financial Services, had handled financial transactions for Southwest Exchange.
With the help of DeMarigny and others, McGhan and other defendants used investor money to support a lavish lifestyle and McGhan's Medicor Ltd., a penny stock company that made breast implants, lawsuits say.
While Southwest Exchange has few assets, deep-pocketed defendants such as UBS may enable the company's former clients to recover at least some of their money. Attorneys for investors also hope to recover assets from other third-party defendants.
Real estate professionals say the moral is: Don't trust independent intermediary firms, such as Southwest Exchange, with proceeds from property sales. Have sales proceeds sent to a large title company, which can also serve as an intermediary.
If a title company employee steals an investor's money, the investor may be able to recover assets to satisfy a potential judgment against the title company.