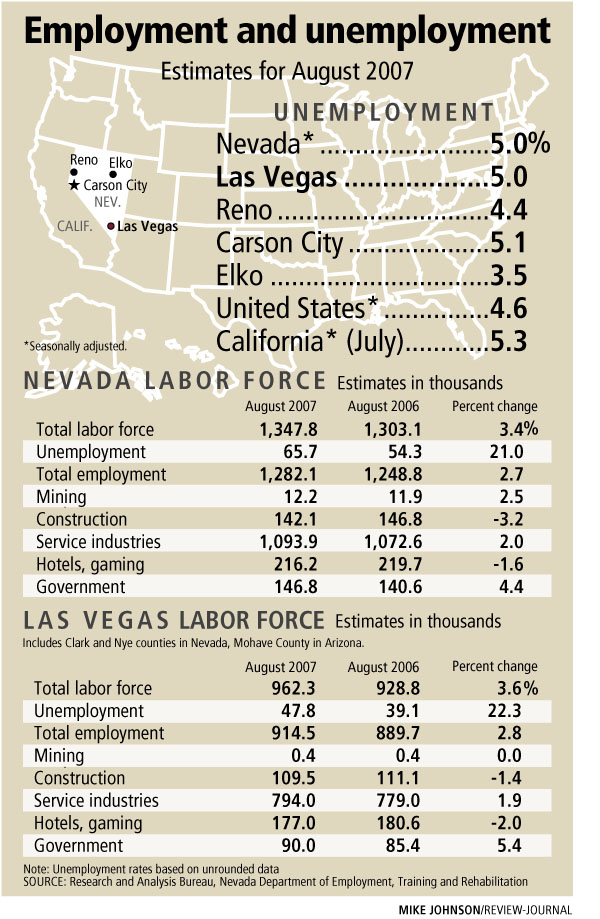 Southern Nevada casinos, home builders and temporary employment agencies continued trimming their work forces in August although the Las Vegas unemployment rate dipped 0.1 percent to 5 percent, a state agency reported Friday.
Statewide, seasonally adjusted unemployment was the highest since November 2003, according to the Department of Employment, Training and Rehabilitation.
Nevada's 5 percent unemployment rate compared with 4.6 percent nationally in August. The Silver State's jobless number was 4.9 percent in July and 4.2 percent a year ago, shortly after the economic slump began.
In Las Vegas, the 5 percent unemployment rate was sharply higher than the 4.2 percent rate recorded in August a year ago, according to the department.
"The economy is certainly slower than it's been for the last three or four years," said Jim Shabi, a Department of Employment, Training and Rehabilitation economist.
Underlining the jobless trend, Shabi said taxable sales in Nevada were down three months in a row, the first time Nevada has had three consecutive down months in 15 or 16 years.
Higher housing payments and high gasoline prices may have flattened wallets and cut consumer consumption, he said.
Shabi found three depressed sectors in the latest numbers for the Las Vegas area: temporary employment agencies, housing construction and casinos.
The three sectors lost 8,000 jobs, but "other sectors have produced 22,000 new jobs," he said.
The number of jobs at employment services plunged 14.6 percent from a year ago.
When sales decline, businesses cut temporary workers first, Shabi reasoned, making temporary services a leading indicator of the future economic conditions. "It's one (sector) to watch. It's not the full story," he said.
Shabi believes some of the job decline in the temp field may stem from the stalled home building industry.
Hiring in the building construction trades was up 1.1 percent, although the continuing boom in Strip casino projects masked some of the job losses in housing construction.
The closing of the Stardust in November and the New Frontier in July and layoffs possibly related to pending private buyouts of Harrah's Entertainment and Station Casinos appears to explain the 1.9 percent drop in casino employment.
Gaming employment will surge as new Strip projects start coming online in the next few years, he said.
Shabi pointed to a positive trend in food services and drinking establishments, which increased employment 4.8 percent over a year ago. Private education and health services climbed 5.2 percent. Government, which includes state universities and public schools, boosted jobs by 5.4 percent.
Shabi related some of the job growth in those sectors to population growth, rather than general economic strength.
"The retail trend is not bad," with employment up 2.7 percent, he said.
Manufacturers in Las Vegas added 500 jobs, an increase of 1.8 percent over a year ago.
"You can argue that housing is in recession, but the rest of the economy is at least maintaining a modest level of growth," Shabi said.