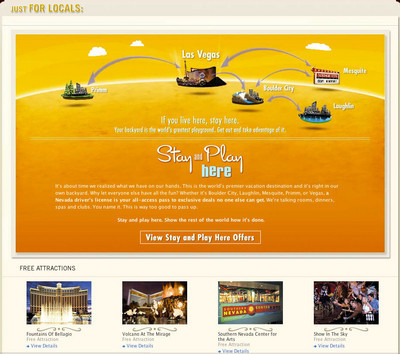 Destination resorts in Las Vegas are betting locals can help fill the spending gap caused by fewer tourist and business traveler visits.
This week the Las Vegas Convention and Visitors Authority launched its first coordinated campaign to attract more locals to area resorts.
The campaign comes amid a visitation decline that's putting downward pressure on room rates and prompting resorts to get more creative to find business.
Palms owner George Maloof says local customers will be the ones who lead Las Vegas out of recession.
"They might not spend as much per trip but they are here 20 times a year or 30 times a year," Maloof said. "If you lose them, it is like losing 30 customers."
The Palms, which opened in November 2001 in the wake of a post-Sept. 11 tourism slump, has long considered locals a major component in its customer mix.
Even though the resort is known as a hangout for rock stars and venue for awards shows and reality television, Maloof says it is locals who contribute much of the property's soul.
The locals, he says, are not only enthusiastic gamblers but can also help or hurt the perception of a property, depending on their customer experience.
"They talk about the amenities, then they talk to the visitors," Maloof says. "If I get a list of calls and I have Britney Spears calling me and a local customer calling me, I'll call the local customer first."
The center of the authority's locals campaign is a Web site that compiles locals-themed offers from properties in Las Vegas, Boulder City, Laughlin and Mesquite.
The Web site, www.stayandplayhere.com, is maintained by the authority. The campaign is also supported by the Las Vegas Chamber of Commerce. The total cost to the authority is $78,753.
The campaign is also on the microblogging Web site Twitter, so residents can sign up to receive offer updates by mobile phone.
Some of the offers on the Web site Friday included one from MGM Grand that offered locals complimentary limousine pickup and return for any size party if they eat at the upscale Joel Robuchon restaurant. The offer extends to groups of six or more at several other MGM Grand restaurants.
Palms Place posted an offer to allow locals who book a studio room to upgrade to a one-bedroom suite for another $50 and also receive complimentary passes to the Playboy Club, access to Drift Spa and passes to three nightclubs.
Las Vegas resident David Hauck says he and his wife stay on the Strip about three or four times per year.
He says the effort to attract more locals will work if resorts offer prices comparable to neighborhood attractions.
Hauck cited breakfasts for $19 and $13 at Caesars Palace and Paris Las Vegas, respectively and $18 for a beer and a cocktail poolside at Caesars as examples of prices that scare locals away from resorts.
Convention authority spokesman Vince Alberta says the campaign is aimed at highlighting how much prices have fallen lately.