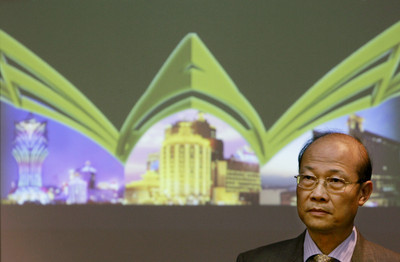 HONG KONG — Billionaire casino magnate Stanley Ho plans to proceed with his Macau gambling company's debut on the stock exchange next week after a court on Wednesday thwarted a legal challenge from his estranged sister.
The Hong Kong court refused to grant Winnie Ho an injunction to stop the listing of Sociedade de Jogos de Macau, or SJM. In a written decision, a justice rebuffed her argument that regulators should have objected to the listing and the exchange should never have approved it.
It was the latest twist in a bitter public feud between the two sibling tycoons, who fell out in 2001. She has since gone out of her way to stop his company from listing in Hong Kong, and has filed dozens of lawsuits over the years.
Among her many accusations, Winnie Ho says she's owed dividends from SJM. The listing has been delayed repeatedly.
On Wednesday, SJM praised the courts' decision and said its debut on the stock exchange would go ahead on July 16. Its original debut was scheduled for Thursday but postponed by the legal challenge.
The company was "delighted" by the decision, its chief executive, Ambrose So, said at a news conference.
Stanley Ho "of course welcomed the decision," So said. "He said he's very happy to have this decision and support of all regulators."
A spokesman for Winnie Ho's legal case, Donna Yau, said Ho's lawyers were reviewing their options.
SJM sold a 25 percent stake, about 1.25 billion shares, at the low end of the pricing range. The listing raised about $494 million, most of which the company says it plans to spend on new casino projects.
Stanley Ho, worth more than $9 billion according to Forbes, lost his monopoly in Macau several years ago. Now his 18 casinos must compete with American newcomers like Wynn Resorts Ltd. and Las Vegas Sands Corp.