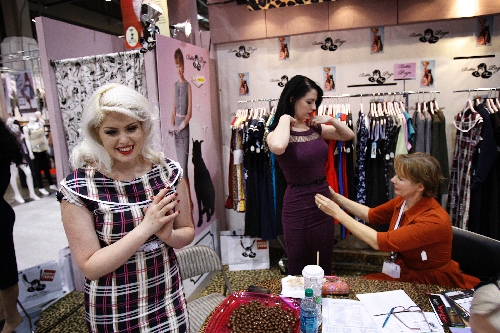 Add the MAGIC Marketplace to the growing list of contradictory economic indicators.
During the opening hours of the massive semiannual fashion trade show, James Pan had seen only a trickle of buyers stop at the booth of SJ Mode Fashion, a Chinese sweater maker with its U.S. affiliate based in Las Vegas.
"It's kind of slow but I expected it," said Pan, the general manager. "All the retailers have been telling us that consumer spending has not been strong, so they have been holding back."
But a few aisles away, the experience was much different for Marcus Paglialonga.
"I think there has been an incredible improvement in buyer response," said Paglialonga, owner of Las Vegas-based Gypsie Junkie, which makes clothing, jewelry and decorative items. "Buyers are less fearful when it comes to placing orders or the order size. Attendance seems to be up."
Likewise, it was not clear what the show, which runs through Thursday, indicates about the local convention industry. Executives for MAGIC — the Men's Apparel Guild in California — reported a 25 percent increase in retailer registration and a larger exhibit floor than in the recent past but would not disclose hard numbers or attendance figures.
The show's size declined significantly on both buyer and exhibitor sides last year, although it remains one of the city's largest year in and year out.
The Las Vegas convention business has struggled to regain its footing during the economic downturn. Through the first six months of this year, according to statistics from the Las Vegas Convention and Visitors Authority, convention attendance dropped 4.1 percent from last year even as the overall visitor count rose 1.9 percent. This year's attendance decline comes on top of the 23.9 percent recorded in 2009.
The numbers are critical to the local economy because conventions generate higher per capita spending than tourists.
"This is not as busy as it was three years ago but about the same as in February," said Jan Glaser, co-owner of Bettie Page Clothing, which designs and markets 1950s-style women's clothing from its office in Henderson.
He attributed part of that to placing pieces of the show at the Mandalay Bay Convention Center, splitting the foot traffic between there and the Las Vegas Convention Center. On the other hand, he has noticed a buying surge from international customers, including those from Europe, Australia and New Zealand.
This was the initial show for Shala Sorenson, an interior designer who started Body Designs by Shala in Henderson nearly a year ago as real estate work dropped off. She has focused on clothing for large women, wearing sizes 12-24, who want style and to "cover up the right areas" such as their arms.
"It has been slow at first, but I don't have anything to go on as a point of comparison," she said.
James White, another first-timer, was "pleasantly surprised." White is half- owner of WD Fashion, a Chinese company that makes blank shirts purchased by companies that add graphic designs. He established the company's U.S. affiliate in Las Vegas this year.
Contact reporter Tim O'Reiley at toreiley@
lvbusinesspress.com or 702-387-5290.
MAGIC returns to Las Vegas