MAGIC trade show draws 85,000 people to Las Vegas
August 16, 2017 - 5:22 pm
Updated August 16, 2017 - 8:54 pm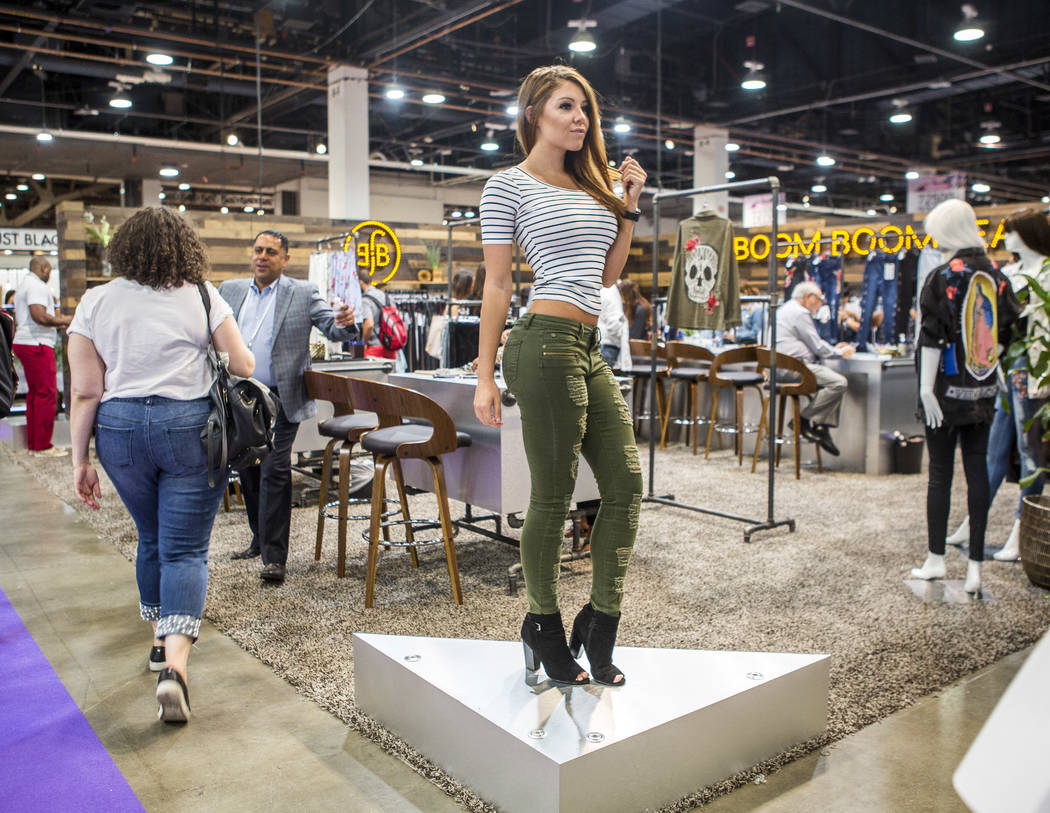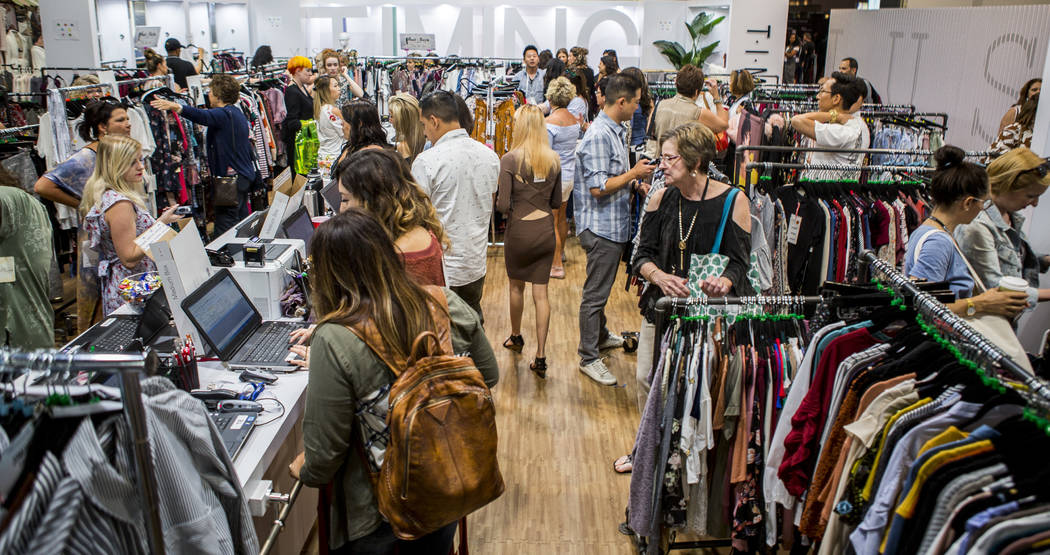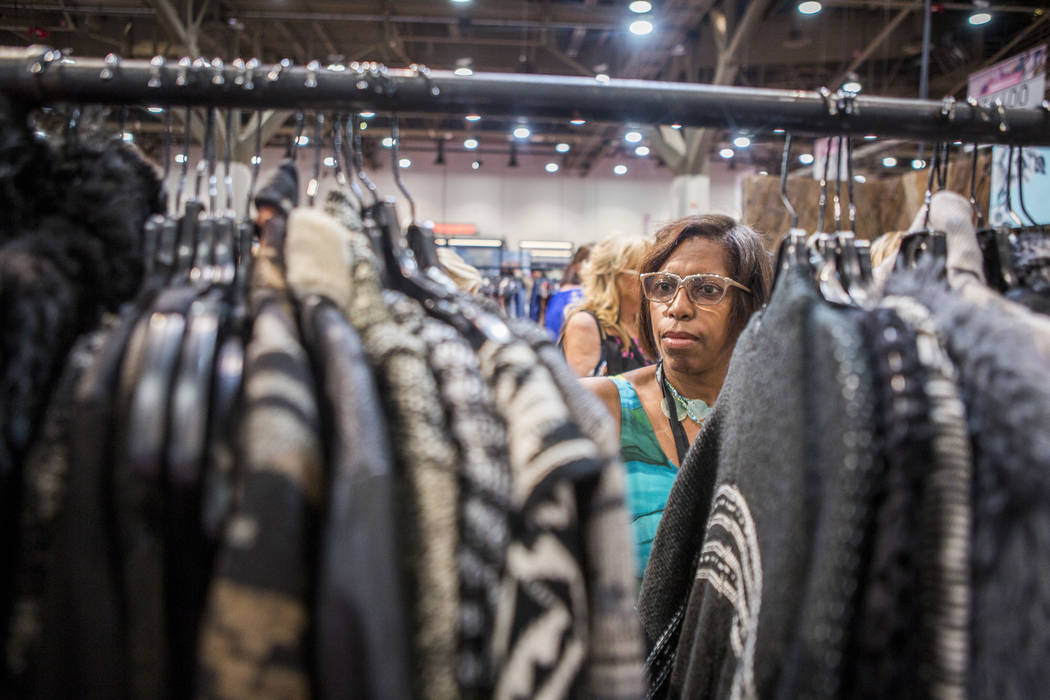 Roxie Amoroso's eyes scrolled over pendants shaped like parts of the human body. A miniature rib cage. An anatomically correct heart.
"This is so cute," she said. "This is exactly what I'm looking for."
Inside the Mandalay Bay Convention Center, Amoroso asked how many she needed to buy to get wholesale price. About six pieces sounded like an acceptable answer to the co-owner of the Exile on Main Street boutique in downtown Las Vegas.
She came to the summer MAGIC trade show for retail brands and sellers on Tuesday to seek inventory and inspiration for her boutique, known for its vintage clothing.
Walking among 5,000 or so exhibitors, Amoroso noticed a trend.
"Everything is vintage today, or vintage-inspired," she said. "How am I going to sell anything?"
Amoroso wasn't the only person with questions on her mind. The nearly 85,000 people attending the trade show came at a time in retail when traditional brick-and-mortar department stores felt the hurt of too much real estate and tough competition from online marketplaces.
Visitors to MAGIC — or Men's Apparel Guild in California — were expected to spend about $99.8 million, according to the Las Vegas Convention and Visitors Authority. The trade show ended Wednesday.
Stationed among a sea of accessory sellers in the trade show's other location at the Las Vegas Convention Center, Henderson resident Judy Jansen hoped to draw eyes to her newly released jewelry line, priced for a more general buyer.
Jansen, who sells under the name J. Jansen Designs, said she has come to MAGIC for about 15 years and lived in Henderson for about five.
She paid about $5,000 for her booth, among one of the smaller models on the floor. But the trade shows have always been worth her time, she said. She credited trade shows with helping her land a deal to make watches for the Chico's retail chain.
"I'm here for the exposure," she said. "You never know what comes up after."
The hand-wringing in the retail industry hadn't gotten Jansen down.
"There's still a lot of money out there," she said. "Once you get into the fashion industry, you don't want to leave."
Figuring it out
In another section of the Las Vegas Convention Center, Brent Harrell sang a pop song into a hand-held mic that worked with a smartphone.
His antics paid off. Groups of retail representatives stopped to receive pitches on his booth's rows of impulse-buy items. His booth was about the size of Jansen's.
Fidget spinners. Fans. Grips that stick to smartphone and e-cigarette cases. All items small enough to sit next to a cashier. A small but steady revenue source for any season, said Harrell's manager, Jason Wisser of Mila Wholesale.
Mila, which has an office near the intersection of Jones Boulevard and Spring Mountain Road, has defied the industry doom-and-gloom with 80 percent of sales from brick-and-mortar, Wisser said.
A close relationship with overseas manufacturers kept Mila at the forefront of the next big impulse buy, he said.
The company has a presence at trade shows in Los Angeles, Atlanta and Seattle. This was Wisser's first time at MAGIC, which came to Las Vegas in 1989. He said he felt surprised and grateful for the attention his booth got. A list of names and emails from interested retailers sat nearby.
"It's a great feeling," Wisser said.
Across the aisle, Raj Kapoor of Raj Imports shook his head and laughed at the Mila men's antics.
Last year, Kapoor had paid about $30,000 for showcase space that included the Mila booth. He had decided this year to scale back to about half the size.
He said he has been coming to MAGIC for about 15 years. Kapoor continued to truck his goods from Los Angeles because MAGIC gathered so many department store representatives he needed to meet with in one spot.
Speaking of which, the time came for his meeting with a woman from a 500-store retail chain. He turned away from the Mila booth.
"We're all trying to figure it out," he said.
Contact Wade Tyler Millward at wmillward@reviewjournal.com or 702-383-4602. Follow @wademillward on Twitter.