Mainstay of convention scene trims show days
February 18, 2009 - 10:00 pm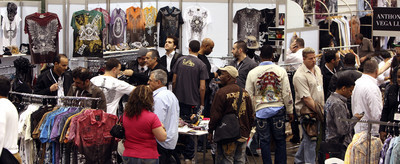 In 27 years selling and showing hats Arnold Ackerman has seen "the highs and the lows" of MAGIC, one of the most important conventions in Las Vegas.
"Right now we are in a low," says Ackerman, who attended the clothing convention this week despite having passed ownership of his New York Hat & Cap Co. along to his children.
"The show is smaller," said Ackerman, one of thousands of exhibitors at the Las Vegas Convention Center for MAGIC, formerly the Men's Apparel Guild in California show. "The less exhibitors you have, the less customers who are going to come."
The question for organizers of MAGIC and other trade shows and conventions is whether lagging attendance is short-term fallout of a lousy economy or a sign of a long-term shift in the way people do business.
MAGIC officials didn't say how many people they expect to attend their event, which continues through Thursday. It is a twice-annual event for Las Vegas.
But there are signs the show, which moved to Las Vegas in 1989 and which reported more than 100,000 attendees at past shows, has seen better days.
There are no longer exhibits in the south hall or in the parking lots. The show itself has been trimmed from four days to three.
The show, which consists of about a dozen sections under the umbrella MAGIC Marketplace, coincides with Project and Sourcing at MAGIC at Mandalay Bay and the Hilton, respectively.
It's owned by Advanstar Communications of Woodland Hills, Calif.
MAGIC exhibitors are people who design and manufacture clothing and accessories and the attendees are drawn from the nation's retailers and other clothing sellers.
Both segments are hurting in the recession as declines in consumer spending force retailers and manufacturers to charge less or lose sales.
"For most companies the day-to-day things are more important than any trade show," said Erin Murphy, owner of Fireflite, a line of active wear Murphy compares to the Columbia brand, except for a younger audience.
Murphy built the brand himself, beginning in his garage in Huntington Beach, Calif., and growing to a line that is sold in several national retail outlets.
He says the recession has turned the industry upside down in a matter of a few months.
"What was working before last Thanksgiving and what is working now are two different things," he said. "You can tell stores are really evaluating the price points they sell things for and are re-merchandising."
Under the new world order Murphy described, authenticity and agility are keys to survival, leaving lumbering giants vulnerable if their lines are too trendy or beyond the price people are willing to pay.
"(Big companies) might have a harder time changing paths," said Murphy, whose company employs just five people. "We can offer up new product in less than 60 days and have it on the floor at an aggressive price point."
There were plenty of other small-business owners besides Murphy at MAGIC.
Alisa Ochoa of Henderson said the show was a great venue for her line of stylized footwear.
Ochoa's company, called Penelope Wildberry, offers airbrushed footwear with designs that can be customized. She says trade shows like MAGIC are critical to her success.
"This show seems to be pretty busy," Ochoa said. "This is the best way to get your product out there and get it seen."
Ochoa has shown at events around the country. Her product, particularly a line of custom-styled boots, has been noticed by moviemakers who asked her to create versions for stars to wear to tout new movies.
Through trade shows in Las Vegas and elsewhere Ochoa says she's landed accounts in Russia, Germany, Japan, Saudi Arabia and Dubai.
MAGIC is also a big event for Ginny Macey, owner of The Emporium, a small retail store in Cheyenne, Wyo.
Macey and her daughter, Layne Macey, arrived in Las Vegas on Saturday, spent the weekend sightseeing and going to shows then headed to MAGIC.
Layne Macey said viewing merchandise online or in a catalog doesn't provide enough knowledge for retailers to make smart buying decisions.
She also said attending shows in person is a great way to interact with longtime suppliers.
"The Internet can only go so far," Layne Macey said. "You have a one-on-one relationship with the vendor and they know what you want and are looking out for you."
Contact reporter Benjamin Spillman at bspillman@reviewjournal.com or 702-477-3861.
MAGIC Slideshow