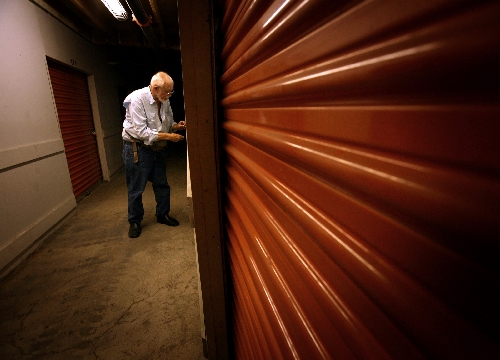 Walter Gibson is working his cellphone in a bare-bones office at the Public Storage on Martin Luther King Boulevard, calling someone in Chicago to tell them to come and get their stuff.
The storage facility is in the path of Project Neon, the widening of Interstate 15 from Sahara Avenue to the Spaghetti Bowl. It's been acquired by the Nevada Department of Transportation, which means Las Vegas will soon have 700 fewer storage units.
As of last week, all but about 150 units were vacated, said Gibson, of O.R. Colan Associates, a land acquisition and relocation company working for the state. He traveled to Las Vegas from Yuma, Ariz., to oversee the process of moving everyone out by the end of December.
He's going to be a busy man.
20-YEAR UNDERTAKING
Project Neon is a $1.8 billion, 20-year highway improvement project that in five major phases will add more than 13 lane-miles of new bridges, a high-occupancy connector between U.S. Highway 95 and I-15 and an access ramp at Wall Street, as well as improvements to Charleston Boulevard, Martin Luther King Boulevard and Grand Central Parkway.
The goal is to untangle the Spaghetti Bowl so that it will be able to handle a projected 500,000 cars per day in 2030, nearly double its current traffic load.
To make way for Project Neon, the state by 2014 will acquire 50 separate properties totaling 93 acres, NDOT manager Cole Mortensen said.
After the project received a green light from federal transportation officials in 2010 NDOT approved $60 million for right-of-way purchase and preliminary engineering, Mortensen said.
The department has already bought 11 parcels and has made offers on 38 others, he said. Nine of the parcels are residential and some are vacant, but some now are home to viable businesses.
NDOT won't identify businesses it will buy out until after a deal is done.
"There's concern that negotiation efforts may be hampered if information gets out about who we're trying to work with, which properties we're trying to acquire," agency spokesman Damon Hodge said.
But some acquisitions are already known. In addition to hundreds of Public Storage units between MLK and the freeway's southbound lanes, the project will carve away part of a Walker Furniture warehouse, roll over the WestCare rehab facility and blow through a relatively new, and now vacant, office complex at MLK and Alta Drive.
Many of the deals, which take four to six months from first contact to completion, involve eminent domain, or a forced sale for the general good of the public. Land owners are paid the appraised fair market value plus the cost of moving away, and have the option of appealing if they feel the offer is too low.
"We look at comparable properties within the area – not necessarily next door – and what will be impacted," Mortensen said of the prices paid. "We look at what it costs for relocation to a similar property in the area."
It makes sense that businesses are "made whole," he said.
"Say a business has equipment that's not up to code, then we have to bring them up to code," he said.
Alternatively, a commercial business can take a payment of up to $20,000 in lieu of relocation and moving expenses, based on the business' net income.
Even individuals are compensated for the move. Hundreds of Public Storage tenants were paid $350 to $1,110 for relocation expenses, depending on the size of their units.
Some property owners have disputed the appraisal amount, which leads to appeals, negotiations and, in some cases, judicial review.
In May, the state Board of Examiners agreed to pay $25 million to Pierce Development for seven acres at Western Avenue and Wall Street, south of Holsum Lofts. The land was once planned for a mixed-use project called Wall Street Towers. Now it's part of a route that will connect Western Avenue with Grand Central Parkway.
The settlement was confidential, and neither side will say what the original offer was. Still, it is important to dozens of other property owners in litigation to determine how much the state should pay because it supports their contention that some appraisals are coming in under true value.
NIGHTMARE OR DREAM
For property owners, being forced to move from a long-established location can be a nightmare, fraught with fears that customers won't follow.
But for others, being paid to relocate is a dream come true.
Minneapolis attorney Dan Beirsdorf, a specialist in eminent domain law, said he's talked to a number of property owners who were contacted by NDOT and found some are eager to sell. Hammered by recession, they didn't think they could stay in business another year, he said.
"They're struggling and this offers them a way out. Same with residents," he said.
Charleston Antique Mall, formerly adjacent to the northbound lanes of I-15 at 307 W. Charleston Blvd., gave way to Project Neon in April, relocating to 560 S. Decatur Blvd.
Mall owner Michelle Tully recently told The View newspapers that despite a three-month closure, business has more than doubled since the move.
The move paid off because Tully found a decent location with better access and added 2,000 square feet of showroom space, manager Steve Perez said.
"Certainly there was a lot of downtime to box everything and move everything and unpack everything, so there was a process to close it down and get the word out that we're moving," Perez said. "But we rolled with it and adjusted like everybody."
Contact reporter Hubble Smith at hsmith@reviewjournal.com or 702-383-0491.
PROJECT NEON, PHASE 1
NDOT interactive map of Project Neon
Design and initial construction start: Early 2014.
Length of work: 5 to 6 years.
Estimated cost: $370 million to $470 million.
Major elements
• A Western–Grand Central Parkway connection
• A U.S. 95 High-Occupancy Vehicle-I-15 express lane connection
• An HOV direct connect to Wall Street
• Charleston interchange reconstruction
• An Alta slip ramp allowing freeway exit and entrance lanes
• A Martin Luther King Boulevard-Desert Lane connection
• Sound walls
Source: Nevada Department of Transportation