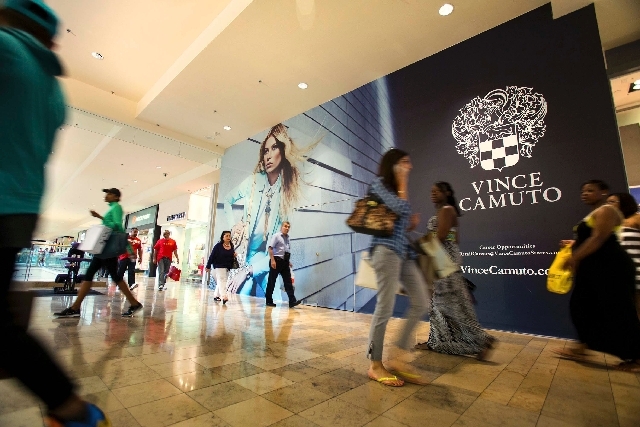 As their positive sales growth continues, local shopping centers on the Strip are getting ready to welcome the rest of their industry. Next week, the International Council of Shopping Centers' annual convention, RECon, comes to Las Vegas, bringing with it about 35,000 people in the retail industry.
Locally, the Strip-based shopping malls are busy welcoming new brands while other, longtime retailers are expanding.
"We've seen a flurry of retailers very interested in coming to Las Vegas," Janet LaFevre, General Growth Properties senior marketing manager for Las Vegas, said. "This is still a very hot market for retailers who are looking to open new or interesting concepts."
Vince Camuto, for example, is slated to open its first 1,100-square-foot Las Vegas store at the Fashion Show mall in late June.
"Las Vegas has been a central focus for us for some time," Leah Robert, executive vice president of licensing for Vince Camuto, said.
She said the sheer number of tourists the city attracts can help drive brand awareness to the designer's target demographic of women ages 25-45. The brand also is looking to possibly open an outlet store in the city later this year or next.
In February, one of seven Macy's Men stores opened at the 32-year-old Fashion Show mall, and soon, shops like Lush, Joe's Jeans and the Disney store will join the center. Recently, Express unveiled its remodeled store.
"It's not just about adding square footage" said Michael Weiss, chairman and CEO of Express, "It's about doing it where it counts and really makes a difference. We moved into a new space that is more prominent, significantly larger and really boosts our presence within the mall."
Urban Outfitters, too, is set to open a 13,000-square-foot store, and there are 22 tenants in active negotiations with General Growth that are first to market, expanding or relocating inside the Fashion Show, representing 76,000 square feet in active deals. Sur La Table relocated to a larger, 4,361-square-foot space.
"It's a mall that has a great collection of retailers that's located to attract residents and tourists and it's worked well for us," Eli Winkler, vice president of marketing at Sur La Table, said.
Down the street at the Grand Canal Shoppes and Shoppes at the Palazzo, the center is getting a new 18,000-square-foot restaurant lounge that will be announced within the next 30 days.
"The retail environment is extremely strong, and not only in sales and traffic. One strong indicator is interest from retailers themselves," LaFevre said.
General Growth Properties reported a 5.3 percent first quarter 2013 net operating income increase for its mall portfolio, to $531 million from $505 million in the prior year period. In Las Vegas, General Growth owns the Meadows Mall, Fashion Show Mall, Grand Canal Shoppes and the Shoppes at the Palazzo. The Strip-based General Growth malls finished 2012 with their strongest sales and traffic increases since 2007. At Fashion Show, 14 stores finished 2012 with annual sales over $2,000 per square foot, and almost 50 retailers posted 2012 double digit sales increases over 2011. At the Grand Canal Shoppes, almost 50 stores reported double digit sales increases over 2012.
The Simon-owned Forum Shops at Caesars also has seen double-digit increases year-over-year. The 21-year-old center has had 10 new retailers open recently, including first-to-market brands Alfred Dunhill, Hublot, Breitling, Panerai, L.K. Bennett, Sandro and Sergio Rossi. Six more new tenants are coming soon including Van Cleef & Arpels, M Missoni, REDValentino and luxury Western outfitter Kemo Sabe. Carmine's NYC Italian Family Restaurant also is set to open this year. And finally, five retailers already in the center have expanded or remodeled: Michael Kors, Cache, bebe, Roman Times and Tod's.
Miracle Mile Shops owner David Edelstein said: "I am very optimistic about the health and future of the Vegas Strip retail scene. Las Vegas is seeing an overall shift away from high-end luxury, and shoppers and visitors are really responding."
In 2011 and 2012, Miracle Mile secured more than 94,000 square-feet of new tenants, lease renewals and individual stores investing in remodels.
"We are also in the process of negotiating several new leases and expect to make announcements about those very soon," Edelstein said.
Contact reporter Laura Carroll at lcarroll@reviewjournal.com or 702-380-4588. Follow @lscvegas on Twitter.