Man who oversees country's biggest banks lives in Las Vegas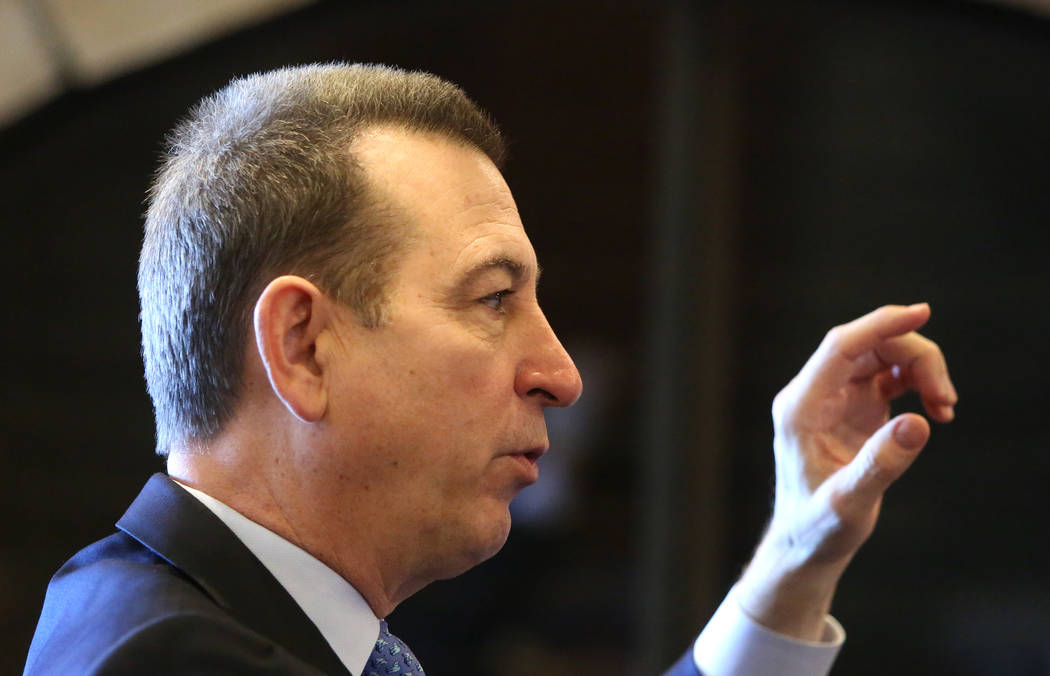 Joseph Otting oversees the United States' biggest banks. When he's not in Washington, D.C., or Southern California, he calls the Las Vegas Valley home.
Sworn in as the 31st comptroller of the currency in November, Otting has a lot of work ahead of him.
He wants to modernize the office with more electronic documents instead of paper. Combine roles to decrease staff count. Motivate banks to make loans to small businesses. And change the 1977 Community Reinvestment Act, which prevents bank discrimination against low-income areas, to acknowledge online bank efforts.
"It felt like destiny for me to go do this job," Otting said in an interview.
Decades before Joseph Otting helped build the largest bank in Southern California and before he was sworn in as overseer of the country's biggest banks, Otting was a kid in eastern Iowa dreading a phone call to a customer of his father's car dealership.
Otting, a boy at the time, had to call the customer and explain how he had crashed the man's car. Otting was asked to move the car and mistook it for an automatic.
Nervous, Otting told the man the truth. The customer said he understood.
"I later learned my dad had already told him," said Otting, now 60. "He wanted me to go through the exercise."
Otting learned that people appreciate transparency, accountability and customer service. He learned much more working at the dealership in Maquoketa, Iowa, before embarking on a 30-plus-year career in banking. Otting swept the floors of Kirk-Otting Chrysler Plymouth and Dodge dealership. He watched his dad shake hands and engage with customers. He saw customers relieved when they qualified for a loan.
"I've been around commerce from a young age," said Otting, seated in a room within the Southern Highlands Golf Club, which he co-owns in the southwestern Las Vegas Valley.
Otting graduated from college during one of the darkest times for his home state, a period called the farm crisis. In 1981, the prime lending rate averaged around 20 percent, up from an average of 6.8 percent in 1976. The current rate is 4.75 percent.
By 1984, national farm debt had doubled from six years earlier and was 15 times the amount in 1950, according to Iowa Public Television. Stores, factories and banks in the state collapsed. The number of farms in Iowa dropped from 6.8 million in 1935 to 2.2 million in the mid-1980s.
The blame went to a Federal Reserve interest rate hike implemented to cut down on inflation in the 1970s, coupled with then-President Jimmy Carter's halt on grain exports to the Soviet Union in response to the invasion of Afghanistan.
A newly graduated Otting looked west and east for work. He received offers from Coca-Cola in Atlanta and Bank of America in California. Coca-Cola paid more, but Otting's father told him to think about what would benefit him more in the long run. Otting packed for California to join a Bank of America training program.
Building a bank
Otting joined Union Bank in 1986. Over the next 16 years, he climbed the corporate ladder and held titles from commercial banking group head to deputy regional vice president.
In 2001, Otting joined U.S. Bank. By 2005, he was running the bank's wholesale middle market business. At the time, U.S Bank was the sixth-largest financial holding company in the U.S. with $198 billion in assets, according to a company statement from the time.
When U.S. Bank needed someone to run its growing West Coast operations after the June 2008 purchase of Mellon 1st Business Bank in California, Otting moved from its Minneapolis headquarters to the U.S. Bank Tower in downtown Los Angeles.
It was still six months before the National Bureau of Economic Research declared that a recession gripped the country, and one of the first signs of what was ahead came in July 2008. That month, a federal agency closed the failed Pasadena-based bank IndyMac, which had succumbed to high-risk mortgages.
About 1,000 IndyMac mortgage loans were heading into default in Southern Nevada alone by 2009. IndyMac had almost 200,000 loans in default nationwide, Otting would later tell U.S. senators during a hearing for the comptroller position. Emotional cases played out in courts nationwide, including Southern Nevada, of homeowners trying to negotiate with banks to stop foreclosures.
IndyMac, one of the largest savings banks in the Los Angeles-area, became one of the most expensive bank failures in U.S. history.
Dan Arrigoni, then-president of U.S. Bank Home Mortgage, told Gallup at the time that U.S. Bank would survive the recession because of conservative lending practices compared with riskier competitors.
The Federal Deposit Insurance Corp. sold the failed IndyMac to a newly formed federal savings bank, OneWest, which was looking for a CEO. Otting saw the open position as an opportunity to move up as well as to help the Los Angeles area.
"We wanted to make a hometown bank," Otting said. "Bankers are dream makers. We all have a responsibility to help our communities."
He joined OneWest in October 2010. The bank had 82 locations with total assets of $28 billion, according to a statement from the company at the time.
Brian Brooks worked with Otting at OneWest, functioning as a chief legal officer. In Otting, the OneWest leadership saw someone local who could help build the new bank's reputation, Brooks said.
Once in charge, the easy route for Otting was continuing the IndyMac business of mortgages, Brooks said.
But instead, Otting started new lines of business. He made loans to projects in commercial real estate, energy and gas, entertainment and film.
"He's just a different kind of banker than a Wall Street banker," Brooks said. "He's a real chamber of commerce guy. He believes banking can be part of the community."
Merger with CIT
To keep OneWest's capital going, Otting faced the decision to either go public or partner with a larger bank.
In July 2014, New York-based CIT Bank announced a plan to merge with OneWest for $3.4 billion in cash and stock
It was a stressful time for the OneWest executives, Brooks said.
"Joseph was unflappable," he said. "His jacket was always buttoned. He always had a plan for the day. He was crisp in his instructions. 'You call this person. You message this person.'"
The merger finalized in August 2015. Steven Mnuchin, the former chairman of OneWest, became vice chairman of CIT and chairman of the merged bank. Otting, then 57, became co-president of CIT and CEO of the merged bank.
Each man was eligible for total annual compensation of $4.5 million, with annual base pay of $750,000, according to regulatory filings.
Otting didn't last long in the job. In a regulatory filing, CIT said Otting was no longer with the company as of December 2015. As part of a restructuring, he had been let go with the other CIT president and the chief risk officer. The company said the restructuring cost around $60 million.
'Destiny' calls
In 2015, Otting had seemingly completed his career in banking. He and his wife, Bonnie, became full-time residents of the Las Vegas Valley. Otting had been living in Las Vegas part-time since 2013.
He had been visiting the Strip for work and vacation for years but learned about life outside the Strip from a longtime friend who moved to the valley.
A life minutes from the Strip, hours from the Grand Canyon, with plenty of concerts and restaurants appealed to Otting.
"The combination of all that is fantastic," he said.
County records show Otting and his wife bought a house in Southern Highlands in April 2013 for $2.2 million.
As a full-time resident, he was bullish on the value of Las Vegas real estate. He bought seven Southern Highlands houses between February and November 2015, ranging from $261,000 for a foreclosed house to $807,800 for a two-story single-family home, according to county records.
A company associated with Otting, Lake Blvd LLC, bought a Southern Highlands house in April 2016 for $260,000. In March of this year, he bought two more houses in Southern Highlands, one for $407,500 and another for $325,000.
Otting co-managed Southern Highlands Golf Club. He wanted to work in the nonprofit sector, something to help teach people financial literacy.
But he would make his way back into banking after all, thanks to Mnuchin.
In February 2017, Congress confirmed Mnuchin as Treasury secretary. Mnuchin looked to the man who helped him build Los Angeles' largest bank for a role Otting never imagined — regulator. The comptroller position had been filled by lawyers for decades. Otting would mean a big change for an office little-known outside banking.
His confirmation, like Mnuchin's, wasn't easy. Both men received questions on business practices at OneWest.
The liberal-leaning Center for American Progress Action Fund, citing California Reinvestment Coalition statistics, said OneWest Bank completed 3,654 foreclosures in Nevada between April 2009 and October 2016.
At Otting's confirmation, Democratic Sen. Catherine Cortez Masto of Nevada questioned him on mortgage-related documents not properly notarized or signed.
"We like to focus on the 80 percent, roughly, of those 160,000 homes that were able to be saved," Otting told the senators. "Those Americans are in those homes today."
The Senate confirmed Otting 54-43 in November.
As comptroller, Otting wants his office of 4,000 employees and 800 contractors to be more efficient and effective.
Expected soon is his plan for the Community Reinvestment Act that mandates banks invest in low- and moderate-income communities.
Otting is expected to help banks get credit for loans made in those communities but not necessarily where the banks have a physical branch.
Contact Wade Tyler Millward at wmillward@reviewjournal.com or 702-383-4602. Follow @wademillward on Twitter.
Comptroller?
The Office of the Comptroller of the Currency is an independent bureau of the U.S. Treasury Department.
In existence since the 1860s, the comptroller charters, regulates and supervises all national banks, federal savings associations and federal branches and agencies of foreign banks.
The operating budget for 2017 totaled $1.18 billion, an increase of 4.3 percent from 2016, according to the office's annual report.
Actual spending that year totaled $1.1 billion.
The word 'comptroller' originated in the late 15th century as a misspelling of 'controller,' according to Merriam-Webster.