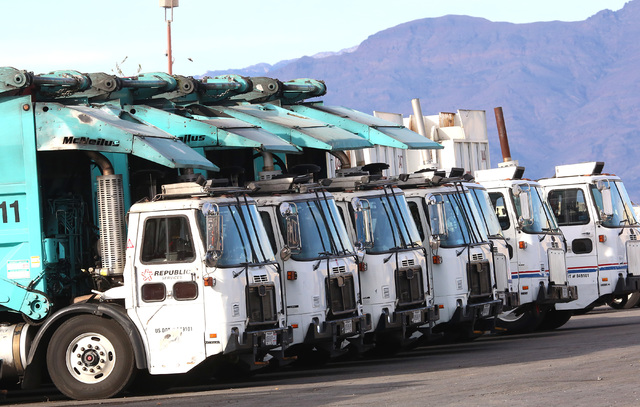 Commercial property owners have been paying a number of trash fees that were never approved by Southern Nevada municipalities' lawmakers.
The Las Vegas City Council will address that Wednesday when it is slated to introduce an ordinance that would codify several of the fees Republic Services of Southern Nevada has been charging without approval.
Republic is the only waste management company allowed to pick up trash in Clark County as well as in the cities of Las Vegas, North Las Vegas and Henderson.
Las Vegas City Manager Betsy Fretwell said it is not unusual for a new ordinance to adopt a practice that is already in place, though she said she did not have enough information to give a more detailed answer.
The solid-waste ordinances in Las Vegas, North Las Vegas, Henderson and Clark County say that it is up to the city council — or, in the county's case, the commissioners — to consider and approve any trash fees that aren't already covered in the ordinance or franchise agreement.
Examples of such fees are:
■ A commercial container delivery fee of $65.10.
■ A commercial container removal fee of $65.10.
■ A commercial container exchange fee of $100.15.
■ An industrial dry run fee of $107.42.
'NO WAY TO GAUGE'
"There's no way to gauge just how much money Republic has netted from those unapproved fees," said Danielle Basson, chief operating officer of Simple Environmental Services Group, a company that manages commercial clients' waste needs, including trash pickup.
Basson has to use Republic to collect her clients' trash, but she is able to use other vendors to collect and haul her clients' recycling and provide other services, like graffiti removal.
Basson said she hasn't paid three separate container fees on her clients' bills in five years, after she asked Republic for proof that they were approved by the local city council.
"If we had paid them, it would probably be in the thousands of dollars by now," Basson said.
Elected officials across the Las Vegas Valley are unaware of the situation, despite ordinances that deem them responsible for approving such fees.
City of Las Vegas Councilmember Steve Ross told the Review-Journal that the last time he remembers going over any fees was "back in '05 or '06."
Clark County Commissioner Chris Giunchigliani said she can't remember the last time the commission discussed fees.
North Las Vegas Councilman Richard Cherchio said "to my knowledge we haven't" discussed or approved any fees pertaining to Republic Services in his first term from 2009-2011, nor during his current term, which began in 2015.
Henderson City Council members could not be reached for comment.
ORDINANCE ENFORCEMENT
Tim Oudman, market vice president with Republic Services, told the Review-Journal that the company gives a list of "supplemental services" outlining fees outside of the ordinances and franchise agreements to each of the municipalities every year.
"That's one of those fees (the container removal and delivery fee) that's listed on the supplemental services list that we report to the cities and the county each year. Approval through that process is how we've been charging those rates," Oudman said.
Bob Coyle, a consultant to Republic Services and a former area president of the company, said if a city objected to any of those fees, then "we'd deal with it."
The Review-Journal posed the question to the cities and county of whether those charges should have been approved by local lawmakers.
Delen Goldberg, spokeswoman for the city of North Las Vegas, said via email, "We are going to let the ordinance speak for itself."
City of Las Vegas spokesman David Riggleman similarly said via email that "The ordinance speaks for itself."
Edward McGuire with the Henderson Parks and Recreation Department said that the fees Republic is charging on trash accounts that were not explicitly approved by the City Council "possibly" violate the ordinance and that it's something the city will look into.
Clark County spokesman Dan Kulin said Republic does not need county commissioners' approval to be charging fees, such as a container removal and delivery fee, to commercial property owners.
Contact Nicole Raz at nraz@reviewjournal.com or 702-380-4512. Follow @JournalistNikki on Twitter.