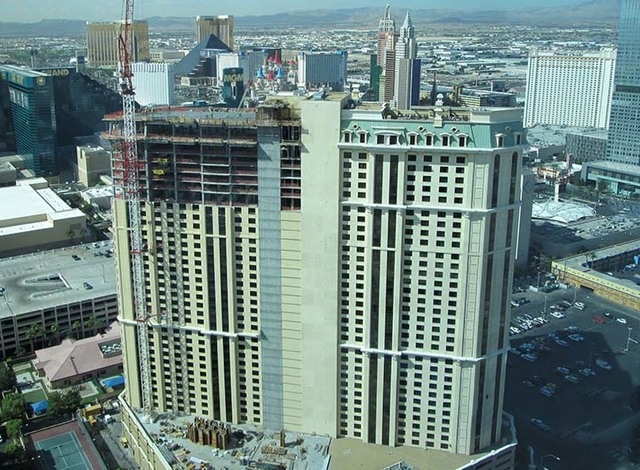 Tutor Perini Corp. on Thursday announced its Tutor Perini Building Corp. subsidiary has topped out the 37-story tower at Marriott's Grand Chateau at 75 E. Harmon Ave. The milestone signifies the structural completion of the third tower since breaking ground just over 13 months ago.
Tutor Perini plans to complete the project in mid-2014.
The topping-out of the 37-story tower took just more than 56 weeks, officials said in a statement. About 250 workers are on-site each day.
In total, approximately 2,300 truckloads of concrete, 210 miles of electrical wiring and 3.5 million pounds of reinforcing steel were used to construct the 37-story structure. After completing the foundation and three-level parking deck, the villa floors were poured at a rate of one floor per week leading up to the final pour of the rooftop and the topping-out milestone, officials said.
The 37-story tower villas will range in size from approximately 810 square feet to 2,070 square feet and offer fully equipped kitchens, granite countertops, stainless steel appliances and custom cabinets. The third tower will add amenities for owners and guests such as a lobby lounge. The fifth floor will provide access to a larger second pool with two whirlpool spas and a pool bar and grill.