McCarran experiences holiday peak traffic at least once a week
December 2, 2013 - 2:58 pm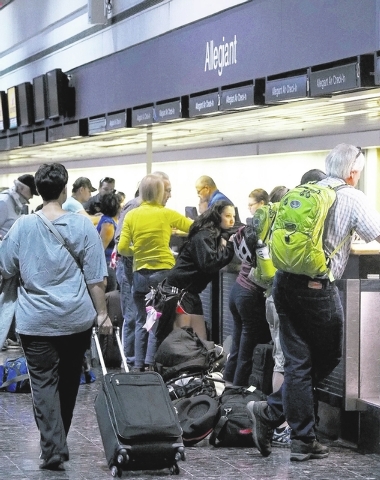 It certainly sounds scary: A U.S. Travel Association study predicts that the country's airports are "headed for year-round Thanksgiving holiday-like congestion."
High on the list of airports heading toward that fate, or even there already, is McCarran International Airport. By the calculation of Cambridge Systematics, the consulting firm hired by U.S. Travel, Las Vegas already sees a crush of passengers akin to the Wednesday before Thanksgiving once a week and is on track for twice a week by 2016.
In many cities, the concentrated migration of people going somewhere for the holiday sends more people through airports than any other day of the year, creating the longest lines, the most delays and the most stressed out people willing to vent in front of handy TV news cameras.
Three years ago, people protesting the Transportation Security Administration's pat-down policies at security checkpoints chose the day to announce an ultimately unsuccessful protest, thinking that it would generate the maximum effect. Road warriors have long avoided the day, dreading getting caught in a security line behind rookies who don't take their shoes off when passing through scanners or crowd around the gate well before their boarding zone is called.
But passenger volumes at or exceeding Thanksgiving is an old story at McCarran. The only wonder is that the study puts McCarran exceeding that threshold once a week just this year.
For starters, the traffic mix ensures that McCarran's spike is among the smallest among major airports across the country. At 145 percent above the average day, it is much closer to Honolulu, the lowest at 130 percent, than the 248 percent at Dallas-Fort Worth, the top of the list. The nine airports rated at better than 200 percent are all hubs dominated by one or two airlines, such as Denver, Dallas-Fort Worth, Phoenix, Atlanta, Detroit and Chicago-O'Hare.
At one point, US Airways operated a small hub here, but dismantled that several years ago. A small number of Southwest's passengers count as connecting traffic, but not nearly enough to reach hub status.
Further, the predominant share of the passengers are tourists who don't equate Thanksgiving with a resort destination, unless it gathers family members at a ski lodge. It's no coincidence that the airports experiencing the smallest spikes have similar profiles to Las Vegas, including Tampa, Orlando and Fort Lauderdale in Florida and Honolulu.
Chicago-Midway (141 percent) and New York-JFK (144 percent) don't count as warm-weather destinations, but they have a high level of people either coming to or leaving the city as opposed to stopping just to change planes.
McCarran also serves visitors by an overwhelming margin. Among the people who either come to or leave from Las Vegas — the origination and destination traffic — only 13 percent are locals, according to McCarran statistics. In other words, not a lot of people going to Wichita, Kan., to help grandma stuff the turkey.
By contrast, many other dates on the calendar slam McCarran much more than Thanksgiving, including New Year's Eve, Memorial Day, the start of CES and some other megaconventions.
The inspectors stationed at California's agricultural inspection station at Yermo report heavy traffic from Southern Californians going home after storming the outlet malls, but baggage fees make that impractical for airline passengers.
Besides the special events, just about every Friday inbound and every Sunday going home counts as a peak, so McCarran has a lot of experience with surges.
"At McCarran we see these high-traffic days more often than most other airports," spokeswoman Christine Crews said. "With that experience, we work to maximize our resources and hone our services to make the airport experience as smooth and pleasant as possible for the traveling public… . McCarran wasn't built with spikes in mind, but it has certainly adapted to deal with them."
It helps that Terminal 3 opened in June 2012, adding 14 gates, more shops and corridors and splitting baggage claim and ticket counters between two terminals. International passengers have a lot more room than in the cramped and now-closed Terminal 2.
Annual passenger counts, about 40 million a year, are still well below McCarran's estimated capacity of 53 million. So far, nobody projects growth any faster than low single digits. The secondary airport once planned for Ivanpah is still deep in the freezer.
The point of U.S. Travel's report was to help prod Congress and the administration into allocating more money for airport upgrades and expansion. The lobbying group Airports Council International totes up $71.3 billion in projects it says should be built across the country within four years.
McCarran officials agree. "It is undeniable that without continued improvements and additional resources to keep pace with growth, larger crowds will lead to longer lines and wait times, from checkpoints to ground transportation," Crews said.