McCarran making more off ride-hailing companies than taxis
Updated April 12, 2017 - 6:13 am
Ride-hailing companies such as Uber and Lyft generated more revenue for McCarran International Airport than taxis in each of the past six months, airport data show.
From October through March, those companies paid more than $4.45 million in fees to the airport to pick up and drop off passengers. Taxis paid about $800,000 less.
The trend marks the first time that ride-hailing companies have consistently outpaced taxis in generating revenue.
Ride-hailing companies pay $2.45 anytime one of their contracted drivers picks up or drops off customers at McCarran. Taxis pay a $2 fee for each airport pick up and nothing for drop-offs.
Because of that, taxis generated less revenue while also picking up more than 1 million more loads of passengers than ride-hailing companies from the airport in the past six months.
Still, taxi pickups were down 10 percent when compared to the same period a year ago.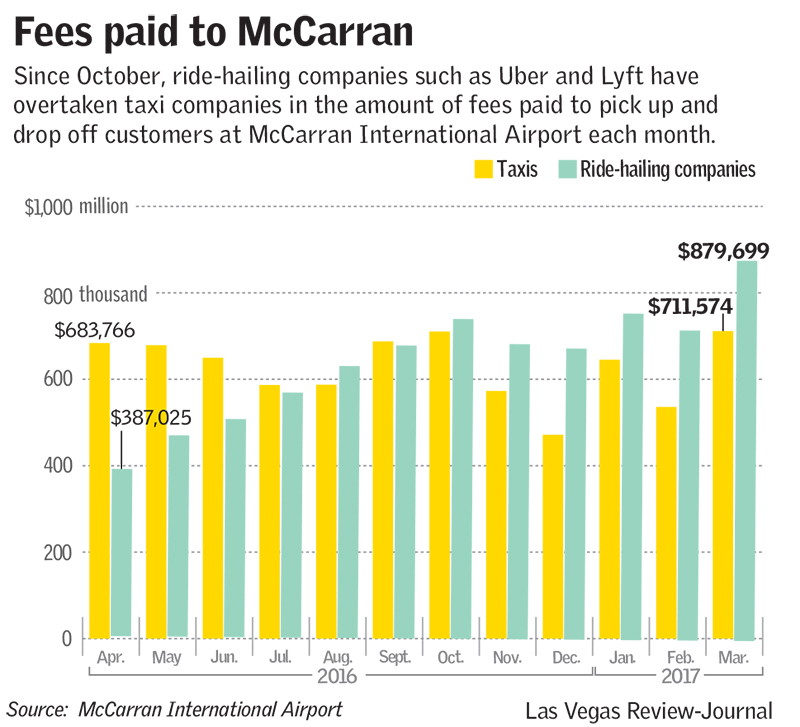 T. Ruthie Jones, a representative of Industrial Technical Professional Employees Union Local 4873, which represents taxi drivers, said Uber and Lyft were directly to blame for the decrease.
"We feel that the rideshare programs are impacting our drivers, more so than any other aspect of transportation out there," she said. "You have (taxi) drivers that are leaving the industry because of this situation."
Clark County commissioners approved a measure enabling transportation network companies to operate locally in October 2015. The airport uses electronic geofencing technology to track those drivers' trips.
As of Monday, there were about 6,000 ride-hailing drivers licensed with Clark County.
"We've seen tremendous growth in the Las Vegas market," said Lyft spokeswoman Chelsea Harrison.
Uber did not respond to a request for comment.
Contact Michael Scott Davidson at sdavidson@reviewjournal.com or 702-477-3861. Follow @davidsonlvrj on Twitter.