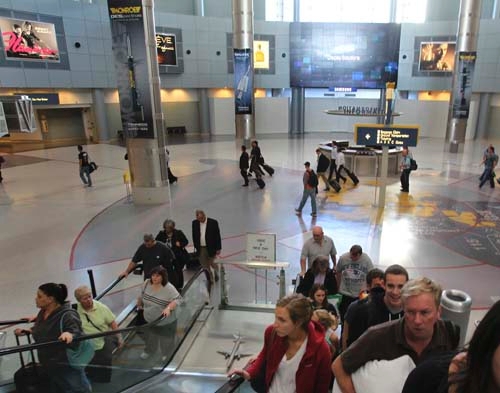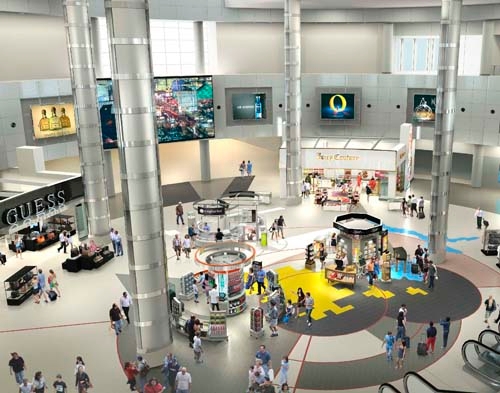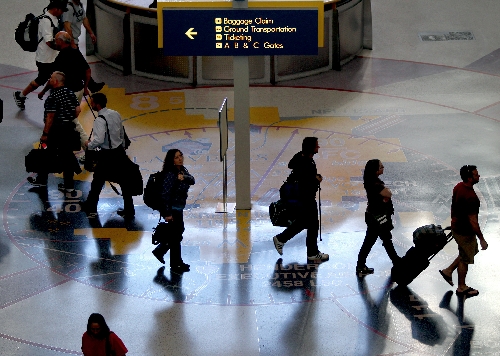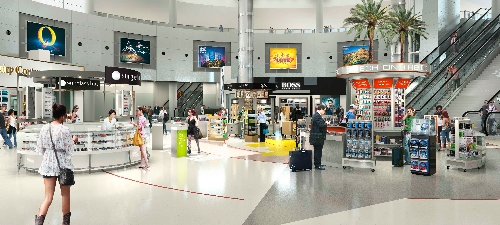 With retail concessions starting to rebound, helped in part by more branded merchandise, the management at McCarran International Airport has accelerated plans to install a small mall in the now-empty Concourse D rotunda.
The new mall was included in the airport's master retail plan last year, but managers initially held off installation until after the new Terminal 3 opened next year. Because an underground tram will connect the rotunda to Terminal 3, managers first wanted to gather hard counts of foot traffic. Already, people shuttling between Concourse D and the main terminal ride a tram that terminates at the rotunda.
However, Hudson Group, the majority owner of the entity that oversees all of the airport's nonfood retail, lined up six tenants based on its own projections, and expects to open within a year. To move ahead, the Clark County Commission voted Tuesday to extend Hudson's lease by a decade, to 2030, in return for a commitment to spend $15.5 million on concessions throughout the airport, including the rotunda.
"With this, we will bring branded apparel, not just T-shirt shops," said CEO Joseph DiDomizio of Hudson Group, a subsidiary of the Swiss retailer Dufry AG. "They are upscale but not luxury."
Although high-end names have planted the flag at numerous other airports, McCarran has not been an obvious pick because the passenger mix is heavy on vacationers and light on business people, who tend to spend more.
But Hudson lined up commitments for three stores for the outer edge of the rotunda including clothiers Hugo Boss and Juicy Couture, and an accessories-only version of Guess. Three kiosks will house Kiehl's skin and hair care products, Sunglass Hut and Tech on the Go, a house brand for Hudson.
The cost will approach $3.5 million, including about $1.2 million from the airport to install basic hardware such as wiring and $2.2 million from Hudson to finish out the shops.
"It's a bit of a risk for us," said Randall Walker, director of the Clark County Department of Aviation.
But Hudson projects that the rotunda, plus a couple of new stores planned elsewhere, will generate $8.6 million in annual sales and $1.1 million in annual rent to the airport. Hudson will pay 10 percent of the first $2.5 million in sales as rent, 12 percent from that until $5 million in sales, and 15 percent over $5 million.
The retailing results elsewhere at the airport have convinced Walker that the new D-Marketplace mall will perform as promised.
Within the past year, the Charlotte Russe clothing store on the esplanade, the second-floor bridge that connects ticket counters to baggage claim, was split to make room for a store selling Harley-Davidson merchandise. Afterward, sales rose 50 percent for that space.
"That tells me people are willing to shop, and shop before they get to the gate," Walker said.
The airport's third-quarter financial report partly attributed better overall sales to the wider selection of branded merchandise as opposed to lower-price generic trinkets and clothing.
Hudson's airport-wide sales had peaked at $38.6 million in 2007, then dropped 9.5 percent to $35 million in two years as the recession and US Airways' dismantling of its hub took their toll. In 2010, sales jumped to $40.2 million and are running 29 percent ahead of that this year, according to Hudson.
The idea behind the rotunda mall follows that seen in many foreign airports, Walker said. Frequently, passengers must pass through a maze of shops going from security to the gates.
Contact reporter Tim O'Reiley at
toreiley@reviewjournal.com or 702-387-5290.