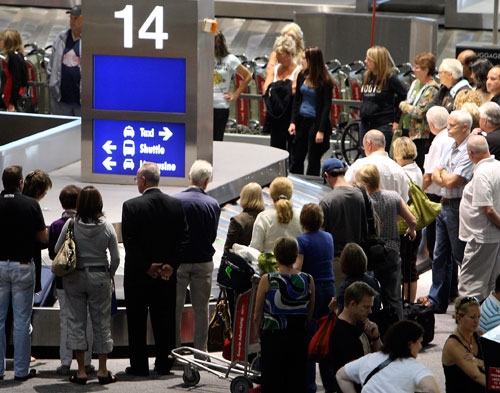 In line with much of this year, the passenger count for McCarran International Airport dropped 2 percent in September from a year ago.
Also following the pattern of recent months, US Airways' dismantling of the hub it once operated at McCarran was the main drag on the results as its September passenger total fell by half from a year ago. Taking US Airways out of the mix, the count for the rest of the airport rose 3.8 percent.
The airport's largest carrier by passenger traffic, Southwest, posted a gain of 0.4 percent to 1,262,000 passengers in keeping with a stable flight schedule. No. 2 Delta went up 4.6 percent because it has added planes to the market.
International traffic, which has been a bright spot for the airport even as the domestic numbers plunged, increased 5.8 percent in September. Canadian discounter Westjet continued to build its totals, even as rival Air Canada declined, while British Airways and France's XL Airways are still in their first year. Aeromexico carried 3,800 more people than a year ago, only partially offsetting the 15,800 lost when Mexicana quit flying in August.
Just about all the airlines posted third-quarter profits far better than a year ago and several said that near-term bookings remained strong. Several also began adding seats to their systems, albeit in low single-digit percentages, after a couple of years of cutting schedules. This could signal good news for a city craving more seats to fill the expanded inventory of hotel rooms.
The near term, however, produced more of the same declines. So far this month, McCarran has averaged 466 daily departures, down 2.5 percent from a year ago, while the daily seat total of 66,800 marked a 2.3 percent drop. Both are well below the 586 flights and 82,700 seats in October 2007, before the onset of the recession and when US Airways still had a hub in Las Vegas.
However, the profit gains were propelled at most airlines by yields rising 15 percent to 20 percent from one year ago. Yield reflects how much revenue each seat produces, making it a close measure of how much fares have risen, a potentially dampening factor in a leisure market dominated by bargain-tourists.
According to U.S. Department of Transportation statistics, Las Vegas has ranked among the cheapest destinations in the country year after year.
The International Air Transport Association said Tuesday that global air traffic continued a brisk recovery but air cargo had begun to slow. "It is good news that the recovery in passenger markets continued in September," said Giovanni Bisignani, the group's director general. "But the freight numbers are worrying. What we see in air cargo markets is inevitably reflected in the broader economy."
During September, 3,268,000 people passed through McCarran. For the first nine months this year, the total hit 29,894,000, 2.4 percent lower than the same period in 2009.
Contact reporter Tim O'Reiley at toreiley@reviewjournal.com or 702-387-5290.
2% – passenger count for McCarran International Airport in September, compared to one year ago
3.8% — passenger count taking US Airways out of the mix
2.5% – daily departures this month
2.3% – daily seat total this month
2.4% – people who passed through McCarran the first nine months this year