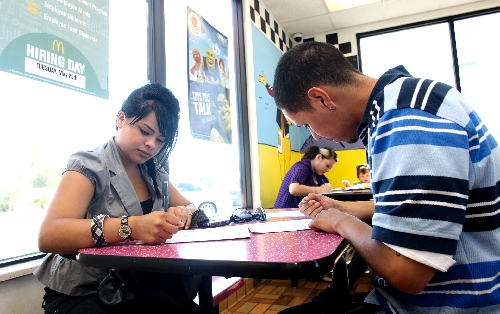 As the typical surge in summer hiring approached, the 111 McDonald's outlets in Southern Nevada decided not to wait for job applicants to walk in the door.
Instead, they staged a "hiring day" on Tuesday, aimed at filling 500 to 600 part-time, minimum wage openings at the company's area restaurants.
The company's decision to hire part-timers was part of a strategy already in use in Arizona and Northern Nevada.
"Given our challenges in today's economy, instead of hiring two or three hundred full-time employees, we wanted to create 500 to 600 part-time job opportunities for people in the local community," said Ron Smith, vice president of the Greater Las Vegas McDonald's Operator Association.
In addition, McDonald's hopes to attract higher-quality applicants than it normally gets, said Sharon Smith, a co-owner of a dozen McDonald's franchises. "We are trying to get folks who have not considered us before," she said. "We want to get that word out."
McDonald's is especially looking for students who are on summer break and hoping they will stay on when classes resume.
Sharon Smith said one factor that has kept students from applying at McDonald's in the past was the perception that shift schedules would conflict with their classes. But she said managers would show flexibility in scheduling.
The number being hired is about double what it would have been had McDonald's stuck with full-time positions, but benefit expenses for part-timers are generally lower.
The benefits will vary depending on the franchise owners, Ron Smith said.
Contact reporter Tim O'Reiley at toreiley@lvbusinesspress.com or 702-387-5290.