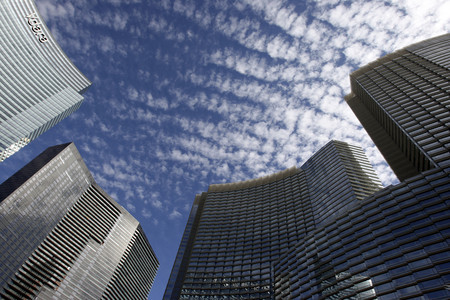 In the 61 months between the announcement MGM Mirage was creating an urban metropolis on the Strip called Project CityCenter and Tuesday's planned opening of its first hotel, Vdara, the $8.5 billion development seemed to be on constant life support.
Almost as soon as MGM Mirage imploded the shuttered Boardwalk casino on May 9, 2006, to clear a major portion of the CityCenter site, the project seemed to be shrouded in bad news.
The recession, which led to the collapse of the credit markets, and other outside financial factors nearly derailed CityCenter, which saw its budget more than double beyond the initially announced $3 billion to $4 billion.
The project came within hours of filing bankruptcy at the end of March, which would have halted construction and shelved the jobs of 8,500 construction workers. With little time to spare, MGM Mirage was given permission to make a $200 million equity payment to keep the project funded.
The demise of the high-rise condominium market forced MGM Mirage to cut prices for CityCenter's 2,400 residential units by 30 percent in order to spur sales.
Meanwhile, the tragic deaths of six construction workers between February 2007 and May 2008 overshadowed CityCenter's promise.
Members of building trade unions walked off the job for a day in June 2008 following the death of the last construction worker to protest safety concerns. CityCenter safety issues were discussed as part of congressional hearings in Washington, D.C., in June 2008 and October.
However, Union Gaming Group principal Bill Lerner, whose company advised MGM Mirage on some of its corporate financial matters earlier this year, believes the public will look beyond the negative news now that CityCenter is opening.
"Not to diminish or downplay the deaths or its financial problems by any means, but consumers coming back to Las Vegas are going to hear about this $8.5 billion thing that is supposed to be incredible from a design perspective that they need to look at," Lerner said.
To MGM Mirage officials, CityCenter is viewed as a paradigm shift of how Las Vegas is looked at by the world. They hope the unveiling of Vdara and the openings later in the week of the Crystals retail center and the Mandarin Oriental Hotel will begin to change public perceptions of the project. Aria, the project's centerpiece hotel and only casino component, will open Dec. 16.
"I believe in my heart that Las Vegas is evolving as a metropolitan community," MGM Mirage Chairman and Chief Executive Officer Jim Murren said. "CityCenter takes us to another level."
The project is a mix of hotels and high-rise residential buildings designed by world-renowned architects and surrounded by high-end retail and dining. CityCenter displays more the $40 million worth of public art by some of the world's most revered artists. The project also earned a half-dozen gold certifications for environmental and sustainability aspects.
Michael Green, a history professor at the College of Southern Nevada and a longtime observer of the gaming industry, said if the economy hadn't tanked, CityCenter would have a vastly different community image.
Instead, Green believes it could be as long as a decade before any company tackles a Las Vegas project the size of CityCenter, if ever.
"Frankly, everything that has happened in Las Vegas over the years has been a leap of faith," Green said. "CityCenter is no different. You're hard-pressed to find any kind of comparison with CityCenter and anything else ever that has been done in Las Vegas. MGM Mirage is probably the only company that could have pulled this off."
CityCenter nearly bankrupted MGM Mirage.
The recession and rapidly disappearing revenues compounded the Strip casino giant's corporate financial health while the company tried to manage CityCenter's ever-growing cost structure.
In late March, MGM Mirage's 50-50 joint venture partner in CityCenter, Dubai World, sued in an attempt to break the deal. The legal battle nearly caused the project's bankruptcy. The public feud ended five weeks later and CityCenter was fully funded.
Murren is considered the visionary and driving force behind CityCenter. He believes the project will grow tourism in Las Vegas next year between 5 percent and 10 percent. Completing CityCenter was one of his primary goals when he took over as CEO in November 2008.
"This community would have lost a real opportunity that we would have not been able to replicate," Murren said. "The promise would not have been realized for a decade. I really know that this is going to work."
Construction problems, however, seemed to haunt CityCenter from the outset.
The city's building trades never tackled a project the size and scope of the 18 million-square-foot development along the Strip's west side between Bellagio and Monte Carlo.
Building costs soared. Safety concerns over the use of certain construction materials forced MGM Mirage to change the scope of the Harmon Hotel, delaying its completion until next year.
The six construction-worker deaths caused a rift between the unions, general contractor Perini Building Co. and MGM Mirage over safety at the site and another Perini work site at the Cosmopolitan.
The one-day shutdown and picketing activated talks about safety. Perini agreed to address the union's concerns, which included a safety assessment of the work site, on-site training for all construction workers and full access to the project for union and safety officials.
While trade unions and workers were busy expressing outrage about the lack of safety, a few of their peers raised an issue about worker responsibility.
Ten construction workers were observed by a Review-Journal reporter and photographer consuming alcohol before entering the CityCenter site. Perini expressed shock at the photos, quickly working with subcontractors to terminate all the workers who could be identified in the photos.
Perini officials and union leaders refused to discuss CityCenter last week.
Some analysts have questioned whether CityCenter should have been built in phases, which would have helped manage costs and construction issues.
Murren said that would have gutted the entire vision of CityCenter.
"How do you create an environment in phases?" Murren asked. "What do you do? Create a beautiful casino resort and have signs around the rest of the campus saying, 'Coming Soon'? You just can't do that."
Even with the challenges, CityCenter has already achieved milestones.
Every component of CityCenter received Leadership in Energy and Environmental Design Gold Certification from the U.S. Green Building Council, making the project America's largest sustainable development.
Contact reporter Howard Stutz at hstutz@reviewjournal.com or 702-477-3871. Contact reporter Arnold M. Knightly at aknightly@reviewjournal.com or 702-477-3893.
Construction deaths
Feb. 6, 2007, Bobby Lee Tohannie, 40, carpenter. One of two workers killed when two 3,000-pound steel concrete forms collapsed.
Feb. 6, 2007, Angel Hernandez, 24, carpenter. One of two workers killed when two 3,000-pound steel concrete forms collapsed.
Aug. 9, 2007, Harvey Englander, 65, operating engineer. Killed while leaning over a construction elevator and struck by elevator's counter-weight system.
Oct. 5, 2007, Harold Billingsley Jr., 46, ironworker. Fell 59 feet through 3-foot by 11-foot opening.
April 26, 2008, Mark Wescoat, 47, electrician. Fell from 27th to 25th floor of the project, allegedly while trying to jump a 3-foot gap from a beam to a floor section.
May 31, 2008, Dustin Tarter, 39, crane oiler. Crushed by crane.
The deaths at CityCenter were not an isolated incident. Between December 2005 and June 2008, six workers died while on Strip construction sites for Echelon, Cosmopolitan, Trump International, Palazzo and Fontainebleau.