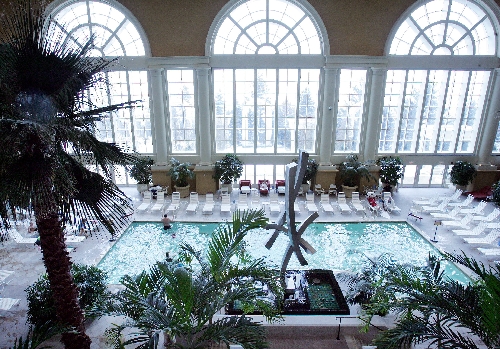 In a slew of post-market-closing announcements Tuesday, MGM Resorts International announced steps it was taking to address the $13 billion in long-term debt that has been casting a pall on the casino operator's future.
MGM Resorts also said it received an offer for its 50 percent ownership of Borgata, the company's Atlantic City hotel-casino. MGM Resorts said the offer was for "slightly in excess of $250 million." The deal was submitted to Boyd Gaming Corp., which owns the other half of Borgata and has the right of first refusal to match the proposal.
The Strip casino giant said it plans to put 40.9 million additional shares of the company's common stock on the open market, using the net proceeds from the sale to pay down debt. If the stock sale succeeds, the casino operator could raise anywhere from $550 million to more than $600 million, based on current prices.
Shares of MGM Resorts, traded on the New York Stock Exchange, closed Tuesday at $13.61, up 13 cents or 0.96 percent. In after-hours trading, the company's shares fell 81 cents, or 5.95 percent, to reach $12.80 by 5 p.m. PDT.
In an effort to enhance the offering's prospects, Los Angeles billionaire Kirk Kerkorian, the company's founder and largest shareholder, put almost 27.8 million shares of his holdings in the company on the market. The 93-year-old Kerkorian holds about 163.1 million shares of MGM Resorts, or 37 percent of the company, through Tracinda, his privately held investment arm.
If successful, the sale could reduce Kerkorian's holdings to about 30 percent.
In a statement released through Tracinda, Kerkorian said he "believes that there is substantial value in the assets of the company and that MGM Resorts is a good long-term investment." Tracinda also said it is not planning "other strategic alternatives" with respect to its investment in MGM Resorts.
MGM Resorts did not name the potential buyer for its stake in the Borgata. The offer was substantially less than the $400 million to $500 million that gaming analysts had expected the company to fetch for its ownership in Atlantic City's largest hotel-casino.
MGM Resorts officials could not comment on the announcements because of Securities and Exchange Commission rules covering the stock offering.
Earlier this month, MGM Resorts Chairman and Chief Executive Officer Jim Murren said paying down debt was the primary focus of company management and that different methods were being explored.
On Monday, Hudson Securities gaming analyst Robert LaFleur said the company's 15 percent stock-price increase Friday was due solely to the 21.1 percent jump in Strip gaming revenues during August.
LaFleur said MGM Resorts needed to take steps to address its liquidity concerns.
"Given MGM's lingering balance sheet challenges, we find it hard to imagine a scenario where the shares stage a sustainable and meaningful breakout from these levels," LaFleur said. "MGM can't deleverage by selling assets as none of its assets are likely to fetch (the necessary) transaction multiples."
Because of the quiet period, MGM Resorts preannounced the company's results for the third quarter that ended Sept. 30.
The casino operator said it expects to announce a loss of $206 million, or 72 cents per share, which compares with a net loss of $963 million, or $1.70 per share, in the same quarter a year ago.
Pretax impairment charges affected results in both quarters.
The current-quarter results include expected pretax impairment charges totaling $357 million related to the company's investment in CityCenter, a pretax charge of $46 million related to impairment of CityCenter's residential real estate inventory, and an impairment charge of $128 million related to the company's Borgata investment.
MGM Resorts said its net revenue in the quarter is expected to be approximately $1.47 billion, a 3 percent decrease from the same quarter of 2009.
The company said it expects CityCenter to report net revenues of $413 million in the third quarter, including $166 million related to residential operations.
Aria, the development's centerpiece hotel-casino, expects to show net revenues of $219 million and cash flow of $41 million. Aria's hotel occupancy was 82 percent during the quarter and its average daily room rate was $175.
The company is also planning to raise money through an initial public offering in Hong Kong in which shares of the MGM Grand Macau would be placed on the open market.
MGM Resorts also said Tuesday that it expects to receive approximately $125 million from MGM Macau during October from the loan to the property. In the third quarter, MGM Macau is expected to earn operating income of $61 million compared with operating income of $50 million in the 2009 third quarter.
The potential Borgata transaction comes roughly seven months after MGM Resorts announced plans to divest the company of its holdings in Atlantic City. New Jersey casino authorities said Hong Kong businesswoman Pansy Ho, the company's joint venture partner in Macau, was unsuitable.
In a statement Tuesday, MGM Resorts said Borgata, which had been valued at $1.35 billion, led to the pretax impairment change.
Boyd Gaming, which operates Borgata for the joint venture with MGM Resorts, has about a month to decide whether it wants to match the offer and take 100 percent ownership of the hotel-casino, or take on a new partner.
A Boyd Gaming spokesman declined comment on the announcement.
Any transaction would need New Jersey gaming regulatory approval.
In July, MGM Resorts sold the land underneath the Borgata for $73 million in a deal that will deliver net proceeds of $71 million. That deal is expected to close by year's end.
Contact reporter Howard Stutz at hstutz@reviewjournal.com or 702-477-3871.