Millions shop online for Cyber Monday deals; $2 billion in sales expected
December 2, 2013 - 4:19 pm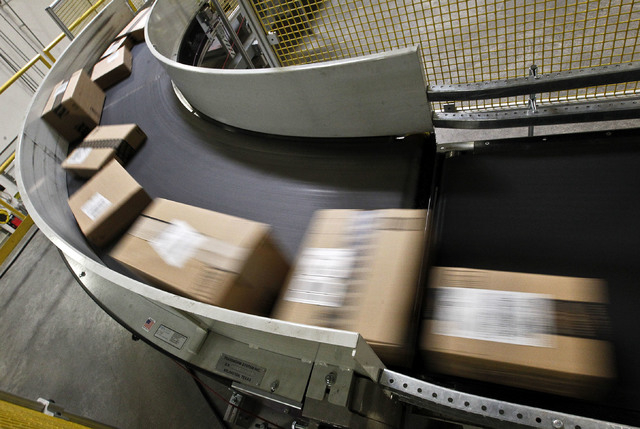 NEW YORK — Power up and shop.
Millions of Americans took advantage of online deals ranging from free shipping to hundreds of dollars off electronics and half-price clothing Monday, which was expected to be the busiest online shopping day of the year.
The spending surge on so-called Cyber Monday came after a disappointing holiday weekend in stores. And it showed that Americans are increasingly comfortable buying items on tablets and smartphones.
Early results showed online shopping was up 18.7 percent compared with the same time last year, according to figures by IBM Benchmark. Mobile traffic, which includes smartphones and tablets, accounted for 30 percent of all online traffic.
Brandon Harris, 27, from Memphis, Tenn., started shopping at midnight Sunday and by Monday had spent around $300 and completed half of his Christmas shopping, including a Barbie doll for his niece and a TV for his mother.
"I haven't shopped for a Christmas present in a store in three years," he said, making purchases from his iPad instead. "It's a lot more convenient to be at home and shop."
The National Retail Federation, a trade group, predicts more than 131 million people will shop online Monday, up about 2 percent from last year. Meanwhile, UPS expects to pick up more than 32 million packages on Monday, about a million more than Cyber Monday last year.
And research firm comScore expects Cyber Monday sales of $2 billion, up from about $1.47 billion last year. Online sales account for about 10 percent of total holiday spending, which is expected to grow about 3.9 percent to $602.1 billion for the months of November and December.
Joel Anderson, president and CEO of Walmart.com, said he anticipates Cyber Monday to be the site's busiest day ever. He said 2013 is the "tipping point" for mobile traffic, which includes smartphones and tablets.
More than half of Walmart.com's traffic came from smartphones and tablets on Thanksgiving and Black Friday, Anderson said. And he expected the same to be true on Monday.
"2013 is the year online went mobile," he said.
Arthur Baynes, 30, was checking out email deals on his smartphone. The travel insurance claims adjuster from Richmond, Va., was looking for a new TV and Blu-Ray games for his younger relatives.
"When I'm looking for something, I'll look it up on my phone and then use the Amazon app on my iPad to buy," he said Monday. "It's just easier. I don't have to sit down where my computer is."
Cyber Monday comes after retailers' failed efforts to boost spending during the holiday weekend. They offered big discounts in early November, and several opened stores on Thanksgiving Day. But the retail federation predicts that spending fell for the first time ever, down 2.9 percent to $57.4 billion, during the four days that ended Sunday.
About 81 percent of retailers planned to offer deals specifically for Cyber Monday, according to the NRF's online arm, called Shop.org.
The name Cyber Monday was coined in 2005 by Shop.org to push people to shop online. After retailers revved up deals for the day, it became the busiest online shopping day in 2010. But since then, more people shop online with faster Internet access, and retailers have expanded deals, stretching them into Cyber Week or even Cyber Month. This year, retailers such as Amazon and Wal-Mart rolled out online deals beginning in November.
Belus Capital management analyst Brian Sozzi said that's the new normal, however.
"The consumer has become immune to Cyber Monday and Cyber Week, they just want the discounts continually once the calendar hits November," he said.