Misery means success for Hangover Heaven
January 3, 2014 - 4:05 pm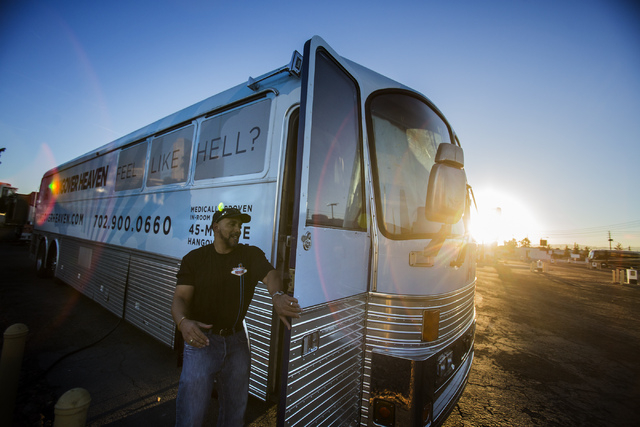 What could be more profitable than selling $500 bottles of vodka to nightclub revelers?
Helping those partiers recover the next morning.
That's been the ticket to success for Hangover Heaven. The Las Vegas-based company ministered to more than 100 patients on New Year's Eve, and again on New Year's Day, but that's a fraction of the 15,000 people company officials say they've "cured" since opening in 2012. The big patient volume has helped Hangover Heaven grow from a roving, tour bus-based business into a full-on standing clinic that makes house calls.
The company is the brainchild of Dr. Jason Burke, an anesthesiologist whose specialties include curing hangovers and IV nutritional therapy. Burke was working as chief of anesthesia at a local Veterans Administration hospital when he had his epiphany.
"His main goal was to find a hangover cure that was backed by science, as there is no cure for a hangover outside of the medical field that actually delivers results," said Vera Alexander, brand manager for Hangover Heaven.
So in April 2012, Burke assembled some IV bags with saline, vitamins and drugs to combat inflammation and nausea — a treatment he said helped him survive a bad hangover. He bought a 45-foot tour bus tricked out with leather cushions and soothing murals of skies and clouds, and began trolling the Strip for customers. Within a week, Burke was fielding calls from international media outlets, aspiring franchisees and reality TV producers.
"Even though the bus is a complete clinic inside, we had to expand immediately because we got a lot of national media coverage and had an overflowing demand for our services," Alexander said. "People are attracted to Hangover Heaven not only for the services we provide, but also for the experience that they get with us."
Hangover Heaven now makes house calls to local hotel rooms. It opened a clinic at 3281 S. Highland Drive, Suite 806, with office hours from 8 a.m. to 4 p.m. Monday through Thursday, and 8 a.m. to 5 p.m. Friday through Sunday. There's even a smart phone app for booking appointments, plus a new Hangover Research Institute established to "end the modern-day hangover" and educate the public about dangerous folk remedies.
Whether customers get treatment via bus, hotel or clinic, packages start with hydration fluids and headache meds. Patients can add extras such as anti-heartburn medication, 30 minutes of oxygen and a B-vitamin shot. Prices range from $45 to $300, depending on how much treatment you get and whether you need care after-hours. An in-hotel visit costs an extra $200, though you can split the fee among a group.
Burke is also marketing a "complete wellness experience" through Vita Heaven, a sister company to Hangover Heaven, that offers nutrition through a variety of IV cocktails aimed at treating everything from vitamin deficiencies to skin rejuvenation.
"It is awesome because it makes me feel hydrated and gives me a ton of energy," said Gina Nagy, while receiving an IV vitamin infusion Thursday. A tourist from San Francisco, Nagy said she wasn't hungover but needed the vitamins because her body has vitamin absorption issues.
"I got another vitamin infusion earlier this week and it felt great," she said. "People need this, but I don't know of any other city where they offer these services."
Burke "has created a new field of medical delivery which is fun for people and profitable," Alexander said. "In the almost two years of operations we have come a long way. Its almost night and day from when we started."
Contact Maria Agreda at magreda@reviewjournal.com and (702) 383-0391.