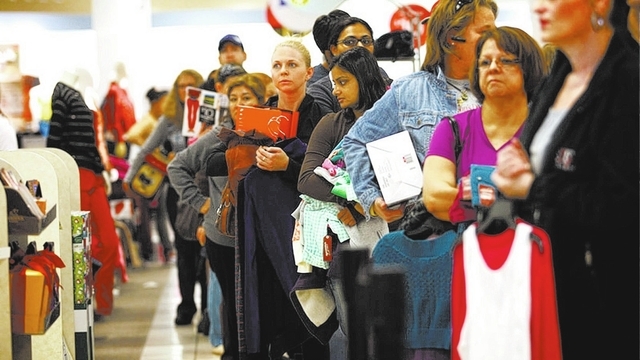 Nationwide, holiday sales are expected to increase 3.9 percent this year.
In its holiday sales forecast released Thursday, the National Retail Federation is estimating 2013's November and December holiday sales to ring in at $602.1 billion. The forecast is higher than the 10-year average holiday sales growth of 3.3 percent and higher than last year's growth of 3.5 percent.
National Retail Federation President and CEO Matthew Shay said, "Overall we would say what we're expecting is solid growth. That's a decent number."
Shay said the federation is tempering its forecast with what's been coming out of Washington, D.C., this year with factors such as the debt ceiling affecting spending confidence. The government shutdown this week is only further dampening the federation's cautiously optimistic outlook.
"We can weather this if it gets resolved quickly," Shay said.
If it drags on, Shay said, it could affect consumer confidence and as a result, overall spending.
In its holiday sales forecast, the Consumer Electronics Association is saying November through December retail sales will increase 4 percent over 2012, to reach $738 billion in total revenue.
According to the National Retail Federation, the holiday season can account for anywhere from 20 percent to 40 percent of a retailer's annual sales, and accounts for about 20 percent of total industry annual sales.
Online shopping will be more popular than ever this year. Online sales are forecasted to grow between 13 percent and 15 percent over last holiday season to as much as $82.0 billion. Last year online sales grew 12 percent.
"That's the way consumers live their lives today," Shay said.
The Consumer Electronics Association found online sales are expected to grow 18.7 percent to reach $57 billion. Mobile purchases, expected to surpass $8 billion for the first time, will grow by 35 percent and account for nearly 15 percent of all online holiday purchases.
In terms of hiring, retailers overall are expected to hire the same numbers they did last year, Shay said, at about 720,000 people nationwide, but it can go as high as 780,000.
That makes sense, Shay said, when comparing that to growth in holiday sales. In 2012, 720,500 were hired, which was a 13 percent year-over-year increase from 2011.
Earlier this year Kohl's announced it plans to hire more than 50,000 associates, including an average of 40 per store at the eight Las Vegas-area Kohl's. Amazon, too, said it plans to hire 70,000 full time seasonal workers across the country, 40 percent more than last year. Thousands of these hires will be in Nevada.
And when it comes to putting out their holiday-specific inventory, expect retailers to take full advantage of the season, which is shorter at 25 days this year compared to last year's 31-day shopping season.
"It's incredibly important they get all this right," Shay said.
Contributing $2.5 trillion to annual GDP, retail is a daily barometer for the nation's economy. Since the spring the economy has expanded, albeit at an "unspectacular" pace, said NRF Chief Economist Jack Kleinhenz.
In terms of use of credit, Kleinhenz said he's not seeing consumers using revolving credit much, so don't expect credit cards to be used extensively this season. If they are, they'll more so be used to make up any shortfalls between income and spending, but will be repaid quickly.
The Retail Association of Nevada's most recent survey conducted by Moore Information found 72 percent of Nevadans believe that the economy has improved since the worst of the recession, but only 7 percent believe it has improved a great deal, while 11 percent believe it has gotten worse.
Also, 58 percent of Nevadans believe the new healthcare law will increase their costs.
Contact reporter Laura Carroll at lcarroll@reviewjournal.com or 702-380-4588. Follow @lscvegas on Twitter.
3.9 PERCENT
projected increase in holiday sales this year
3.5 PERCENT
increase in holiday sales in 2012
3.3 PERCENT
average increase in holiday sales the past 10 years