Molasky Group takes on Seattle project with troubled history
October 8, 2017 - 12:04 am
Updated October 8, 2017 - 12:44 am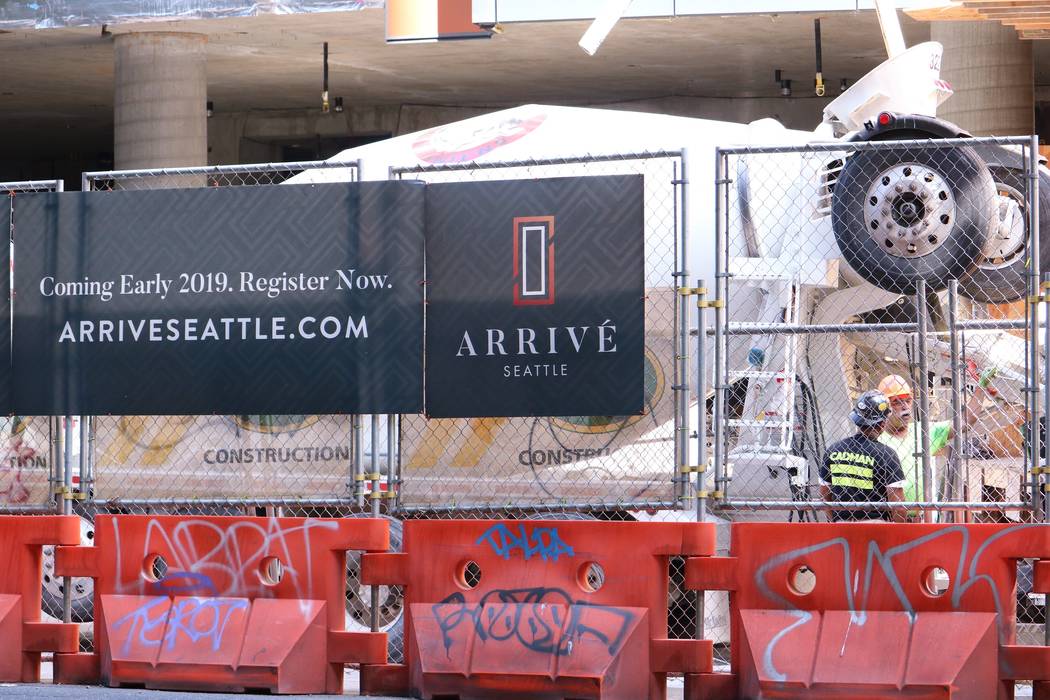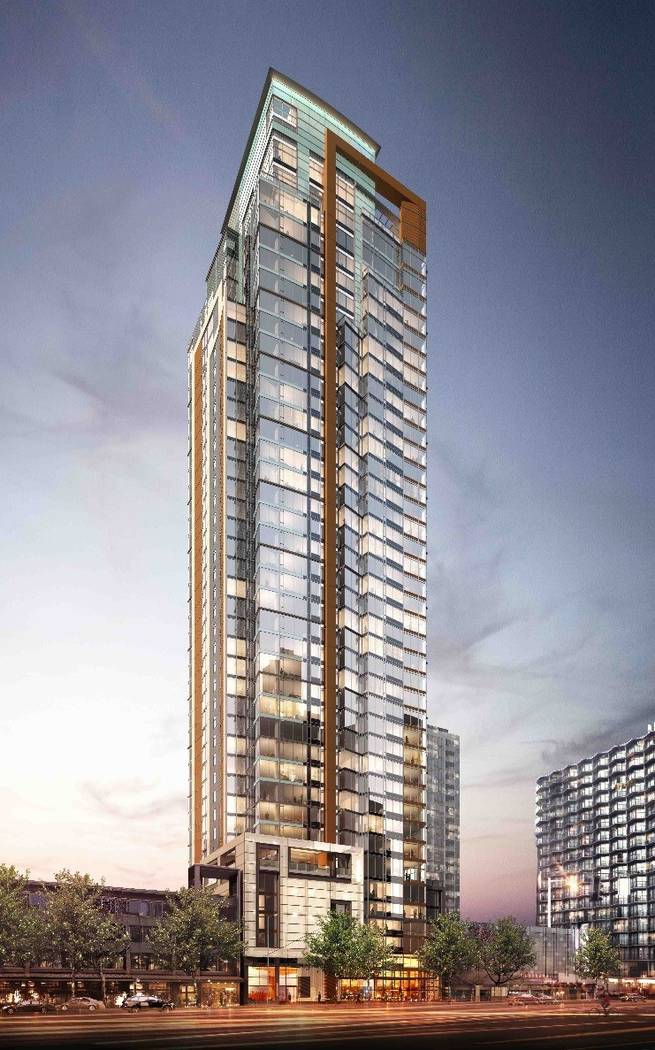 SEATTLE — Nelson Lee was visiting the East Coast when he got a call from developer Lobsang Dargey. It was 7 a.m. back home in Seattle, and Dargey said the FBI was at his house with a search warrant.
Lee, an attorney, thought it was a joke. Clients of his were investors with Dargey, and Lee never heard from anyone that something might be amiss.
Accused of fraud, Dargey eventually was sent to prison — and a longtime Las Vegas developer is now finishing one of his projects.
The Molasky Group of Cos. has partnered with a Chinese developer to build Arrivé, a 41-story apartment and hotel tower in Seattle's Belltown neighborhood. Formerly known as Potala Tower, the project is slated to be finished in 2019.
Arrivé is one of several high- rises under construction in Seattle but carries a volatile and unusual backstory with some strong Nevada connections.
At the center is a Tibetan monk-turned-developer who married the sister of former tennis star and Las Vegas native Andre Agassi. There are also cash withdrawals from casinos, a neighborhood with a long history of crime and a flashy project that, for a while, was little more than a giant hole in the ground.
The Securities and Exchange Commission sued Dargey in 2015, alleging he and his companies raised at least $125 million for Potala Tower and another project but diverted $17.6 million for other uses. This past January, Dargey pleaded guilty in a criminal case to conspiracy to commit wire fraud and a scheme to conceal information from the U.S. government, and he agreed to pay $24 million in restitution.
He was sentenced in August to four years in prison and three years of supervised release.
When the Las Vegas Review-Journal called Molasky for this story, spokeswoman Pamela Puppel initially said she would not talk about it.
She arranged an interview, but the day before it was scheduled to take place, Puppel called and canceled, saying: "We're going to pass on the opportunity."
She declined to say why.
Born 'next to a pig'
Dargey, who turns 44 on Tuesday, was described in news reports as an immigrant from humble origins who became a successful real estate investor.
Growing up poor in Tibet, he herded sheep and goats, and his family carried water from a stream and chopped wood. He was born in his home, "next to a pig," he once said.
His parents sent him to a Buddhist monastery when he was 13, but about 10 years later, in 1997, he came to the United States. He worked as a painter, studied English, got a sales job with Sprint and met his future wife, Tami Agassi, at a fundraiser for the cancer research center where she worked.
By 2006, Dargey was buying commercial real estate in Everett, some 30 miles north of Seattle. In 2012, The Seattle Times called him one of Everett's "most influential developers," and the Puget Sound Business Journal reported in 2014 that he was "hitting his stride" as a developer in Seattle.
Years earlier, the CEO of Bank of Everett told the Business Journal that Dargey's path from monkhood to real estate was "pretty incredible."
"He kind of makes you want to do business with him because he's genuine," the CEO said.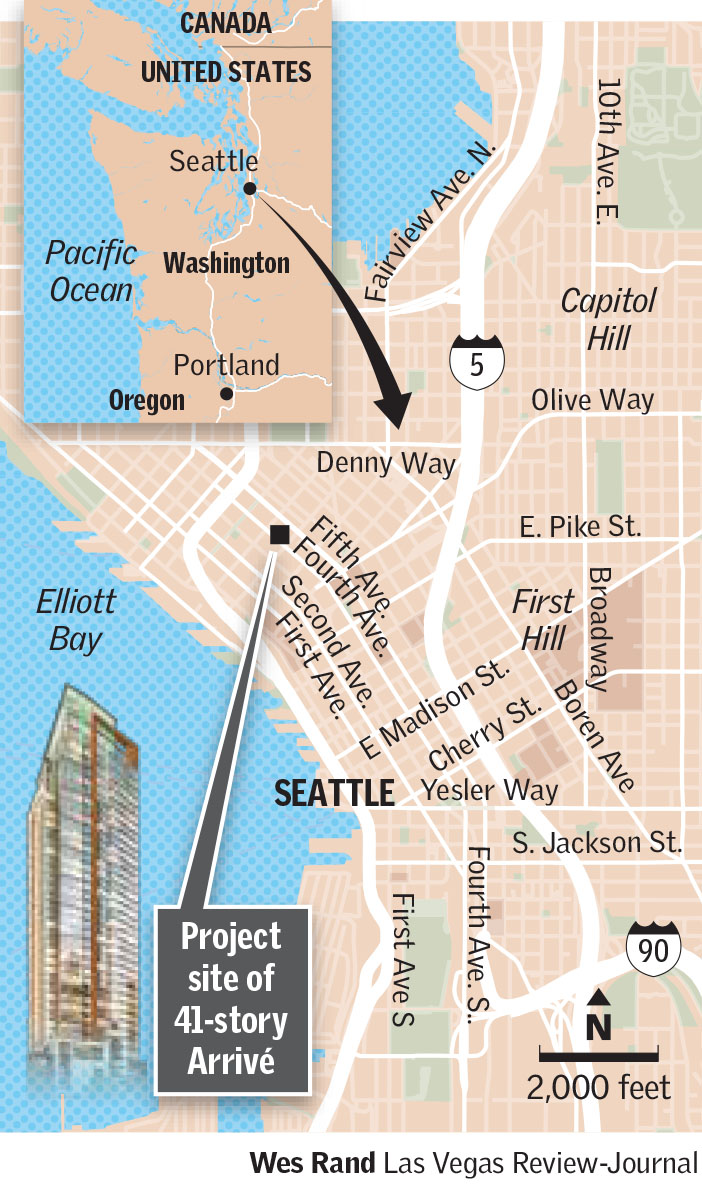 From hookers to high-rises
The Arrivé site, 2116 Fourth Ave., is near upscale apartment towers and plenty of eateries. Next door, the Cinerama movie theater sells organic pumpkin seeds and artisan cheese puffs, and tourism promoter Visit Seattle says Belltown is teeming with "top-notch" restaurants, bars and retail.
Not long ago, however, Belltown had a different reputation: It was a place with "decades of open drug dealing and prostitution," The Stranger, a local paper, wrote in 2009.
Dozens of police officers swept in one day in 2009 to round up a Honduran crack-cocaine ring. Dealers sold wafer-thin crack wrapped in cellophane and often stored it in their mouths so they could swallow it if police approached, the Seattle Post-Intelligencer reported.
Michael Hein and Tony Portugal opened The Yellow Leaf bakery in Belltown in 2009. They loved the area, but Portugal noted it "was not a very desired neighborhood."
In time, they noticed a bigger police presence and saw more tech workers moving in, as Amazon's headquarters is less than a mile away. Real estate projects started taking shape. "Slowly, you started to see the cranes going up," Portugal said.
Dargey set out to finance Potala Tower through the federal EB-5 visa program. Foreigners can obtain U.S. residency through the program if they put at least $500,000 into a business venture and the funding creates at least 10 full-time jobs.
Dargey and his companies raised money from about 250 Chinese nationals for the tower and a mixed-use project in Everett. His investors included Baipeng Wu, a hotel supplier in southern China.
Wu wanted a green card, mostly so he could bring his two children to the United States, and invested partly because of Dargey's background, he told the RJ through an interpreter.
He put in more than $500,000 and, he said, fully trusted the developer.
Vacant pit
Dargey held a ceremonial groundbreaking for the tower in 2014, but eventually the SEC came after him.
According to the agency, he spent $2.5 million of investor funds on a home in Bellevue, Washington, and $14.7 million on unrelated real estate projects. He also withdrew some $350,000 of investor funds in cash, including more than $200,000 from casinos in Nevada, California and elsewhere, the lawsuit alleged.
Lee, the attorney, represented more than 100 of Dargey's investors, filing their EB-5 petitions. After Dargey was accused of fraud, Lee brought in attorney Steve Fogg – a former SEC enforcement lawyer – to work on the case, and asked him to draft a memo outlining what might happen.
Lee's office translated it to Chinese and sent it out, although many of the investors' middlemen got mad at him for "stirring the pot and scaring everybody," he said.
But the charges were serious, he told them, and the feds typically don't target people unless they have a rock-solid case.
"These aren't people who just sort of willy-nilly file these claims just on a hunch," Lee said.
Construction of the tower stopped, and a court-appointed receiver took charge of Dargey's assets. In October 2016, Molasky announced its joint venture with the Chinese developer, saying the partners had "taken complete ownership and control" of the project. Molasky unveiled the Arrivé name in May and said the tower was under construction.
Cinerama General Manager Ethan Caldwell said it was "interesting having a vacant pit adjacent to our building for a year."
"I believe the pit was broken into on several occasion (sic) by vandals, and at one point someone apparently threw a party in the pit," he said in an email.
The Seattle Police Department had a few calls about the site, a spokesman said.
Dargey is incarcerated in Lompoc, California. His criminal defense lawyer, Bob Mahler, said he doesn't know whether any restitution payments have been made.
In the SEC case, Dargey entered a settlement agreement in which he neither admitted nor denied the agency's allegations, said Peter Ehrlichman, his lead attorney in the case.
'Please have compassion and mercy'
Wu said that he never got his money back and that Dargey's prison sentence was too light, given the number of families affected.
But many people, including family, friends and, Mahler said, investors, wrote the court in support of Dargey.
At his sentencing, the judge rejected the notion that Dargey acted with criminal intent, saying instead that the developer was reckless, according to Ehrlichman.
Dargey's wife, Tami, wrote the court saying he is a devoted husband and father who "loves all people" but dealt with "escalating" mental health issues.
In 2015, Dargey "had a complete breakdown and started hallucinating that the Chinese were shooting at him," Tami wrote.
She called 911, and Dargey was hospitalized.
"Please have compassion and mercy in your sentencing … My children need a father and I need Lobsang," she wrote.
In his own letter to the court, Dargey took full responsibility and apologized to his investors, his parents and his defense team, saying he feels "sorry and hopeless about not being able to pay them."
As an immigrant, he added, the "last thing that I ever wanted" was to shatter the dreams of others who might follow him.
"I will pray for their success and happiness in America for the rest of my life," he wrote.
Contact Eli Segall at esegall@reviewjournal.com or 702-383-0342. Follow @eli_segall on Twitter.­