Momentum propels Merson at World Series of Poker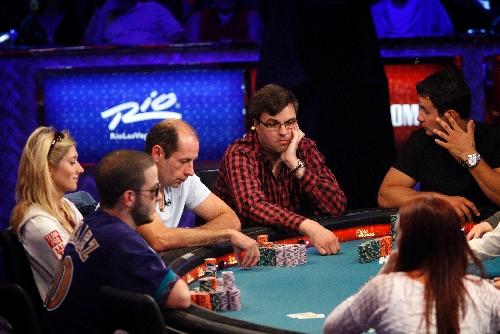 Greg Merson wasn't sure he could top winning a World Series of Poker gold bracelet and earning his first $1 million payday less than two weeks ago.
But he's making the effort.
Merson, 24, from Laurel, Md., was vying at the Rio on Monday for one of nine seats at the final table in the tournament's $10,000 buy-in No Limit Hold'em World Championship. The nine return to the Rio at the end of October to play for the title and an $8.5 million payday.
With 12 players left in the competition, Merson was in first place with more than 31.3 million in chips. He started play in 12th position out of the 27-player starting field.
"There have been some really big swings all day," Merson said during a break in the action. "I took a pretty big hit early, but I made it back in good time."
Just before the dinner break, Merson took a 21-million pot with a higher straight than Wilfried Harig of Germany. A few hands later, he lost roughly 4 million of those chips to Andras Koroknai of Hungry.
Merson was one of just two players who entered play Monday with significant poker credentials, having earned a World Series of Poker individual event championship bracelet.
On July 5, he won more than $1.1 million in topping a field of 474 players in the $10,000 buy-in No-Limit Hold'em/Six Handed event. It was his first gold bracelet and fifth career World Series of Poker in-the-money finish. Three of those cashes came this year.
Three weeks earlier, Merson made the final table of a $3,000 buy-in No-Limit Hold'em/Six Handed event, finishing fifth.
"It's been baby steps," Merson said. "My first finish was in 21st place, then fifth, then first. So the experience has helped tremendously."
His involvement in two final tables at this year's World Series of Poker and cash games on the Internet gave Merson an understanding of what he would have to endure. Of course, the final table of the Main Event is like no other at the tournament, with player rooting sections and all the lights and cameras of an ESPN television production.
Merson said he was more comfortable than he thought he would be.
"That experience makes me more relaxed in general," Merson said. "I just think having high-stakes cash game experience makes you more relaxed when you play for a lot of money like this."
Merson, who attended community college and the University of Maryland but did not graduate, moved to Toronto last year to continue his career in online poker following the federal government's crackdown on Internet gaming in the U.S.
"I've actually never really worked a 9 -to-5 job," Merson said. "The jobs I had only lasted less than a month. That's when I started playing poker."
Reaching the final table in the Main Event would also give Merson another bonus. He would overtake Phil Ivey atop the World Series of Poker Player of the Year leaderboard going into this fall's World Series of Poker Europe. He currently sits in seventh place with 481.13 points. The Player of the Year prize is worth about $20,000.
Merson wasn't thinking of that award Monday.
"I'm not putting any added pressure on myself," Merson said. "It would be nice to win it and it's something I'd like to win, but I'm sure there are way better tournament players than me."
The Main Event drew 6,598 players and a prize pool of $62 million. With seven of nine players at the final table each winning more than $1 million, tension was high Monday on the final cut-down day and the action began slowly Monday.
Only two players were eliminated in the first three hours of competition. Over the next 2½ hours, 10 more players were sent to the payout window, earning between $294,601 and $369,026 for their effort.
The most surprising elimination was that of Daniel Strelitz or Torrance, Calif., who came into the day second in the chip lead. He was knocked out of the competition in 24th place.
In addition to Merson, Steven Gee of Sacramento, Calif., was the only other past World Series of Poker bracelet winner still in the competition. He won a $1,000 buy-in no limit hold'em event in 2010.
Gee was in eighth place by 11 p.m. Monday with 14.215 million.
Much of the attention focused on the two remaining female players, Gaelle Baumann of France and Elisabeth Hille of Norway, who were each vying to become the only other woman to reach the Main Event final table since Barbara Enright accomplished the feat in 1995.
Baumann and Hille were both seated at the ESPN feature table before the dinner break, the first time at the tournament they found themselves a few seats apart. Hille was in 11th place with 7.5 million in chips while Bauman was in 12th place with 5.2 million in chips.
Their showing assured that a woman would have the highest finish at the Main Event since Annie Duke placed 10th in 2000.
Contact reporter Howard Stutz at hstutz@reviewjournal.com or 702-477-3871. Follow @howardstutz on Twitter.