Monorail turns in surprising track record — ridership goes up
January 15, 2014 - 8:23 pm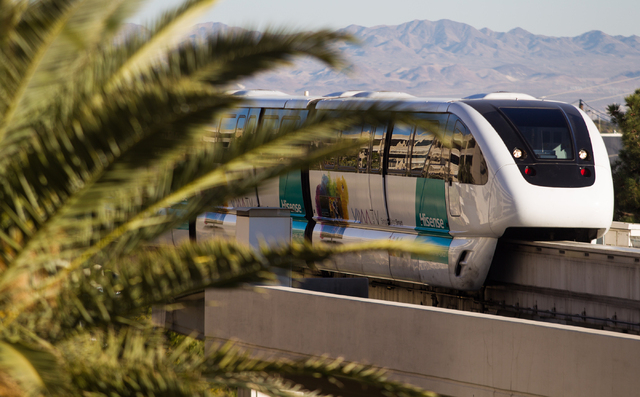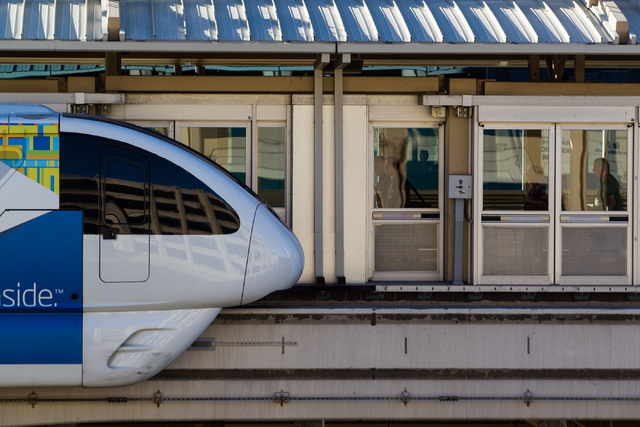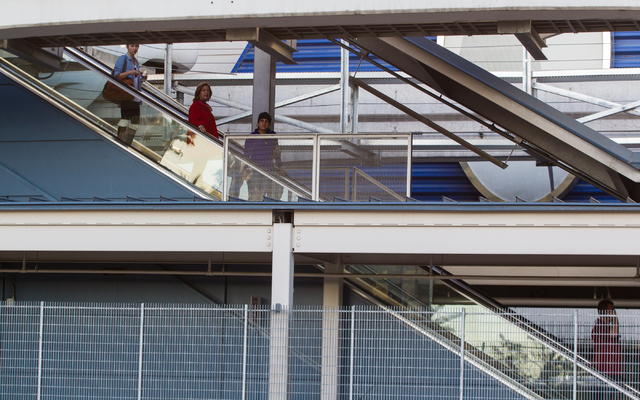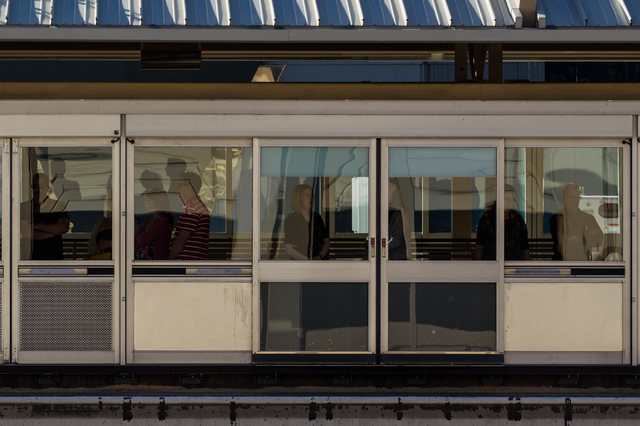 The Las Vegas Monorail's performance report showed a rare event took place in 2013: ridership went up.
To be sure, the increase from 2012 was a slim 1 percent to 4.19 million passengers. But after plunging by nearly half from 7.9 million in 2007, ultimately driving the nonprofit monorail corporation into Chapter 11 bankruptcy, last year marked for monorail management the beginning of what they hope will be a sustained turnaround.
CEO Curtis Myles III attributes the change to pumping fresh dollars into a marketing and advertising budget that was slashed from $3.4 million in 2007, according to the financial statements, to $110,000 two years later as finances worsened. This year's budget calls for $550,000, enough to boost the monorail's presence in social media and to sell discounted tickets in bulk to others such as major conventions or travel booking websites. In addition, the monorail has again placed attendants at its seven stations rather than just leaving passengers to deal with vending machines.
As further evidence that the new tactics have started to produce results, monorail managers say riders who attended the just-concluded International CES convention rose 2.5 percent from one year ago.
"In the dark period, we had enough marketing dollars to put out some rack cards at concierge desks and that was it," Myles said. "We are trying to get a bigger presence now, but that's difficult in Las Vegas where you are inundated with marketing messages."
However, the monorail will feel a near-term hit beyond just the higher spending. Despite more riders, fare revenues went down 1.5 percent to $18.4 million as the wholesaling strategy was revived. The monorail had given quantity discounts in the past, but they were eliminated by an outside consultant installed in 2008 by Ambac, the company that had insured the bonds sold to rebuild and expand the monorail early in the last decade.
Other marketing ideas were also shelved to conserve cash and cover other priorities during the bankruptcy, which ended on Nov. 7, 2012. For example, the legal and consulting budgets during the two years of Chapter 11 consumed $4.9 million.
This year's budget calls for $22.3 million in total revenues, 0.9 percent less than last year, as a drop in ticket sales is only partially offset by higher advertising income and leasing some parts of the stations to outsiders. With costs running higher, the operating profit will drop 23 percent to $2.3 million.
"We will be ramping up during the next six-to-12 months," said Myles. "You have to spend money to make money."
Still, the monorail has already fallen behind the projected budgets produced as part of the bankruptcy reorganization. This year, the spreadsheets called for $24.9 million in revenues, $1.6 million less than now expected. The net loss was estimated at $18.4 million including operations, debt service and depreciation compared to the current budget of $20.3 million.
Monorail leaders have long pegged the future to expanding beyond the 3.9-mile path that now runs east of and roughly parallel to the Strip from the MGM Grand to the SLS, scheduled to reopen later this year. How to do it and where to go loom as large question marks.
"The board is having a lot of discussions at this time, but they are only discussions," said Chairman Donald Shalmy.
Financing poses a major hurdle. In order to reduce the debt service to manageable levels, the Chapter 11 erased more than 90 percent of the face value of the $658 million in bonds sold to investors to pay for rebuilding the monorail, making the private markets unlikely to try again.
But as a nonprofit corporation, the monorail will encounter huge difficulties qualifying for the federal government grants that pay for many urban rail projects constructed by local or state government agencies.
In addition, the location of the monorail east of the Strip continues to pose logistical hurdles. Monorail leaders have often talked about an extension to McCarran International Airport as a way to tap into millions of potential passengers. But former McCarran director Randall Walker questioned in the past why visitors would want to ride something that required an extended hike, with luggage, to many Strip resorts.
Contact reporter Tim O'Reiley at toreiley@reviewjournal.com or at 702-387-5290.