More than half of Allegiant pilots dissatisfied, looking for other jobs, survey says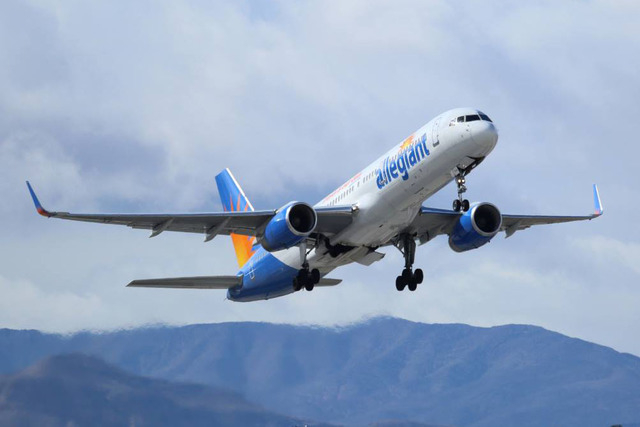 A survey commissioned by the Teamsters union says more than half of Allegiant Air's pilots are looking for jobs at other companies because of dissatisfaction with the airline, raising the question of how the Las Vegas-based company can cope as qualified pilots become harder to find.
The survey of 507 of Allegiant's 700 captains and first officers said 64 percent of participants say they are looking or plan to look for another job, and 80 percent say they are very likely or somewhat likely to leave the company.
The survey was conducted online by Allegiant's pilots union, Teamsters Local 1224, and was open from mid-March through April 26. The survey, released by the union late Tuesday night, comes when many airlines are clamoring for pilots and the survey's purpose is to convince Allegiant that it must increase benefits and pay in order to retain its employees.
Large airlines frequently recruit pilots from smaller carriers and commuter operations and pilots see greater opportunities and higher pay flying transcontinental and intercontinental routes. But to keep their pilots, Allegiant often pitches the advantage of the company's out-and-back scheduling system that virtually assures all pilots being home every night instead of making flights to multiple cities in one itinerary.
Pilot shortage issues were discussed at length in an aviation seminar in Las Vegas last year. Evergreen, Colorado-based Boyd Group International said aircraft manufacturers will produce 7,550 new planes in the next 20 years requiring 88,000 pilots. Nowhere is the problem more acute than for regional carriers and small airlines operating in small communities.
In 2013, the Federal Aviation Administration also adopted new regulations requiring first officers to have 1,500 flight hours to receive their airline transport pilot certificates. Previously, the agency required just 250 hours of experience.
The new regulation was approved in the wake of the crash of a Colgan Air flight in February 2009 that killed the flight crew and 49 passengers and a person on the ground in northern New York.
It usually takes several years for a student pilot to log 1,500 hours. The pilot shortage is exacerbated by a rash of retirements. The FAA changed the mandatory pilot retirement age from 60 to 65 in 2007, but now, the pool is shrinking and about 500 commercial pilots retire every month.
Jude Bricker, chief operating officer for Allegiant, said he agrees with many of the points made in the survey.
"Union surveys always have a preconceived outcome," Bricker said in an interview. "But on the outcome of this particular survey, the company believes largely with the result of the pilot group represented here in their survey. Specifically, we know morale is low; I agree with that."
Bricker said frustration at Allegiant grew out of the implementation of a new scheduling system last year that was the centerpiece of the strike threat and a resulting court case in April 2015. Company management ultimately prevailed, but Bricker concurred that the system was confusing and that developing new scheduling rules would be a part of the contract currently under consideration.
Bricker also said he agrees that Allegiant pilots are underpaid based on what they could make at other airlines. But he added that he believes the two sides are close to reaching agreement on a pay scale that pilots and management could live with.
He said pilots and management are aligned on safety and that both sides concur that's the most critical piece of Allegiant's operational strategy.
"For the future of the airline, Allegiant Air executives should be taking a closer look at appreciation of their pilots by ending the nearly four-year delay in agreeing to a fair contract," said Teamsters Local 1224 President Dan Wells. "For the good of its pilots, passengers and shareholders, Allegiant must invest in the backbone of its operation and work with pilots to come to a much-needed contract agreement and move forward to rebuild the airline. It's in everyone's best interest."
In last week's Allegiant Travel Co. earnings conference call, Allegiant Chairman and CEO Maurice Gallagher said he is optimistic about completing negotiations and having a pilot contract in place by the end of the year. The company and the union reportedly have agreed to 19 of 26 sections of a contract with five under the current negotiation.
The union has used several pressure tactics over the years to influence negotiations. Pilots have approved a strike vote that Allegiant management blocked in court.
The union also has publicized frequent maintenance issues that they say have led to greater scrutiny by aviation regulators. The airline has responded that it welcomes the scrutiny and has done everything it can to operate safely. Allegiant also is in the midst of upgrading its fleet with newer used aircraft than it currently operates.
Contact Richard N. Velotta at rvelotta@reviewjournal.com or 702-477-3893. Find him on Twitter: @RickVelotta