Most Southern Nevada land sold in single BLM auction since boom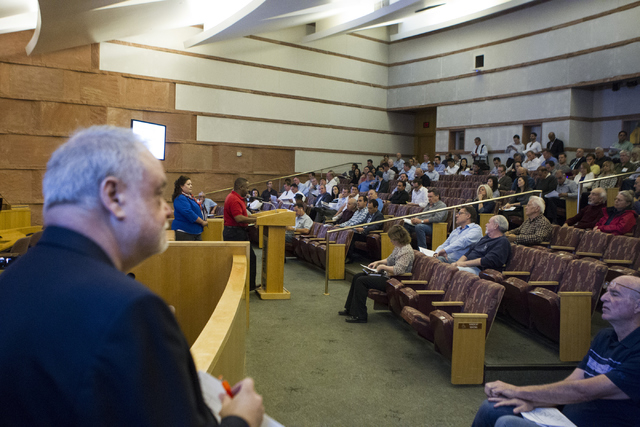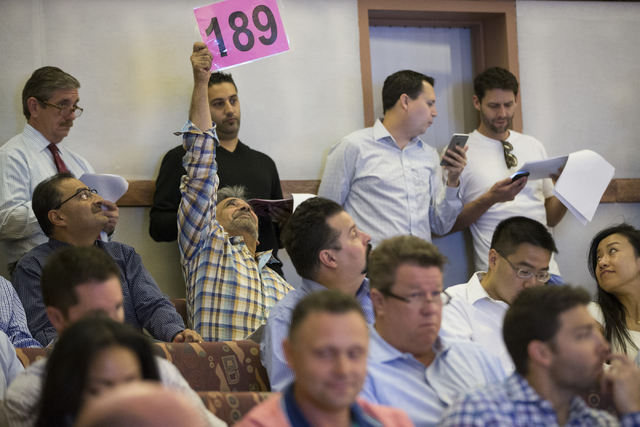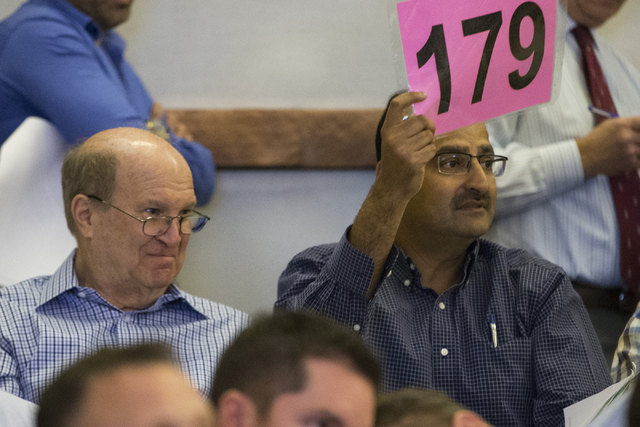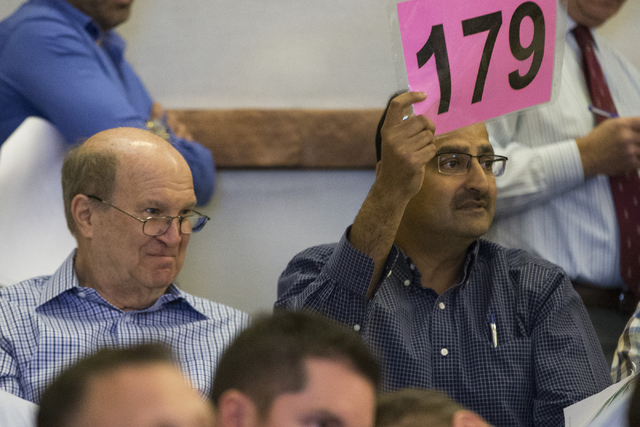 The federal Bureau of Land Management on Tuesday sold its largest amount of land in a single auction since Southern Nevada's boom era.
The agency auctioned off 818.7 of 856.2 acres it put on the market in the sale, which was held inside the Clark County Government Center.
The 34 parcels went for a total of $94.5 million, or 10.7 percent more than the $85.4 million total starting price tag on all 39 available lots.
Auction winners included names that have become familiar since the competitive oral auctions resumed in January 2014.
Homebuilder American West Development bought 37.5 acres for $7.6 million.
Another big, local homebuilder, Lewis Investment Co. of Nevada, picked up 77.3 acres for $23 million.
The Roohani family, which owns development companies and has been amassing a land portfolio partly through the auctions, also bought several parcels.
The biggest parcel sold was a 247.6-acre plot at Hollywood Boulevard and Cheyenne Avenue. The land was listed for $1.85 million and went for that amount.
The site hasn't had much luck getting out of the development gate. It's been on the auction block several times in recent years. A limited liability corporation called Sao Tome bought the land at auction in May, but records with the Clark County Assessor's office show the entity never closed on the purchase. Secretary of state records don't list the company's officers.
The land's development barriers include a gravel pit, mineral rights that belong to a third party and a location inside Nellis Air Force Base's live-ordnance loading area.
Vision Commercial One, which lists former Focus Property Group and current Colliers International Senior Vice President Vince Schettler as its manager in Nevada secretary of state records, bought the land.
Vision Commercial One also bought two other parcels: a 2.5-acre piece at Johnson Street and Gary Avenue for $525,000, and a 140-acre site at Larson Lane and La Cienega Street for $12 million.
Tuesday's auction was the biggest since the November 2005 sale of more than 2,900 acres across the Las Vegas Valley.
Sale proceeds go to the state's education fund, the Southern Nevada Water Authority, public parks and the purchase of environmentally sensitive land. Past auctions have funded the $25 million renovation of Lorenzi Park, as well as the visitors' center at Red Rock Canyon National Conservation Area, outdoor features at the Las Vegas Springs Preserve and amenities at Lake Mead.
Contact Jennifer Robison at jrobison@reviewjournal.com. Follow her on Twitter: @_JRobison