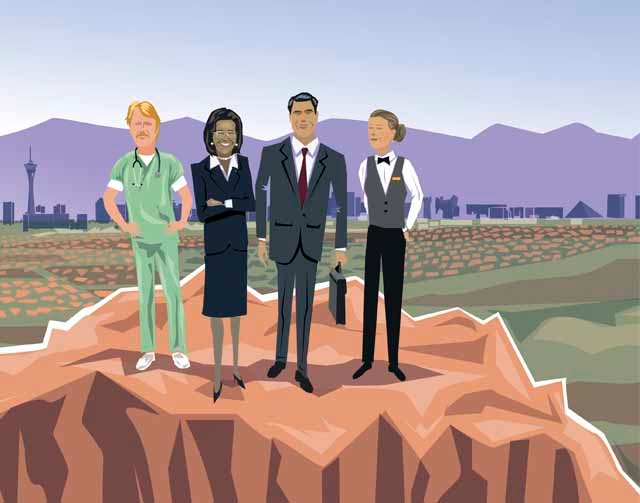 Good pay and benefits may be obvious hallmarks for a top workplace, but communication and employee appreciation are what put companies over the top.
Doug Claffey, the chief executive officer of WorkplaceDynamics, a Pennsylvania consultancy that helps companies create a place people want to work, said much of the good workplace discussion tends to center on salary, benefits and other perks. Surveys of employees, however, show that's not the case.
"Those things don't make an average company great. What makes a company a great place to work is the sense that we are all in this together," Claffey said. "It's about communicating and making a connection so people feel appreciated and their work is meaningful and that they have a future."
That doesn't mean the other perks aren't important.
Salary and benefits need to at least be equal or greater to a company's primary competitors, said Alan Miller, a professor of management at the Lee Business School at the University of Nevada, Las Vegas. But the best companies provide flexibility to employees on what benefits they can choose, Miller said. Instead of making benefits uniform, companies should offer them cafeteria style, so workers can select which benefits best suit their needs, he said.
"It starts with medical and dental, but some organizations go beyond that," Miller said. "Maybe they provide a laundry service or manicures or exercise. One example is Google. It has those services at a minimal cost at its corporate campus. It helps motivate employees to really produce. But a lot of companies don't want to do that because of an upfront cost, and they don't think they will see a return on their investment."
Employees should be rewarded for their job performance, Miller said; it helps the company achieve its goals.
"Top-performing companies tend to do those things, but with other companies, the economy plays a role," Miller said. "They are pressed for resources and try to get by doing less. Many companies often think you ought to be grateful we are giving you a job. That may work for some employees but that alone is not the only way to motivate employees."
Gatski Commercial Real Estate Services CEO Frank Gatski said companies are shortsighted if they don't care about employees and make it a place they want to come to work and give their best.
"I think the most important ingredient to having a successful business in this day and age, no matter what kind of business, is your team," Gatski said. "People are your most important commodity. Even with the economy as tough as it is and a lot of companies struggling financially to survive, there are a lot of things you can do to make your employees want to come to work. It's important for your employees to be happy and comfortable and in an environment that promotes growth."
Gatski said he launched a program this quarter that provides employees 5 percent of the profits to make them feel as if they have a stake in the company.
"I think the payback will be tremendous," Gatski said. "Having people feel ownership will encourage them to give ideas on how to run more efficiently rather than have management figure it out. On the other side, it will help with the revenue stream with creating new accounts."
Although it's important for organizations to encourage feedback, few companies have that culture because once people become bosses, they don't like to give up control, Miller said.
Carole Fisher, CEO of Nathan Adelson Hospice, agrees. She said it's important to meet regularly with employees to hear what challenges they face and what tools and equipment they need to do their jobs. Communication is vital to creating a top workplace.
"What makes a great place to work is more than just a paycheck," Fisher said. "Compensation is important, but deep down they want to feel they have contributed. They want to know their efforts and hard work have made a difference in our organization."
For some companies, such as HealthSouth Desert Canyon, creating a family atmosphere helps create a workplace in which people want to work, said Deanna Martin, the rehabilitation center's CEO. Simply recognizing employees and holding celebrations helps companies do a better job in their mission, which in her case is caring for patients, she said.
"Skill is important in a health care environment, but you can't teach friendly and being accommodating to patients," Martin said.
Claffey said it doesn't matter whether a company is large or small when it comes to being a top workplace. Small companies have one advantage: The shorter proximity between senior leaders and employees helps with communication. It helps to be able to see decisions made locally, rather than across the country where connections are more tenuous.
"For us, the healthy organizations are the ones in which everyone is headed in the same direction," Claffey said. "They feel connected with the organization."
Gatski said some companies are making a mistake by taking advantage of the high unemployment. They aren't worried about taking care of their employees and instead cut salary and benefits. It's the perfect time to recruit the best people who otherwise wouldn't be available in a good economy, he said.
"You need to continue to provide a great working environment and benefits so people want to join your company," Gatski said. "We are only as good as our team. End of story. Smart employers want to make it the best place to work."