Most who take out auto title loans resort to reborrowing, official says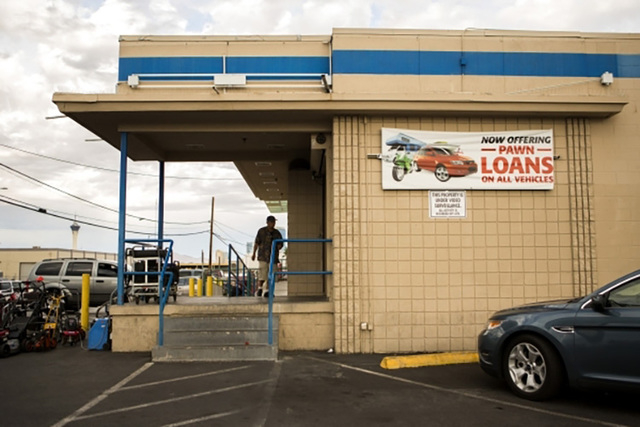 One in five people who take out single-payment car title loans end up seeing their vehicle seized by the lender for failing to repay their debt.
Most people who take out these controversial loans resort to reborrowing, because they're unable to repay them at once, Consumer Financial Protection Bureau Director Richard Cordray said in a press call Tuesday, discussing the bureau's new report and findings.
Auto title lenders generate about two-thirds of their debt from borrowers "who end up being mired in debt for most of the year," Cordray said.
"It is evidence of the long-term pitfalls of this form of borrowing and another sign that so-called single-payment loans are often anything but that in reality," Cordray said.
Title loans aren't tied to a borrower's income or their ability to repay the loan, and the bureau is considering proposals that would require lenders to determine whether borrowers are able to repay the loan and still meet their other financial obligations, a step towards ending these "payday debt traps."
The Las Vegas Review-Journal documented the pitfalls these borrowers face in a series of stories in November.
Nevada is among the states that allow title loans. Dan Wulz, deputy executive director of the Legal Aid Center of Southern Nevada, said while Nevada state statute includes an ability to repay provision, there's plenty of ways to maneuver around it.
The Legal Aid Center sees auto title loan cases on average at least once a month, often after the borrower's vehicle has already been seized. Wulz has seen scenarios where the borrower, often someone in an emergency situation, has signed a statement with income, financial obligations and employment information that's outdated by a number of months, or that states their housing costs are zero.
If the bureau puts in place more specific factors that can be used in determining a borrower's ability to repay a loan, following a similar move with mortgage loans in 2014, that would be a step in the right direction, Wulz said.
"There's lots of wiggle room and things happen," Wulz said.
Vehicle title loans typically have 30-day terms, and are often used by borrowers for emergency spending needs. The borrower's vehicle is used as collateral, with the lender holding the title until the loan is repaid.
The report released Tuesday analyzed 3.5 million single-payment car title loan records from nonbank lenders over a three-year period. The bureau found that the average loan was $959, with an average annual percentage rate of 300 percent, which is substantially higher than most forms of credit.
Borrowers who can't pay off the loan in a single payment must either borrow again or face losing their vehicle. With additional fees and interest added each time more money is borrowed, the debt continues to grow.
More than 50 percent of the time, borrowers took out four or more consecutive loans, according to the bureau's analysis. More than 80 percent of the loans were re-borrowed the same day a previous loan was repaid, and close to 90 percent were reborrowed within 60 days.
The bureau's auto title loan report follows another study it conducted focused on payday loans, which found that borrowers see high bank penalties and could be at risk for losing their checking account, much like borrowers who take out the title loans could see their vehicles seized when they don't repay the loan.
Contact Jamie Munks at jmunks@reviewjournal.com or 702-383-0354. Find @JamieMunksRJ on Twitter.