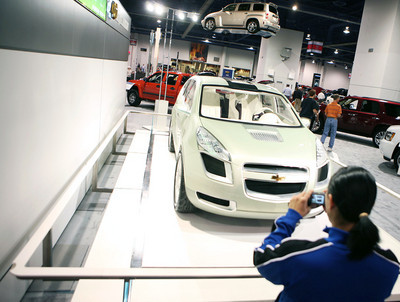 Local resident Paul Karess looked over the Chevrolet Sequel concept car from bumper to bumper Friday at the Motor Trend International Auto Show in Las Vegas and determined it would be a pretty good car if it came with a big V-8 engine.
"Maybe a nice strong Corvette motor, that would interest me," said Karess, who owns a Corvette Z06 and a Mercedes-Benz AMG. "I like performance. I'm from the old days. I don't care what the price of gas is, there'll always be a big group of people that wants performance."
The eighth-annual Motor Trend International Auto Show in Las Vegas gave consumers a glimpse of what's around the corner in automotive technology and design with concept cars such as the Chevrolet Sequel, Suzuki Zuk and Mitsubishi Eclipse Ralliart.
These cars are created to address future transportation challenges through advanced technology, innovative styling and alternative power sources, Motor Trend Auto Show spokeswoman Lauren Holzman said.
Although many concept cars never make it to production, they serve as "testing beds" for automobile manufacturers to gauge consumer reaction and test new products and design elements, she said.
With the increasing popularity of "green" technology," the clean-burning Sequel uses renewable hydrogen as fuel and emits only water vapor. The five-passenger, sport utility crossover can travel up to 300 miles on a tank of fuel and accelerates from zero to 60 mph in 10 seconds.
The 300-horsepower, sportbike-inspired Suzuki Zuk is designed for ultimate performance and can be customized for individual lifestyles, said Celesta Davis, exhibit manager for Suzuki.
"They're a lifestyle vehicle," she said. "We take a production vehicle, give it to a customizing team and say if someone's lifestyle was racing or camping, what can we do with the vehicle? Hopefully it will generate interest in the production vehicle they're based on."
The Zuk is based on the SX4 Crossover that's priced from about $15,000. Suzuki has 12 different Zuk models in circulation.
The road race-designed SX Force has a turbocharged 2.0-liter engine with Formula One-style outlet grills to help underhood air flow and tailored rear bodywork with carbon fiber diffuser. Sportbike handlebars replace the traditional steering wheel. Brakes are upgraded with six-piston calipers and two-piece, 355-millimeter rotors for sportbike stopping power.
If video games are more your style, check out the gaming-inspired SX Gamr. It has an XBox 360 integrated in the dashboard with hard-drive storage, close-proximity digital projection system and maximum size liquid-crystal display screens for rear-row players. Complete Wi-Fi and Bluetooth connectivity is also available.
The Eclipse Ralliart features a carbon-fiber hood and roof, racing gauges, Recaro seats trimmed in leather and four-point driver harness. Performance is enhanced by a turbocharged Evo four-cylinder, high-flow fuel pump and injectors and a triple-plate carbon fiber clutch.
Contact reporter Hubble Smith at hsmith@reviewjournal.com or (702) 383-0491.