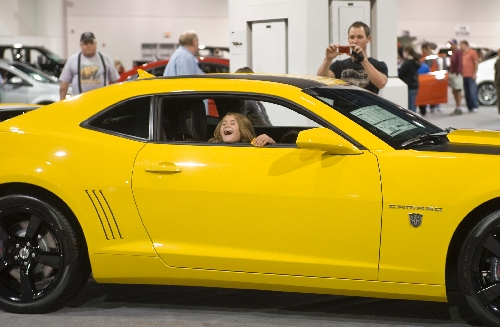 Scott Herbstman looked over the third-generation 2012 Mazda MX-5 Miata with a keen eye and asked a lot of questions Friday at the Motor Trend International Auto Show in Las Vegas.
How much weight does the hardtop add to the car? When will they bring back the two-tone tan interior? Why can't they boost it up to at least 200 horsepower?
The previous owner of two Miatas told the Mazda representative at the show he's not complaining, but he wanted more horsepower out of the car.
"It was like a go-kart: fun to drive, but if you had to merge on the freeway or pass somebody, it lacked horsepower, in my opinion," Herbstman said. "But as far as driving and the fun factor, it was probably one of the most fun cars I ever owned."
From fuel-efficient hybrids to family sport utility vehicles to 500-horsepower muscle cars, there are vehicles to suit just about everyone's fancy at the Motor Trend show, which runs through Sunday at the Las Vegas Convention Center.
The show features the hottest new models such as the 2012 Volkswagen Beetle, Fiat 500 and 2013 Ford Taurus, along with an expanded collection of luxury vehicles. Fiat, Kia, Mercedes-Benz and BMW are making their first appearances at the Las Vegas auto show.
Although Motor Trend does not disclose attendance figures, several exhibitors said this year's crowd appeared to be larger than in the past, particularly on the first day.
"It's definitely bigger than last year," said Larry Gareffa, president of the Mustang and Classic Ford Club of Las Vegas and owner of a 1968 Mustang convertible on display. "I think the economy is recovering and people are thinking more about a new car."
"We've had a lot of people come by," said Herb Casper, a salesman for Jim Marsh Kia in northwest Las Vegas. "I can't believe at $9 a head they get this many people. I know they give away a lot of tickets and discounts."
The 9-foot Rock-It Robot was a crowd favorite, singing and dancing and posing for photographs with showgoers who followed the robot around the showroom floor.
"I wanted to find a way for the show to go viral," Motor Trend spokeswoman Lauren Holzman said as people took pictures with their smartphones and posted them on social networking sites. "I saw him (Rock-It Robot) at the Del Mar Fairgrounds (in California) three years ago. My kids couldn't look away."
With a glut of 2011 inventory, automobile dealers are cranking up incentives.
Ford is offering up to $4,500 in rebates on the F-150, the No. 1 selling truck in America for 34 years, said Curtis Meyer, sales and leasing representative for Friendly Ford in Las Vegas.
A strong used-car market has dealers offering better lease terms on 2011 models because they can resell those vehicles for a relatively high price when the lease expires. The Ford Fiesta is leasing for $159 a month and the Toyota Corolla is leasing for $169 a month, compared with $200 a month last year.
"Used cars are strong right now," Meyer said. "But new cars seem to hold their own, mainly because of the manufacturer's warranty. It gives people peace of mind."
The Ford Focus, which gets up to 40 miles a gallon, is a hard model to keep on the lot, Meyer said. It's also one of the safest compacts on the street, he added.
Rich Allison, who was visiting Las Vegas from St. Petersburg, Fla., gave up a day of gambling and shopping to attend the auto show. He owns six cars, including an original 1969 Mustang Mach I.
"I just love cars," he said. "You want another reason to go to a destination, another reason to go to Vegas. Anyone who's thinking of buying a new car should be here."
Contact reporter Hubble Smith at hsmith@reviewjournal.com or 702-383-0491.