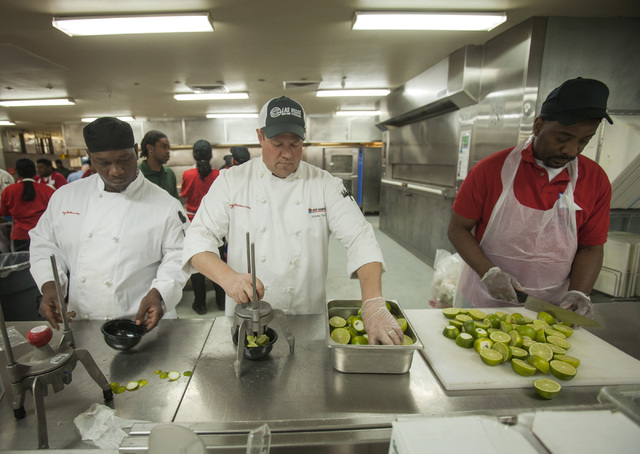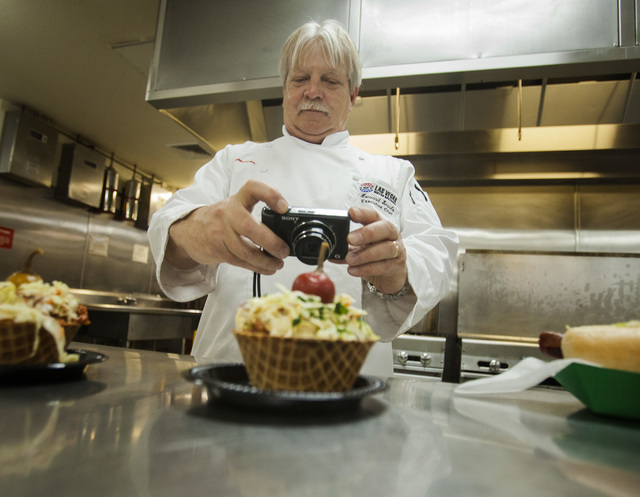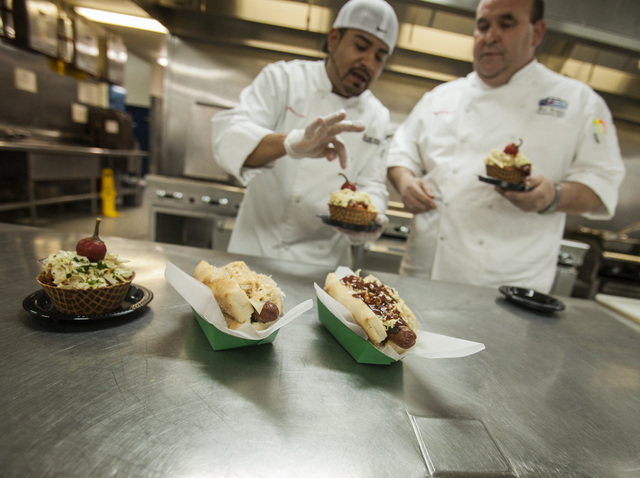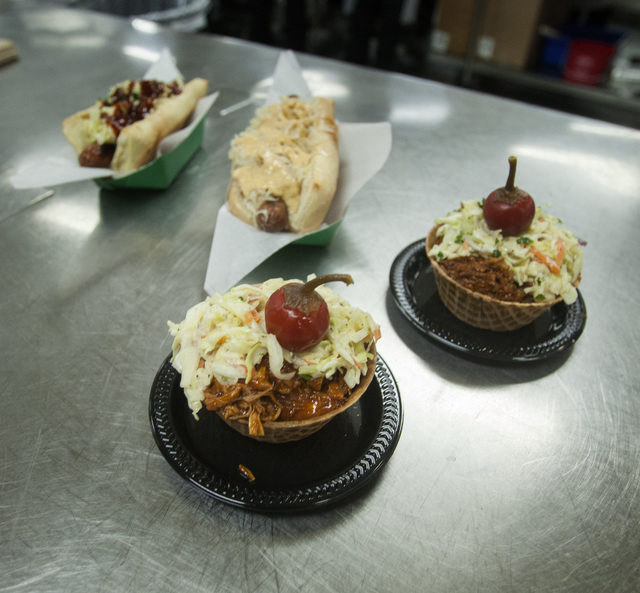 It's no mystery that NASCAR fans savor barbecue flavor, meat and melted cheese, so the food company at Las Vegas Motor Speedway is rolling out new and interesting combinations in hopes of generating more sales for race weekend.
Levy Restaurants is debuting the Bucket o' BBQ, which consists of a waffle bowl with a bed of potato salad, with a choice of brisket, pulled pork or chicken, topped with coleslaw and a cherry pepper for a sundaelike appearance. Price: $9.
Then there's two eNVy specialty sausages. There's a tri-tip link served with Levy Restaurants' special barbecue sauce and bathed with Southern coleslaw. And the eNVy Ruben sausage includes a custom corned beef sausage covered with Tapatio thousand island dressing and homemade sauerkraut — aka the Ruben Dog. The sausage is $10.
For taco lovers unconcerned about calories, there's the $6 Walkin' Taco, which includes seasoned ground beef, jalapeño peppers, salsa, cheese sauce and sour cream all served in a bag of Nacho Cheese Doritos. It's hard to put it any better than the Levy Restaurants menu when it said, "Now that's how to eat a taco at the racetrack."
And to top off the meal, race fans can try red velvet funnel cakes slathered with cream cheese frosting for $6.
The strategy is simple: start with foods that race fans love and then find different ways to prepare and serve them, said Larry Ferguson, Levy Restaurants operations director at Las Vegas Motor Speedway.
"You know they like, tacos, sausages, barbecue, Philly cheese steaks, and curly fries, so we combine things in ways that are original and unique," Ferguson said Thursday at the Levy Restaurants base at the speedway's sprawling site north of Las Vegas.
Chicago-based Levy Restaurants is in the 12th year of a 20-year commission-based agreement at Las Vegas Motor Speedway, Ferguson said. The speedway receives a percentage of the food sales.
The company has contracts with many diverse sports venues such as the USTA Billie Jean King National Tennis Center in New York; Staples Center and Dodger Stadium in Los Angeles; Churchill Downs in Louisville, Ky., home of the Kentucky Derby; and Wrigley Field, U.S. Cellular Field and United Center in Chicago. It's bidding to become the food service provider at the proposed MGM Resorts International-AEG arena on the Strip behind New York-New York.
Levy Restaurants gained a reputation for creating fine dining experiences at ballparks, stadiums and arenas. It's a member of Charlotte, N.C.-based Compass Group North America, which generates more than $8.8 billion in annual revenue, according to the Levy Restaurants website.
At Las Vegas Motor Speedway, the food staff size has swelled to handle the more than 100,000 visitors expected to descend on the race track facility. About 25 traveling chefs are joining kitchen staff of 120 and 300 to 400 servers and concession stand workers, said Sam Carlsen, one of the executive chefs.
They prepare everything from those new specialty sausages and waffle bowl filled with meat to upscale lobster and shrimp dishes served in the 100 suites and four clubs at the track, and even recreational vehicles and motor homes. The weekend food supplies run the gamut from about 2,000 pounds of ribs to 199 6-pound vegetable baskets, Carlsen said.
"We keep adding something new every year," Ferguson said.
At the Speedway, the Boyd Gaming 300 starts at 1:15 p.m. Saturday. The Kobalt 400 begins at noon Sunday.
Contact reporter Alan Snel at asnel@reviewjournal.com or 702-387-5273. Follow @BicycleManSnel on Twitter.