Negreanu shines beyond table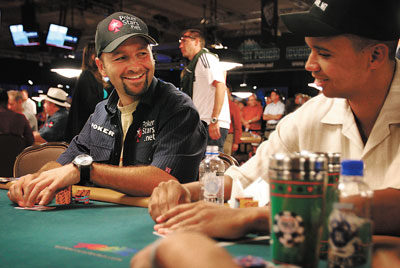 Cornering poker standout Daniel Negreanu for an interview is kind of like fishing with your bare hands.
Just when you think you have the Toronto native collared to discuss his skyrocketing poker career and his money-making ventures away from the tables, he slips away to another engagement.
In one week, Negreanu, 33, had a sit-down with ESPN for a taped profile to be shown during the network's telecast of the World Series of Poker. That was followed by a photo shoot with Bluff Magazine. Negreanu's expansive Las Vegas home, complete with a Jack Nicklaus-designed backyard putting green and sand trap, was featured for a "Cribs"-style layout in the publication geared toward poker players.
Finally, just when you think he's available, Negreanu jets off to Los Angeles, where he attends a star-studded political fundraiser for Illinois Sen. Barack Obama, the presumptive Democratic presidential nominee. At the event, inside the lavish Dorothy Chandler Pavilion, Negreanu rubbed elbows with actors Samuel L. Jackson and Dennis Quaid, model Cindy Crawford and boxing legend Sugar Ray Leonard.
Through all the A-list celebrities, Obama recognized Negreanu.
"I'm a huge fan of his, and I hadn't met him before," said Negreanu, who is still a Canadian citizen. "He knew who I was, and he brought an aide over and told me they had played poker the night before. I think President Obama bodes well for poker players."
No comment from Negreanu, however, on whether he gave Obama some poker pointers or if they escaped to a side room for a few hands of Texas hold 'em.
Imagine the challenge for Negreanu's personal assistant, Patty Landis, in keeping track of his ever-changing whereabouts. During June, while the World Series of Poker was in full swing, however, Landis always knew Negreanu could be found at the Rio.
That's where we finally caught up with the player who gained the nickname "Kid Poker" after he won his first World Series of Poker individual event champion's bracelet at 23. Negreanu was getting ready for the first day of the tournament's $50,000 buy-in H.O.R.S.E. event, which is considered the professional players' true championship because of the large entry fee and how play rotates among five variations of poker.
He apologized for his lack of availability but was eager to talk about his current successful run through the World Series of Poker and his endorsement and sponsorship potential.
"What's important for me is to continue to win, be competitive and stay on top of my game," Negreanu said. "Everything else then falls into place."
Away from the casino, Negreanu has made himself known to the nonpoker audience. He's played poker against a can of Diet Pepsi for the soft drink's national televised advertising campaign. He's graced colorful magazine ads wearing Corum watches. For the poker audience, he can be seen playing street hockey or golf while promoting Pokerstars, an online gambling site.
Locally, PT's taverns are featuring Negreanu in television ads and on billboards, including one off Interstate 15 near Sahara Avenue.
"He's exactly the type of recognizable figure we want speaking on behalf of PT's," said Christopher Abraham, the vice president of marketing for PT's owner, Golden Gaming. "Daniel is very well-known in the community."
Negreanu's recognizability equals that of poker's major stars, including Doyle Brunson, Phil Hellmuth and Johnny Chan, who between them own almost three dozen World Series of Poker bracelets and more than $12.5 million in career winnings.
Negreanu earned his fourth career World Series of Poker bracelet on June 12, tying him with 11 other champions, including Bobby Baldwin, Huck Seed, Tom McEvoy and Amarillo "Slim" Preston. He has slightly more than $1.8 million in career World Series of Poker earnings and has won more than $10 million in tournament poker since turning 21.
That poker prowess, along with a magnetic personality that wins over fans, has helped propel Negreanu's earning potential. His agent, Brian Balsbaugh, founder of Poker Royalty, a Las Vegas-based management company, said Negreanu can earn $30,000 to $45,000 a day in personal appearances because he delivers to a crowd.
"Daniel is a rare combination of the total package for a celebrity endorser," Balsbaugh said. "He has incredible likability and an unbelievable poker résumé. He also has a really good business sense and good street smarts."
Balsbaugh said Negreanu was also blessed with perfect timing. During 2004, he earned two victories on the World Poker Tour and a World Series of Poker bracelet, earning Card Player Magazine's Player of the Year title. In 2005, he contributed a chapter to Brunson's Super System 2 book on poker and authored his own book on the game.
Around the same time period, poker began its surge on both television and the Internet, reaching levels of popularity the game had never experienced. It also created celebrities out of the game's professionals.
Negreanu knew how to make it work.
"The exposure put us on a different level with the public and the mainstream media," Negreanu said. "It has a lot to do with charisma and camera presence. I've always been a little louder and a little more talkative than most players, but you also have to be successful."
The 2008 World Series of Poker has been one of Negreanu's best in recent years. Through last week, he was among the top seven in the running for the tournament's Player of the Year standings. Before the H.O.R.S.E. event, Negreanu had won $378,224 in four events, including $204,863 for winning the $2,000 buy-in Limit Hold'em championship.
Continued success could also mean more outside endorsement possibilities. He is promoting Poker VT, a software product that allows novice players to learn from professionals. Negreanu sends any endorsement inquiries he receives to Balsbaugh, who makes an evaluation. Negreanu makes the final determination.
"I'm a vegan, so obviously I won't do a McDonald's ad," Negreanu said. "The main thing is to continue to do the best I can at poker."
Contact reporter Howard Stutz at hstutz@reviewjournal.com or 702-477-3871.
MAIN EVENT BEGINS The main event in the World Series of Poker kicks off today, although the eventual champion won't be crowned until November. The first round of the $10,000 buy-in World Championship No Limit Texas Hold'em is scheduled to span four days inside the Rio's tournament room, depending upon the number of entries. Last year's main event drew 6,358 players and was won by Jerry Yang of Temecula, Calif., who collected $8.25 million.Competition will take place until July 14, when the final table of nine players will be determined. Those players will return to the Rio on Nov. 9, when the field will be cut to two players. The final two will return late in the evening on Nov. 10 to crown the champion. ESPN will tape the final table and televise the edited results during a two-hour primetime special on Nov. 11. REVIEW-JOURNAL