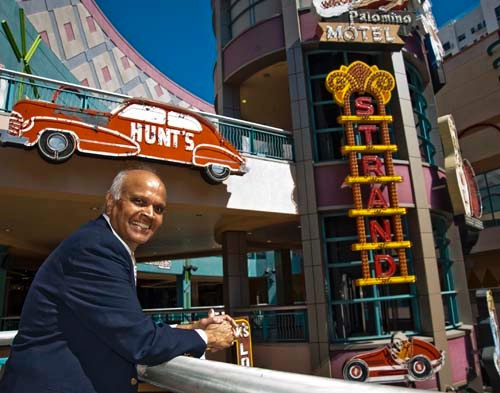 A conference room in real estate developer Rohit Joshi's Neonopolis office is lined with drawings of abandoned concepts for the downtown retail center.
There was the ocean-themed resort, The Great Wave, then a partnership with Santana, a Cabo Wabo Cantina theme with Sammy Hagar, Star Trek: The Experience, a live-work project with fellow developer Sam Cherry and, of course, a Joshi Resort Casino.
Even as they were being introduced, people considered the concepts dead on arrival. But Joshi is a believer. Every partner is his best friend and a genius. His excitement for even the smallest idea is over-the-top and contagious.
Neonopolis was built in 2002 by Prudential Real Estate Investments in partnership with the city. It was envisioned as a retail anchor for Fremont Street and as the catalyst for downtown redevelopment, which was then just a twinkle in then-Mayor Oscar Goodman's eye.
The project has never even come close to fulfilling its potential. FAEC Holdings Wirrulla LLC acquired it in 2006, and while Joshi landed a few tenants here and there as the holding company's representative, the recession wiped out any progress Neonopolis had made.
Then there were the well-documented operational and financial troubles, which ranged from disputes over air-conditioning to delinquent tax bills. But the air-conditioning is fixed and Joshi said he has arranged a payment plan to get the building back in good standing with the taxman. He's also abandoned the grandiose themes and become more pragmatic, with a focus on filling Neonopolis one tenant at a time.
Here, at last, Neonopolis is showing some success.
Denny's is expected to open in July or August, joining the Heart Attack Grill and the newly opened Fremont Mediterranean Cafe and Luna Rossa Ristorante facing the Fremont Street Experience. The Toy Shack, Lovo Cigars and a bead jewelry store are setting up shop in the center's interior. Drink and Drag, a bar and bowling alley with performing drag queens serving drinks, is set to open in early April on the second floor, and a tattoo shop will open this summer. A local beer brewing company is also in talks with the complex.
Real estate consultant John Restrepo, principal of Restrepo Consulting Group, said Neonopolis' best strategy is to focus on landing food and beverage and "niche-related, tourist-oriented retail. That's how it's designed."
A third of the 250,000-square-foot Neonopolis is leased; another third is vacant. The last third, the movie theater on the top floor, remains vacant, though Joshi said three theater chains have expressed interest. He hopes to fill the space this year.
TURNAROUND TIMING
Joshi last year watched the economy begin to grind back into gear and decided to boost his efforts to land tenants.
"We called all the retailers and said, 'Let's get back in the saddle. I think the time has come,' " he said. "We started construction; we started leasing."
One of his first calls was to Jon Basso, owner of the Heart Attack Grill. Basso had reached out to Joshi three years ago to relocate his Phoenix-area restaurant to downtown Las Vegas. The space he wanted on the corner of Las Vegas Boulevard and Fremont Street opened up, and Basso moved in.
When the Heart Attack Grill opened, there were only three tenants in Neonopolis.
"It's a leap of faith," Basso said. "There's not a day that goes by that Joshi doesn't drag some prospective tenant through Neonopolis and bring them to the Heart Attack Grill to see that we're packed. The Heart Attack Grill is a small part of the story. The bigger part of the story is the (expletive) great location that this is."
The biggest part of the story is the renewed interest in downtown redevelopment spurred by investments like Zappos' planned takeover of the former City Hall and the renovation of the Lady Luck.
Basso and Luna Rossa co-owner Valentina Molli agree that the influx of employees and residents Zappos is expected to bring will be good for their businesses.
Molli and her family chose Neonopolis as Luna Rossa's second Las Vegas location, after the original in Lake Las Vegas, because of downtown's potential. The opening of Zappos will boost business at lunchtime, Molli said.
"The Neonopolis is finally benefiting from all the other activity downtown," Restrepo said. "It was a project that was ahead of its time. There was not enough critical mass downtown at that point."
Joshi still dreams on a grand scale. He has drafted a master plan he calls District Z, a vision for Fremont Street stretching from Neonopolis east to Bruce Street. He sees a 4.5 million-square-foot town center concept with anchor stores, retail and office space, and residential areas. Some of those residences he hopes will be built atop Neonopolis. It's not a formal, official plan, but he shows it to everyone to plant the seed of what Fremont Street could one day look like.
"It's one thing to dream big. It's another thing to every day get things done. You have to be practical," Joshi said. "We have to get our tenants open as fast as possible. That's what the city needs, people need, citizens need and we need."
Contact reporter Caitlin McGarry at cmcgarry@reviewjournal.com or 702-387-5273.