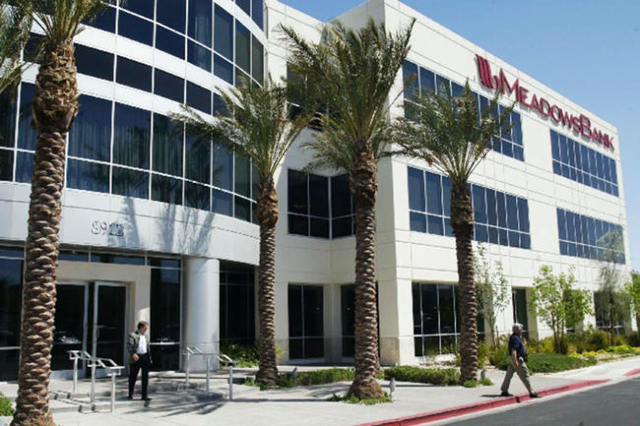 Meadows Bank, a Las Vegas-based community lender, posted higher year-over-year net income in 2015 helped by jumps in net interest income and noninterest income.
In a statement late Monday, the lender said it had record net income of $8.4 million for 2015, up 29.2 percent from $6.5 million a year earlier.
Meadows Bank said a $4.3 million rise in net interest income and $323,000 in noninterest income offset a $1.1 million jump in operating expenses and $1.3 million in additional income taxes.
Meadows Bank's total assets stood at $530.7 million on Dec. 31, also a record; the bank's assets topped $500 million for the first time in July.
Also in 2015, the bank's loan portfolio grew by $88.8 million to $466.1 million, and its deposits grew by $83.8 million to $457.4 million.
"We were very encouraged by the growth in loan demand in Nevada and other markets and continued improvement in the quality of our loan portfolio," bank Chairman William Bullard said in the statement. "We are also excited about our expansion into the Arizona market with the opening of our Phoenix office in early January."
Meadows Bank has branches in Pahrump, Henderson and Reno and Phoenix. It also has loan production offices in Salt Lake City, Phoenix, Denver, Dallas and Sacramento, California.
Find Matthew Crowley on Twitter @copyjockey