Nevada 150 commemorative medallions available for pre-order
September 26, 2013 - 12:53 pm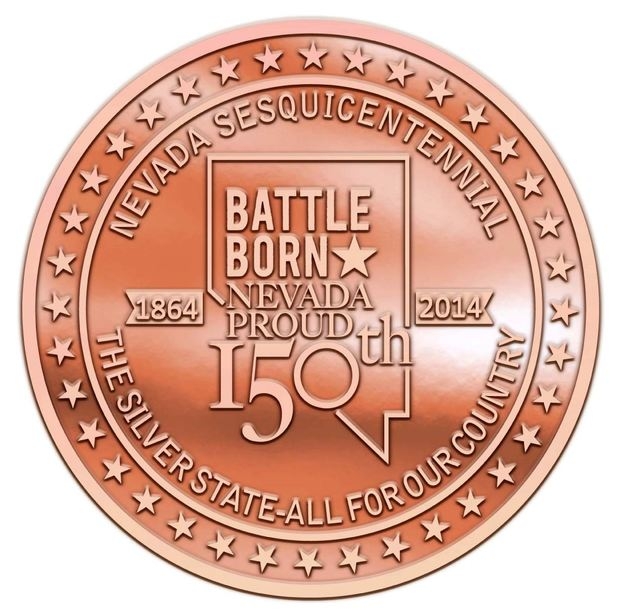 Nevada's 150th birthday isn't all fun and games, folks. It's also a revenue generator.
On Wednesday, pre-order forms went up online for collectible medallions being minted specifically to commemorate the celebration. Since then, the Nevada Legislative Gift Shop has received 25 pre-orders. Before the online order form was activated, the Nevada 150 office also took pre-orders, although executive director Kara Kelley didn't have the exact amount.
"There's been incredible interest from the public," she said.
Nevada's Sesquicentennial is the 150th anniversary of Nevada's admission to the Union. Celebrations commence on Nevada Day 2013 and conclude with an expanded Nevada Day celebration on Oct. 31, 2014. The Nevada Sesquicentennial Statewide Commission is overseeing the official celebrations and related merchandise decisions.
Aside from the medallions, the commission also approved the sale of Nevada150 license plates through the Department of Motor Vehicles. As of Sept. 21, 2,288 plates have been sold, resulting in just over $55,000 in proceeds. Those revenues, and revenues from medallion sales, will go to support events and programming for the Nevada 150 celebration.
The silver medallions are being manufactured from a 1,000-ounce silver bar mined from Coeur Mining's operation in Rochester. The mine donated the 60-pound silver bar. The Northwest Territorial Mint in Dayton melted the ingot, which will be stamped using the historic Coin Press No. 1 at the Nevada State Museum. The museum, located in Carson City and the site of the historic U.S. Mint, still operates the original press used back in the 1800's.
"The real import of the medallion is to allow Nevadans to collect a piece of Nevada history," said Kelley.
Each 1-ounce silver piece containing the Nevada 150 design on one side and the official Nevada state seal on the other, costs $100.50. The Nevada 150 Commission also has given its approval to manufacture 2,000 copper medallions, costing $15 each. The sesquicentennial copper medallions will have the same design as the first silver medallion, and are also available through the gift shop.
The first handcrafted silver coin will be struck by Gov. Brian Sandoval on Oct. 25, in observance of Nevada Day.
The medallions are available online at https://www.leg.state.nv.us/app/lcbstore/a/default.aspx or in person at 401 S. Carson St., Carson City. No medallions will be available for sale Oct. 25 during the Nevada Day weekend.
Throughout the year, four different medallions will be released at different dates for purchase. At some point toward the end of the 150 celebration, a medallion collection probably will be available for purchase, Kelley said.
Contact reporter Laura Carroll at lcarroll@reviewjournal.com or 702-380-4588. Follow @lscvegas on Twitter.