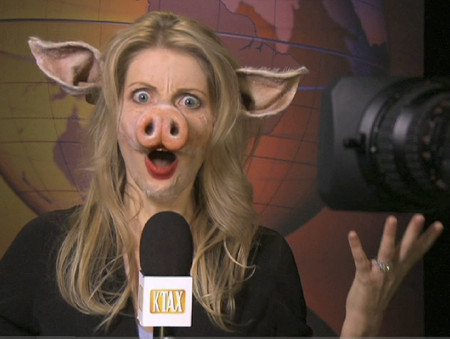 To hear Somer Hollingsworth tell it, he doesn't want to push the envelope.
Rather, the president and chief executive officer of the Nevada Development Authority wants to tear up the envelope, throw it on the ground and stomp on it a few times.
And what better way to walk the edge than to mount a $300,000 advertising campaign comparing California's lawmakers to chimpanzees?
The analogy may sound harsh, but Hollingsworth insists it's apropos. After all, the Golden State has captured national headlines for its $24 billion budget deficit, its IOU paychecks and a stalemate among officials seeking to escape the morass.
"Today, a lot of California companies are at the tipping point because of high taxes and red tape," Hollingsworth told a crowd of about 40 Nevada Development Authority members who attended a Thursday event inside Rave Motion Pictures at Town Center, where the economic-development nonprofit's latest ad blitz was on full display. "They're at a point where they might either make a profit or go out of business. California cannot compete with us on any level when it comes to a pro-business climate."
Hence the $300,000 "Kiss Your Assets Goodbye" campaign, which pits Nevada's lack of personal and corporate income tax and its lower workers' compensation insurance rates against California's robust tax structure and extensive regulatory regime.
On top of the chimp spots, there's a print ad claiming California will be more pro-business when pigs fly, as well as a radio spot with an actor portraying a businessman getting the shaft.
"We're all learning a new exercise," the announcer says. "We're all learning to bend over and kiss our assets goodbye."
The overarching message? Beleaguered Californians can rest assured that, despite a national recession that's taken an outsized bite out of the Nevada economy, the Silver State remains a lower-cost port in a fiscal storm.
"The infrastructure that made Las Vegas great is still here," Hollingsworth said. "It's as great a place as ever to move to."
To Jack Kyser, senior vice president and chief economist of the Los Angeles County Economic Development Corp., it's all just a little mean-spirited. It's also self-defeating for a city that relies on a healthy California for its visitor volume.
"The idea is, this is stealing our economic base, and if you're trying to steal business out of Southern California, basically, what you may be doing is taking money away from potential customers who might go to Las Vegas," Kyser said. "We've got our problems, but this is sort of hitting us when we're down."
The effort isn't likely to work, because the best economic-development promotions aim for one-on-one pitches with direct mail and phone calls, Kyser said.
Besides, it's tough for any company to move in a recession, he added. Many employees can't make the move; they're tethered to homes bought in a bubble.
But Jeremy Aguero, a local businessman who watched the ads Thursday morning, said he thinks other factors could outweigh those downsides.
Businesses are re-evaluating every aspect of their operations in a bid to cut costs where possible, said Aguero, a principal in business advisory firm Applied Analysis. Plus, Las Vegas features a median existing-home price of $125,000 and office lease rates at their lowest levels in five years, as well as a pool of 125,000 unemployed residents ready and willing to get back to work.
The authority isn't relying on ads alone to shill for new business. There's a public-relations campaign deploying social-networking Web sites Facebook, Twitter and Linked- In. An original pop song will hit YouTube.com later this week. Employees from the authority's public relations firm, Q Advertising and Public Relations, flashed a small banner promoting the nonprofit's Web site, www.move2vegas.biz, from the audience on "The Today Show" when it taped here last week. The banner generated 53,000 hits in a day, up from the 6,000 daily hits the site typically gets.
If past experiences hold any clue, the latest campaign should boost the share of California-based calls from 20 percent of all queries the authority receives to nearly half of all inquiries it fields. The number of successful pitches for new business should rise about 20 percent as well.
The TV spots will air in Southern California on NBC, ESPN and MSNBC, among other networks, said Terry Shonkwiler, president of Las Vegas-based Shonkwiler Partners Advertising, the firm that developed the campaign. Print ads will appear in 10 California newspapers.
Las Vegas Mayor Oscar Goodman was on hand for the viewing. He called the spots the "coolest" commercials he'd ever seen, and said their over-the-top nature was "very Vegas."
"This is going to drive them bonkers. They're not going to be able to withstand this," Goodman said. "We're going to crush them."
KABC, the ABC affiliate in Los Angeles, has refused to run the ads. The station's managers told Shonkwiler that they didn't want to encourage businesses to leave California.
The campaign will run for 90 days, after which the authority will develop a new campaign. The authority has $700,000 more in state money to spend on advertising in the next 10 months.
Contact reporter Jennifer Robison at jrobison@reviewjournal.com or 702-380-4512.
Video