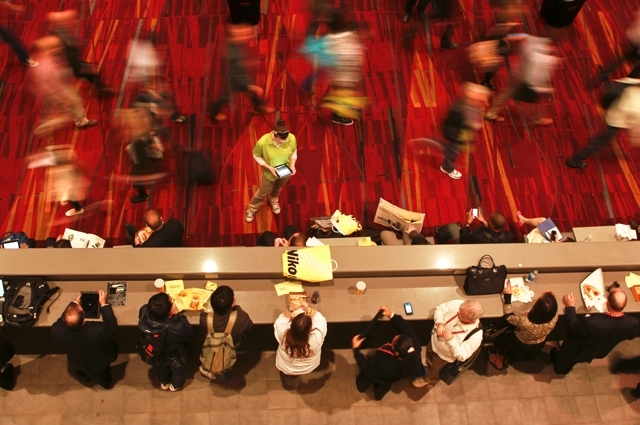 If the nation's technology workforce was forced to issue a statement about Nevada it might go something like this: "Nice place to visit, but I wouldn't want to work there."
The home of the International Consumer Electronics Show, Black Hat hackers conference and annual showcase for CTIA, the trade organization for the mobile industry, ranks last in the West in terms of science, technology, engineering and math in the state workforce, one recent report shows.
The good news for Las Vegas is there's nowhere to go but up.
Las Vegas ranked dead last on a list of metropolitan areas with the lowest demand for science, technology, engineering and math, or STEM, workers, a recent report by the Brookings Metropolitan Policy Program shows. And Nevada and Hawaii were last among Western states in percentage of jobs demanding those skills in the workforce.
This means that despite the parade of conferences that attract leaders of some of the world's most advanced companies, the local workforce isn't being asked to come along for the ride because it still lags behind other locations when it comes to high-demand skills.
Even Steve Hill, executive director of the Governor's Office of Economic Development, acknowledged Nevada's shortcomings when it comes to producing a workforce with adequate STEM skills.
"I'm not saying the Brookings study is inaccurate, I think we all have said at one point or another it is an area of focus that needs to be improved," he said.
The disparity is greatest when it comes to STEM jobs requiring a bachelor's degree, the Brookings report shows. Nevada was second to last with just 5 percent of jobs calling for such requirements. And when it came to jobs that require some STEM skills but not a degree the results weren't favorable for Nevada, either. Las Vegas came in last with just 13 percent of jobs in the category. The highest was San Jose, Calif., at 33 percent.
The sparse distribution of STEM skills in Nevada's workforce makes it hard for companies that need such workers to expand, especially if they are outside the gambling and hospitality sectors.
Earlier this year, Romotive, a company that makes personal robots that run on smartphones, announced it was moving from Las Vegas to the Bay Area.
The company moved to Las Vegas as a startup and received support from Vegas Tech Fund, a venture fund backed by Zappos CEO Tony Hsieh and others.
It grew to about 20 workers but eventually had to move to expand again to about 100 workers.
That's because the Las Vegas Valley didn't offer enough workers with the high level of skills needed to design and make the robots.
"The reason those talent pools exist in San Francisco and Boston is because of Stanford and MIT," Romotive co-founder Keller Rinaudo said. "They tend to spawn a bunch of robotics around those campuses."
Rinaudo was highly complimentary of Hsieh's efforts to fund technology companies and said he expects it will eventually succeed in having an economic impact on Southern Nevada.
But for now it remains difficult for high-tech companies to grow in Las Vegas, he said.
"I think it would be hard to be running a 100-person company in downtown Las Vegas," Rinaudo said. "It requires scale that doesn't exist yet."
Whether the political and economic will exists in Nevada to upgrade the workforce remains to be seen.
Addressing the systemic problems that contribute to the shortage of STEM workers would mean tackling the issue of a public education system that doesn't produce enough students who can qualify for the math- and science-heavy secondary school coursework that's required to work a skilled job.
In short, even when it comes to blue-collar technical work, Nevada has a hard time producing qualified workers, said John Restrepo, an economist who has surveyed area employers about their needs.
He said Nevada's major shortfall is a failure to produce people qualified for careers as engineering technologists, a specialty that deals with many of the same skills as engineering but from an applied, rather than theoretical, basis.
The College of Southern Nevada "has all kinds of openings for those people," Restrepo said. "You can't fill them all because of the quality of the K-12 system."
Restrepo said Southern Nevada needs to crawl before it can run when it comes to improving the workforce. He said a good start would be to focus more on getting qualified students into the College of Southern Nevada to learn STEM skills that could be useful for blue-collar jobs, such as being an electrician, or business information technology network maintenance and administration.
The college has a 100 percent job placement rate for graduates from engineering technology coursework.
"That is the sweet spot for Southern Nevada at this point," Restrepo said.
Despite challenges, Hill's office continues efforts to recruit companies to Nevada that could employ more STEM workers.
One such effort is applying to the Federal Aviation Administration to designate Nevada as one of six places in the country where unmanned aircraft, or drones, could be legally tested.
It would allow the loosening of FAA restrictions to let manufacturers and other companies conduct tests in remote areas to gather data that would help regulators write rules to govern the integration of unmanned aircraft into the national airspace system.
"It is basically a flying robot, and the robotics industry is going to be a big growth industry in a number of different fields," Hill said. "This is a great place for Nevada to get involved in this industry."
Contact reporter Benjamin Spillman at
bspillman@reviewjournal.com or 702-383-0285 .