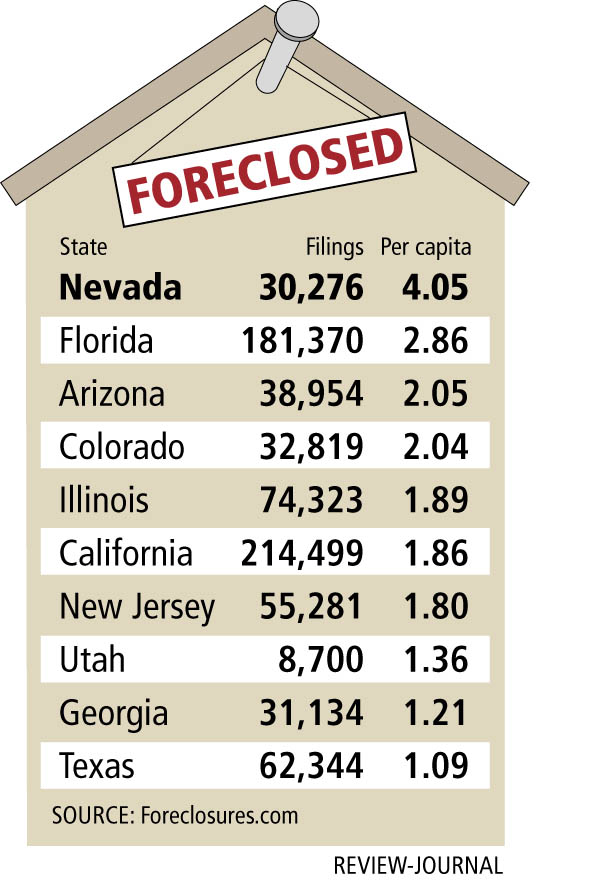 Nevada continues to lead the nation in preforeclosure filings per capita, although the country as a whole is showing signs of recovery, California-based Foreclosures.com reported.
Nevada had 30,276 preforeclosure filings through October, an increase of 106 percent from last year. The state's per capita rate of 4.05 tops Florida (2.86), Arizona (2.05) and Colorado (2.04).
In all, 128,019 preforeclosure filings were reported nationwide in October, up 30.7 percent from 97,984 in September.
Foreclosures.com also showed Nevada was No. 1 in real estate owned filings, or properties owned by the lender, at 10,703 through October, or 1.45 per capita. Real estate owned filings climbed to 54,418 nationwide in October, up 24 percent from 43,941 in September.
The numbers are grim for hundreds of thousands of homeowners trapped by rising mortgage payments, stagnant home prices and tightened credit markets, Foreclosures.com President Alexis McGee said.
"But all is not gloom," she said. "The real story in foreclosures today is not that we are up 91 percent from our baseline lows of last year, but that many areas are down."
Although REO filings rose in October, the average for the last two months has dropped 12 percent from August, McGee noted. Preforeclosure filings are down 4 percent from August. Preforeclosure and REO filings dropped in nine states, she added.
Keep in mind that not all preforeclosure filings end up as foreclosures, McGee said.
"Don't believe all the dire talk and hype about foreclosures coming out of Washington, D.C.," she said. "A lot of it includes exaggerated and misleading numbers."
For example, one congressional report talks about 2 million more households that will be lost to foreclosure in the next two years, representing about $100 million in housing wealth.
Jay Brinkman, vice president of research and economics for the Mortgage Bankers Association, called those numbers a "big exaggeration."
Most homeowners have found solutions to their mortgage woes, ranging from working out new terms with their banks or private, so-called "hard money" lenders to rising home prices that have allowed them to refinance, McGee said.
Real estate attorney Sam Schwartz said homeowners facing foreclosure should have their loan documents reviewed for valid claims through the Truth in Lending Act. They can have the loan rescinded if finance charges were too high or they were overcharged for interest, he said.
Federal Reserve Chairman Ben Bernanke noted in early November that the Fed and other banking agencies have been trying to limit the damage of foreclosures by calling on mortgage lenders to pursue prudent loan workouts.
"Our contacts with the mortgage industry suggest that servicers recently have stepped up their efforts to work with borrowers facing financial difficulties or an imminent rate reset," Bernanke said.
Realtor Robin Camacho said banks are not protecting the properties they take back. Some have sustained thousands of dollars in damage from being vandalized while in the foreclosure process, which can take anywhere from six months to a year.
She said she has one client who recently lost a home to foreclosure and drives by about once a week to throw out squatters, fix the gate and keep the place locked up.
"The grounds are trashed," Camacho said. "He takes photos, hoping that when the bank comes after him for the deficiency he can show them the photos. I don't think they will care."
Clark County had 3,794 preforeclosure filings in October, bringing the year-to-date total to 26,273, which ranks sixth in the nation behind Cook County, Ill. (42,362); Los Angeles County (41,616); Miami-Dade County, Fla., (34,724); Broward County, Fla., (28,210); and Maricopa County, Ariz., (26,937).
Contact reporter Hubble Smith at hsmith@reviewjournal.com or (702) 383-0491.