Nevada Health CO-OP, now defunct, still causing headaches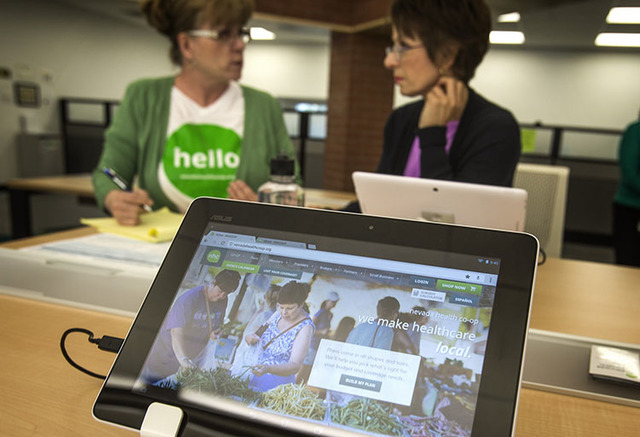 The Nevada Health CO-OP went into receivership last fall, but the insurer created by the Affordable Care Act has still managed to fatten its bottom line.
The defunct health insurer's cash on hand has more than tripled, from $5.4 million in early October to $17.3 million at the start of March, the most recent monthly number available. The gain came even as revenue from premiums and federal subsidies all but vanished following its closure five months ago.
Bob and Linda Ljungquist of Las Vegas may be able to explain the unusual financial results: The CO-OP has simply stopped paying its bills.
It's normal for a bankrupt organization to halt accounts payable to creditors while in court. But in this case, creditors include doctors, hospitals and health clinics, and has helped squeeze patients such as the Ljungquists.
The former CO-OP enrollees have unpaid medical invoices dating to September. Now — in direct violation of a court order — doctors are chasing the couple for what the insurer owes.
"It was stressful, because my wife wasn't in good shape at that point," Bob Ljungquist said. "You just have to figure out what's going on and make the best out of it."
The CO-OP's receiver, the Nevada Division of Insurance, wouldn't grant an interview for this story, so it's unclear how many of the nonprofit's members are in the same bind.
But it's unlikely the Ljungquists are suffering alone: At peak enrollment, the nonprofit insurer created in 2012 by the Affordable Care Act to inject competition into the state's individual insurance market had more than 20,000 enrollees. Clark County District Court documents show the CO-OP hasn't paid a single claim since at least October. It ceased operations Dec. 31, citing high claims costs and slower-than-expected membership growth. Enrollees were able to find 2016 coverage through the state's Nevada Health Link marketplace, but that's little help to members with unpaid medical bills or deferred care from 2015.
IMPROPER BILLING
It wasn't supposed to be this way for the Ljungquists.
When the Nevada Division of Insurance took receivership of the CO-OP in the fall, District Court Judge Kenneth Cory in an Oct. 14 injunction barred all CO-OP-contracted medical providers from trying to collect from patients fees the insurer owes doctors and hospitals. The order also prohibits providers from "interrupting or discontinuing" health care for enrollees whose premiums are current, or from "interfering in any way with the efforts of the receiver to assure that (the) co-op's members and enrollees in good standing receive the health care services to which they are contractually entitled."
The Ljungquists' insurance troubles began in August, when the CO-OP stopped sending explanations of benefits, which detail care received and how much the insurer will pay. The CO-OP announced later that month it would close at the end of 2015.
"As soon as they said they weren't going to last past the year, I made the assumption it wasn't going to be pretty," Bob Ljungquist said. "That's when we started calling, telling them we never got our (explanations of benefits), and asking them if our doctors had sent in their paperwork. They said, 'Yes, they have — we're just a little behind, but we're getting caught up.'"
In September, Linda Ljungquist had surgeries for a torn rotator cuff and problem veins.
Again, no explanations of benefits followed. Nor did reimbursements to surgeons for the procedures.
By November, doctors — including an anesthesiologist, a family doctor and a neurologist — were canceling Linda's appointments or asking for cash up front — also a violation of the Oct. 14 receivership order. A surgery scheduled in December was pushed into 2016, after the couple would have new coverage.
Then, collection notices began. The amounts weren't huge, but Bob Ljungquist said he was frustrated they were happening at all, and it would take him weeks of his own accounting to figure out what was happening.
In February, Mountain View Hospital said the couple owed about $200 out of pocket for Linda's pulmonary function test. Then came a $600 demand from Bronstein Hand Center.
Once the Ljungquists reminded Mountain View of the court order, the hospital backed off quickly.
Dealing with Bronstein hasn't been so easy.
The clinic, whose managers didn't return phone calls or emails requesting comment, agreed to cut the bill to $291.62, but the practice is still going after the Ljungquists, sending a final notice before collection action in April. Bob Ljungquist said attorneys with the CO-OP's receivership "reached out to Bronstein once," with no results, and have "implied they're going to be more forceful" with the clinic going forward.
But with more than $17 million in cash on hand as of March, why didn't the CO-OP's receivership just pay the claims?
A state Division of Insurance spokeswoman cited the CO-OP's "dire financial straits," as well as missed federal funding the CO-OP said it needed to make provider payments.
"The special deputy receiver continues to make vigorous efforts to resolve this challenge but cannot comment publicly about those efforts," she said in a statement.
Division officials did not respond to multiple requests for additional comment, including why the organization's cash on hand soared as premiums and federal money dried up; what the receivership is doing to enforce the court order banning collections against patients; how many providers are short their reimbursements; how many patients are affected; or even what those patients should do if a doctor begins collections.
MONEY PROBLEMS
To be sure, the CO-OP is a victim of an unexpected cut in federal money designed to keep it solvent.
The Affordable Care Act created a "risk-corridor" program designed to help insurers cover higher-than-expected claims payouts if large numbers of sick patients enrolled. The problem? Insurers requested about eight times more risk-corridor payments than they contributed to fund the program. So the Centers for Medicare and Medicaid Services, which is administering the law, slashed risk-corridor payouts. It will need Congress to approve more funding in 2016 to make good on the rest.
The bottom line: Nevada Health CO-OP got just $1.15 million of the $20 million it expected in the fourth quarter.
The receivership also noted in court filings that the Centers for Medicare and Medicaid Services stopped paying premium and cost-sharing subsidies to cover the difference between the insurer's charges and what its members could afford.
But the federal agency, which did not respond when asked about the cut, isn't solely responsible for the financial problem.
The change in funding wasn't announced until Oct. 1 — two months after the CO-OP said it would close. And when the CO-OP announced its shuttering, it blamed high claims costs and sluggish enrollment, saying nothing about federal funding.
Receivership reports and IRS filings show the CO-OP helped create its own money problems and was profligate with startup dollars.
Obamacare regulates medical-loss ratios, or the share of premium income that insurers must spend on medical benefits. For individual insurance plans, at least 80 percent of premium revenue must go to benefits, while expenses such as administrative overhead and profit are limited to 20 percent.
The receivership's January status report showed the CO-OP operating on a medical-loss ratio of 148 percent and a total loss ratio of 186 percent with administrative and other costs.
The report blamed a "particularly high degree of utilization of vendor services," or outsourcing central functions to contractors whose fee schedules "were appreciably higher than industry average." The report added that some vendor services either weren't delivered or were provided "with many chronic problems."
CO-OP tax returns for 2012, 2013 and 2014 all show the same top vendor: Labor union UNITE HERE, which took in nearly $5.5 million in total vendor fees, including $3.37 million in 2014 alone. The returns listed the labor group as a provider of consulting and executive and administrative services, among other functions.
UNITE HERE's consulting work is notable because the labor organization helped start the CO-OP, which began life in 2012 as Hospitality Health CO-OP. The three sponsors that received its $65.9 million in federal startup loans were the Culinary Union's Culinary Health fund, its parent UNITE HERE Health, and the Health Services Coalition, a consumer group with more than 300,000 members employed by cities, unions and big companies.
UNITE HERE and the Culinary installed their officials as executives of the CO-OP. Before joining the insurer, CEO Tom Zumtobel was vice president and president of the Culinary Health Fund. Kathy Silver, the carrier's treasurer, was the health fund's president when the CO-OP launched.
Zumtobel, now a consultant with PPN Health Access in Reno, was paid as much as $428,000 per year as CO-OP CEO. Silver made more than $375,000.
Devon Herrick, a senior fellow with the anti-government-regulation think tank National Center for Policy Analysis in Dallas, said high executive salaries and consulting contracts "are a way to siphon public funds out of CO-OPs."
Because unions administer single-employer health plans, it makes sense for a CO-OP to seek advice from labor-group colleagues, particularly when the carrier's executives lack industry experience.
"But what most employer plans and unions do is hire an actuary," Herrick said. "It just sounds abusive to pay the union consulting fees like that when actuarial consultants are better suited for the job of designing health plans and estimating premiums."
CO-OP tax returns show the nonprofit hired health consultant Milliman to provide actuarial services, but the firm's $1 million in consulting fees over three years totaled less than a fifth of UNITE HERE's charges.
UNITE HERE also failed to deliver on some vendor services. The CO-OP borrowed the Culinary's existing provider network, but hiccups in doubling up on doctors' contracts with the new insurer meant massive early troubles with that network.
Now, the CO-OP has fresh financial emergencies: The Centers for Medicare and Medicaid Services in February said it would try to recoup startup loans from failed CO-OPs.
Bob Ljungquist said the answer to fixing his household's mess is simple, even if executing it is complicated.
The agencies just need to deliver on their promises, he said.
"In my mind, it's CMS (Centers for Medicare and Medicaid Services) doing what they're supposed to do instead of dragging things out and holding up (federal funding), and it's the Division of Insurance cleaning up their act," he said. "The people who are left behind are just trying to figure out what went on, and I'm sure there'll be lawsuits coming down the road."
RELATED
Millions in the red, a Nevada Obamacare insurer has failed
Petition filed to place Nevada Health CO-OP into receivership
Provider network problems in Nevada Health CO-OP frustrate consumers
Nevada Health CO-OP cuts broker commissions short