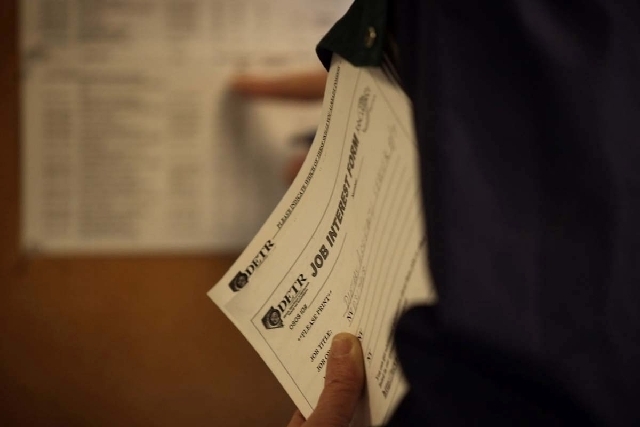 Nevada's jobless rate continued to slide in October.
The unemployment rate dipped to 6.6 percent, down from 6.7 percent in September and 7.2 percent in October 2014, the state Department of Employment, Training and Rehabilitation.
Employers added 6,200 jobs, seasonally adjusted, from September to October. The state's jobs base was up 42,100 positions compared with October 2014.
As it has since 2014, construction led the way in annual growth rate, expanding 11.2 percent, or 7,100 jobs. Leisure and hospitality added the most jobs, growing by 16,300 positions, or 4.7 percent.
Nevada's overall, year-to-year job growth of 3.4 percent was well above a national job-formation rate of 2 percent.
Just two of Nevada's 10 major employment sectors didn't expand. Financial-services hiring was flat, while mining contracted 9 percent, or 1,300 jobs.
Still, for joblessness, Nevada outpaces the nation: The U.S. jobless rate was 5 percent in October.
If you include discouraged workers and part-timers who would rather have full-time employment, Nevada's jobless rate averaged 14.8 percent from the fourth quarter of 2014 through the third quarter of 2015.
Seasonal hiring could help more Nevadans with their job hunt, said Bill Anderson, chief economist of the labor department. Holiday gains have returned to their pre-recession levels of about 10,000 jobs from September through December.
"This can be attributed to the strengthening economy," Anderson said.
Contact Jennifer Robison at jrobison@reviewjournal.com. Find @_JRobison on Twitter.