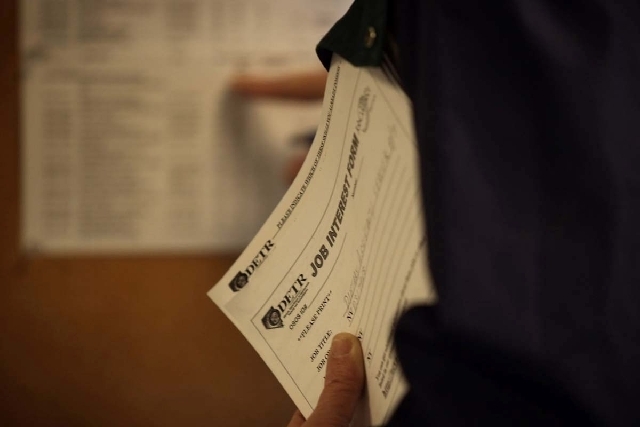 Nevada's jobs market hit a few shoals in July, but that doesn't mean the state's recovery has run aground.
Sure, job growth seems to have slowed in the summer. Still, long-term trends show above-average job creation, and experts said some of those summer doldrums could be revised away in the spring.
First, here's why July's figures underwhelmed: Employers statewide slashed 10,200 jobs, as every major sector cut positions from June to July, the state Department of Employment, Training and Rehabilitation reported Friday. The unemployment rate did tick down, though, falling to 9.5 percent in July, compared with June's 9.6 percent. Joblessness in Las Vegas fell to 9.7 percent, down from 10.1 percent in June.
But the only thing those disparate numbers tell us is that job stats fluctuate in unusual ways from month to month, said Bill Anderson, chief economist of the employment department.
That's why Anderson and other economists prefer the long view. And from there, the hiring market looks much better. Unemployment was well below levels of July 2012, when the rate sat at 11.2 percent statewide, and 11.6 percent locally. What's more, Nevada added 22,200 jobs in the last year. Leisure and hospitality led the way, creating about 7,000 new jobs. Trade, transportation and utilities, a category that includes retail, formed roughly 5,000 new jobs. Other sizable gainers included education and health services, government and construction.
The only big sector to shed positions was professional and business services, which includes accounting firms, law firms and architecture studios.
"If you look at the trend line over the past year, we've continued to see slow and steady improvements, which suggests we're moving farther away from the bottom of the cycle," said Brian Gordon, a principal with local research firm Applied Analysis.
There's just one problem: Most of those improvements happened in the second half of 2012 rather than in the first half of 2013, said Steve Brown, director of the Center for Business and Economic Research at UNLV. The employment department also noted that Nevada may have experienced "summer stagnation" in hiring, as job trends in May, June and July turned in a "disappointing" average loss of 3,500 positions a month.
The recent hiring downturn may be because visitor volumes have eased off of 2012's record levels, Brown said.
"I think we're seeing some of the effects of reduced tourism," he said.
Another factor could be in play, though, and it involves how jobless numbers are tabulated. Federal and state officials determine unemployment rates through a combination of first-time claims for unemployment benefits, and phone surveys of businesses and households. The phone questionnaires in particular can be off. That's especially true of the business surveys, which aren't great at catching businesses that have just opened, Brown said.
That's why the federal Bureau of Labor Statistics revises its data every March. Those revisions led to substantially bigger job gains than expected in 2011 and 2012, Brown said.
Added Anderson: "Sometimes, the monthly surveys don't pick up exactly what's going on underneath the numbers. If you look back over the past few years, we've seen some leveling off in summertime employment, and this may just be a continuation of that. But when you smooth things out (through revisions), look at it over time and get rid of all that noise, we're seeing the numbers go up."
Anderson also said that other key economic indicators, such as taxable sales, visitor volumes, housing activity and gaming win, show strength and reflect an improving economy despite flat month-to-month jobs numbers.
Still, experts are eyeing headwinds. The number of jobs is growing nationwide, which should mean more disposable income for travel, Brown said. But growth of the country's gross domestic product has long lagged its potential. Brown said businesses tell him they're reluctant to hire or invest because they're worried about how federal health-insurance reform will affect their employee costs. Delaying Obamacare's employer insurance mandate until 2015 "just brings another year of uncertainty," he said.
And Gordon said he's watching what happens with interest rates and the housing market, both of which could affect hiring.
For now, Nevada and Las Vegas are still in the early to middle stages of a comeback, Gordon said.
"It's difficult to paint the economy with a broad brush, but overall, it's headed in the right direction," he said. "But it has a long way to go before we can start characterizing it as recovered."
Nationally, the jobless rate was 7.4 percent in July. Nevada has led the nation in joblessness for all but one month since May 2010.
Include discouraged workers and part-timers who'd rather work full time and Nevada's jobless rate averaged 19 percent in the quarter that ended in June.
Contact reporter Jennifer Robison at jrobison@reviewjournal.com or 702-380-4512. Follow @J_Robison1 on Twitter.