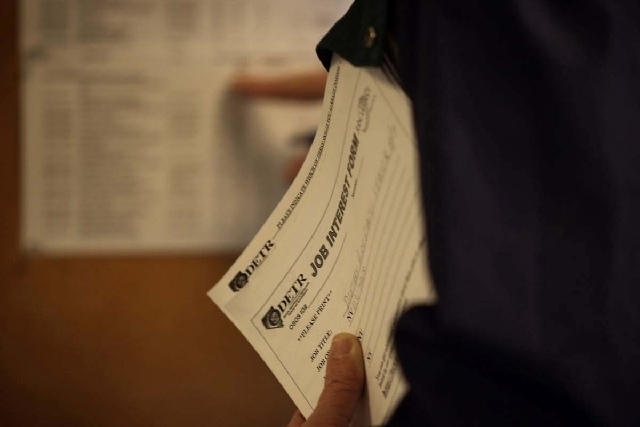 Despite shedding thousands of jobs, Nevada cut its jobless rate in September.
Unemployment fell statewide in the month to 9.3 percent, down from 9.5 percent in August and 10.6 percent a year earlier, the state Department of Employment, Training and Rehabilitation reported Monday morning.
It was the lowest jobless rate since December 2008, though still well above the national average of 7.3 percent.
The falloff came even as the state's employers pared 8,800 jobs from their payrolls between August and September.
Bill Anderson, chief economist of the employment department, said the discrepancy could come from how it collects statistics. It uses separate surveys of households and businesses to determine the number of people out of work and looking, and the two questionnaires sometimes produce different results. The agency will adjust September's estimates in the spring for a more accurate number.
Professional and business services, including accounting firms, law firms and architecture studios, made the bulk of cuts, at 7,500 jobs. That was a drop of 4.3 percent year over year.
Overall, the number of jobs is up 1.9 percent year over year through the first nine months of 2013.
Sectors that reported adding jobs including leisure and hospitality and construction.
Gov. Brian Sandoval said in a statement that state officials must work harder to bring new businesses to the state.
"We have made great strides in our economic development efforts, but recognize the need to continue the momentum so that all of Nevada's unemployed have the opportunity to return to work," he stated.
The department didn't have figures on the Las Vegas jobless rate because October's government shutdown meant the agency couldn't get detailed data from the federal Bureau of Labor Statistics.
The department will report local numbers and state and local October statistics on Friday.
Nevada has led the nation in unemployment in all but one month since May 2010.
Contact reporter Jennifer Robison at jrobison@reviewjournal.com. Follow @J_Robison1 on Twitter.