Nevada, Las Vegas Valley unemployment rates lowest since 2009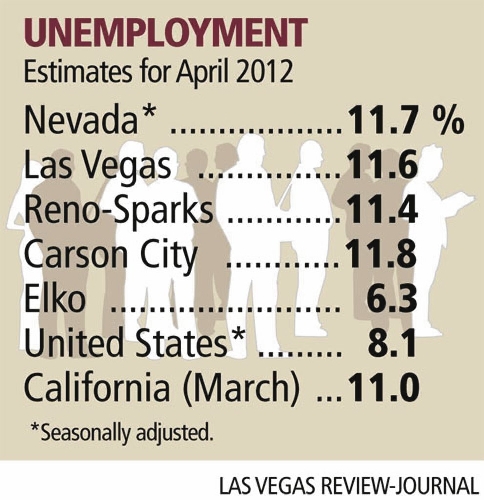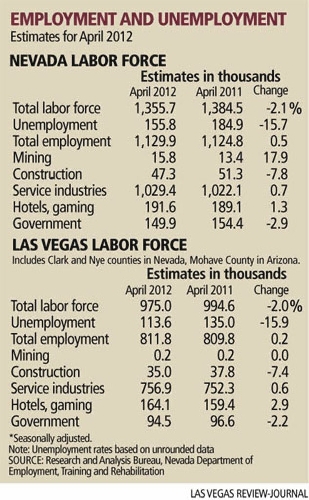 The last time Nevada's unemployment was this low, CityCenter and The Cosmopolitan of Las Vegas weren't open yet.
King of Pop Michael Jackson was on the market as a possible Strip headliner.
And former U.S. Sen. John Ensign was a rising star in the Republican Party.
Joblessness in April fell to 11.7 percent in Nevada and 11.6 percent in Las Vegas, the state Department of Employment, Training and Rehabilitation reported Friday. It's the first time in three years that un­employment rates here dipped below 12 percent, and the eighth straight monthly jobless decline.
But economists aren't rejoicing at the drop. That's because the falloff came mostly from a shrinking labor force rather than job growth.
In the past 12 months, 20,000 Las Vegans left the workforce, while just 2,000 more locals landed jobs, said Brian Gordon, a principal in research firm Applied Analysis. Numbers from the employment department peg Nevada's labor force participation rate at 64.9 percent, down from 67.8 percent at the start of the recession. Nationally, participation has slipped to 63.6 percent, down from 66 percent at the downturn's beginning.
People who aren't actively looking for work aren't counted as unemployed, and that's why jobless rates can fall when the labor pool shrinks.
"It's like the big, bad wolf in sheep's clothing: something negative disguised as something that's favorable," said Steve Brown, director of the Center for Business and Economic Research at the University of Nevada, Las Vegas.
Bill Anderson, chief economist for the employment department, traced the smaller labor pool to two forces: A structural or demographic component that includes retiring baby boomers, and a cyclical side related to discouraged workers who stop their job search.
Brown added that some workers in their late 50s or early 60s might retire early once they see how tough the job market is. Plus, it's common to see people quit the workforce as unemployment benefits run out. They're required to job hunt while receiving payments, and once they exhaust their benefits, that mandate goes away. Many quit looking out of frustration, he said.
Nevada had 158,600 jobless residents in April. But even as people leave the labor force, they don't seem to be leaving Clark County, Brown said. The county had 1.97 million residents in July, up from 1.95 million in 2007.
It's also possible the workforce declines could disappear after the federal government revises its numbers next spring. That's what happened in March, when updated statistics showed a stable Nevada labor pool, and not the declining one that figures estimated through 2011.
Experts didn't completely discount growth's role in improving job markets.
Nevada created nearly 12,000 private-sector jobs in 2011, and has added 14,000 positions year over year in the first four months of 2012.
Mining employment rose by 100 in April and reached a 22-year peak. Retailers added 1,600 jobs, while transportation, warehousing and utilities added 1,100 positions. Health care and social assistance grew by 1,100 jobs and education added 100 jobs.
Losses in the public sector, which has shed 6,400 positions since January 2011, offset some of those improvements.
Other losers included construction, which shed 900 jobs and hit a post-boom low in April. Building jobs now make up 4.3 percent of local employment, below the 5 percent national average and well below its local peak of 12.1 percent in 2006.
Professional and business services such as law firms and architecture studios slashed 2,000 jobs. Leisure and hospitality cut 1,400 jobs in April but was still up 7,800, or 2.7 percent, in the past year.
"Overall, the job market is improving at a fairly slow and steady pace," Gordon said. "There are some positives, but hard times are still prevailing."
Gordon said he expects to see continued modest job gains in leisure and hospitality as the national economy improves. But the government sector probably isn't done cutting, as cities and public agencies grapple with smaller budgets, he said.
"We don't expect any substantial gains in the overall market, but some areas will tread water while others show marked improvements," he said.
Altogether, those trends paint a bigger picture of stability, Anderson said.
"What's significant is that we're starting to see some consistent trends. We're certainly not out of the woods, but we're continuing to see some accumulating evidence that we've turned the corner and are on the moderate path to growth."
Unemployment was 8.1 percent nation­wide in April. Nevada has led the nation in joblessness since May 2010, but the gap between the Silver State and other states is narrowing. No. 2 Rhode Island was just half a percentage point behind, at 11.2 percent. California's April unemployment rate was 10.9 percent.
Contact reporter Jennifer Robison at
jrobison@reviewjournal.com or 702-380-4512.
Follow @J_Robison1 on Twitter.