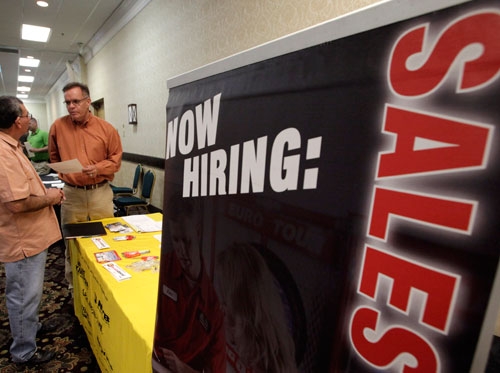 WASHINGTON — Nevada lawmakers were encouraged Friday by modest improvement on the jobs front in July but cautioned that more needs to be done to restore the American economy.
"While our economy continues to struggle and millions of Americans remain out of work, it is encouraging that private-sector employers did better than most economists predicted by adding more than 150,000 jobs last month," said Sen. Harry Reid, a Democrat.
"Any news of job growth is welcome news. Unfortunately, the fact remains that economic growth in our nation continues to be anemic," said Sen. Dean Heller, a Republican.
"While today's news is encouraging, far too many Nevadans need jobs and there is much work to be done," said Rep. Shelley Berkley, a Democrat.
"Not good enough — that's the simple truth about our economy right now," said Rep. Joe Heck, a Republican.
Employers added 117,000 jobs last month, the Labor Department said Friday. That's better than the past two months, which also were revised higher.
Still, the economy needs twice as many net jobs per month to rapidly reduce unemployment. The rate has topped 9 percent in every month except two since the recession officially ended in June 2009.
Businesses added 154,000 jobs across many industries. Governments cut 37,000 jobs last month. Still, 23,000 of those losses were almost entirely because of the shutdown of Minnesota's state government.
The unemployment rate fell from 9.2 percent in June partly because some unemployed workers stopped looking for work. That means they are no longer counted as unemployed.
As a result, the number of unemployed people fell to 13.9 million, down from 14.1 million. Still, that's nearly double the total before the recession.
"We have much work left to do, and creating jobs continues to be Democrats' top priority," said Reid, the Senate majority leader.
"There are a number of things Congress can do to create jobs right away. We can spur innovation and give manufacturers tax breaks to create clean-energy jobs in Nevada and across America. We can put Americans to work building roads, bridges and schools."
Heller said, "It's clear that we need a well-planned, long-term approach that changes the way things are done in Washington so we can provide certainty and confidence and pave the way for the economic growth necessary to put Nevadans back to work."
Congress is on recess until after Labor Day.
Reid, Heller and Berkley issued statements Friday morning on the employment report that blamed rival parties for obstructing progress on job creation.
"We need Republicans to stop using common-sense jobs bills as vehicles for the Tea Party's ideological agenda," Reid said, "and forcing us to run the government from one manufactured crisis to the next. With millions of Americans still out of work and our economy struggling to stay on the right track, I hope Republicans will put the best interests of our economy and the middle class ahead of the demands of the Tea Party."
Heller said, "Unemployment continues to hover well above the 8 percent rate that President Obama and his supporters promised when promoting their stimulus bill. Meanwhile, continual increases in government regulations across several sectors and restrictions imposed by the Administration have become a burden to small businesses and stifle economic growth."
Berkley, who is running for Senate against Heller, said voters have a clear choice between her "commitment to creating jobs" and his "job-destroying right-wing Tea Party agenda."
Heck said he would spend August meeting with small-business owners to get their ideas on how to create opportunities for Nevadans to work.
"The only way we will improve our economy is if we stop pointing fingers and start focusing on solutions," he said.
The Associated Press contributed to this report. Contact Stephens Washington Bureau reporter Peter Urban at purban@stephensmedia.com or 202-783-1760.