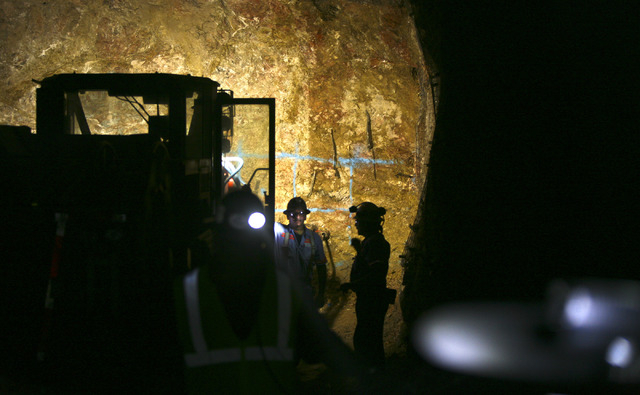 Nevada's largest mining company is eyeing plans to invest big in its operations.
Barrick Gold Corp. said Monday that it could spend $2.1 billion through 2020 expanding gold mines in Nevada and Peru, with about $1.4 billion of the investments set for the Silver State.
The biggest chunk — $1 billion — would go toward building an underground mine at Goldrush, a new deposit about 4 miles southeast of Barrick's Cortez Hills operation near Elko. Once it starts producing in 2021, Goldrush could yield 440,000 ounces of gold each year. The deposit has an estimated 8.6 million ounces in gold resources.
Barrick is also evaluating expansion of underground mining at Turquoise Ridge, northeast of Winnemucca. The company would build a third production shaft at the site to nearly double annual gold production from 280,000 ounces to 500,000 ounces. The $300 million project and its higher output would give Turquoise Ridge a higher profile, said Nigel Bain, the district's general manager.
"Turquoise Ridge hasn't always had the focus, but now, Barrick is recognizing it as a future core asset," Bain told investors at a Monday conference in New York.
Barrick owns 75 percent of Turquoise Ridge in a joint venture with Newmont Mining Corp.
Another $153 million would go into expanding underground mining at Barrick's Cortez, for an additional 300,000 ounces of output a year.
Matt Gili, executive general manager of the Cortez district, called the operation "one of the most promising" ore bodies Barrick has today and in the future.
Outside Nevada, Barrick would put $640 million into extending the life of its Lagunas Norte operation in Peru.
Barrick officials were careful to note that investment plans were based on early studies, and feasibility analyses could affect final investment and expansion decisions.
They also said the plans were based on a long-term gold price of $1,200 an ounce. The projects would have a production cost per ounce ranging from $580 at Cortez's underground operation to as much as $675 at Turquoise Ridge.
Barrick is the world's largest gold miner, producing more than 6 million ounces in 2015, based on preliminary January reports. The Toronto-based company is also Nevada's largest miner, responsible for nearly half of the state's annual gold output of about 5 million ounces.
Barrick's potential expansions would come on the heels of a significant office investment in Southern Nevada.
In September, Barrick opened its global information technology and corporate affairs office in Henderson. It eventually plans to have nearly 100 employes in the office, its first in the Las Vegas Valley. The office serves as the worldwide IT base for Barrick's five-continent operation. It also houses finance and environmental management functions.
Barrick employs 4,000 people in Nevada, making up about a third of the state's mining jobs base.
Contact Jennifer Robison at jrobison@reviewjournal.com. Follow @_JRobison on Twitter.